This page highlights events in the 2022-2023 academic year. 
More events coming soon, watch our social media for details!
Mandela Social Justice Day
Monday, February 27, 2023
Keynote Speaker
Black Reproductive Health: Getting at the Root Cause of Inequity
Featuring Dr. Rachel R. Hardeman
4:30 p.m. Monday, February 27, 2023
Carter Hall in University Center West
Structural racism disadvantages Black birthing people before, during, and after pregnancy, leading to heartbreaking health inequities for them and their babies. Relationship-centered and culturally-centered care models provide needed support to Black birthing people, making strides on the path towards racial birth equity.
Presentations
Gender stereotypes, social expectations and career aspirations in STEM
A panel discussion sponsored by the Pott College Equity, Diversity, & Inclusion Committee 
11:00 a.m. Monday, February 27, 2023 | University Center 2219-2220
A Time of Crisis: Maternal Mortality in Indiana
Presented by Dr. Laurel Standiford Reyes, Sponsored by the College of Liberal Arts Equity, Diversity, & Inclusion Committe.
1:00 p.m. Monday, February 27, 2023 | University Center 2207
Consent and Sexual Safety
Sponsored by the USI Recreation, Fitness, and Wellness Center
3:00 p.m. Monday, February 27, 2023 |  University Center 2207
Consent and sexual safety are topics that only recently have escaped the label of "taboo". This presentation will move beyond the basics to explore the nuances of consent and how to be an active participant, in addition to investigating safe sex practices for a spectrum of genders, sexualities, and identities.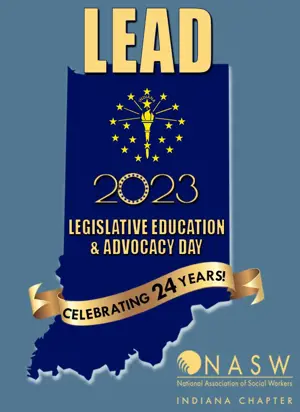 Social Workers' Legislative Education & Advocacy Day (LEAD)
11:30 a.m. - 1:00 p.m.
Monday, March 6, 2023
Indiana State House
200 W. Washington St.
Indianapolis, IN 46204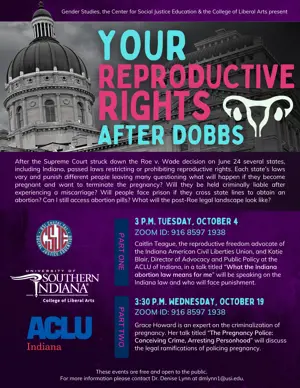 Your Reproductive Rights After Dobbs
After the Supreme Court struck down the Roe v. Wade decision on June 24, several states, including Indiana, passed laws restricting or prohibiting reproductive rights. Each state's laws vary and punish different people, leaving many questioning what will happen if they become pregnant and want to terminate the pregnancy. Will they be held criminally liable after experiencing a miscarriage? Will people face prison if they cross state lines to obtain an abortion? Will abortion pills still be accessible? What will the post-Roe legal landscape look like? These, and many more questions, are being considered.
Tuesday, 10/4/22 - What the Indiana abortion law means for me
Join this discussion on Zoom and hear from ACLU representatives.
Wednesday, 10/19/22 - The Pregnancy Police: Conceiving Crime, Arresting Personhood
Join this Zoom webinar with former USI faculty member, Dr. Grace Howard. According to Howard, a wave of state legislation restricting the right to abortion has drawn attention to the contingency of rights of pregnant people. However, the regulation and criminalization of pregnant bodies in the United States began many years before. Drawing from original research in criminal cases, as well as from notable family court hearings, lawsuits and news reports, Howard explores some of the ways in which pregnant people have become subject to surveillance, regulation and control.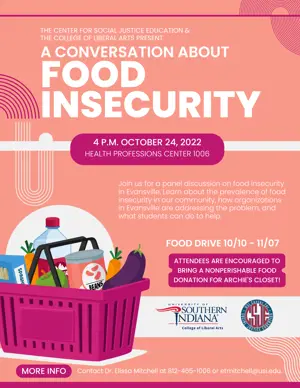 A Conversation about Food Insecurity
Monday, 10/24/22
Join us for a panel discussion on food insecurity in Evansville. Learn about the prevalence of food insecurity in our community, how organizations in Evansville are addressing the problem, and what students can do to help.
Bring a non-perishable food donation to benefit Archie's Closet!
Archibald Eagle's Food Closet is a service for all members of the USI community to promote the health and wellness of USI students and employees. Archie's Closet stocks non-perishable food products, like peanut butter, canned meats/tuna, pasta, rice, beans, vegetables, soups, and canned fruit, and personal hygiene products such as toilet paper and tissues. The closet is maintained through donations.
Social Justice Activism Fair
Join CSJE & the Mandela Day Committee at the Social Justice Activism Fair on USI's quad from 12-2pm on 9/19.