Liberal Arts Achievements
Help us congratulate our students, faculty, and alumni for their dedication and hard work! If you have an achievement you'd like to share, please submit your story here.
---
Dr. Kristalyn Shefveland, Associate Professor of History and Interim Assistant Dean of the College of Liberal Arts, gave the keynote address, Old Florida: Yankee Settler Colonialism in the Land of the Aís and Seminole, at the 2023 Florida Conference of Historians in Stuart, Florida.
---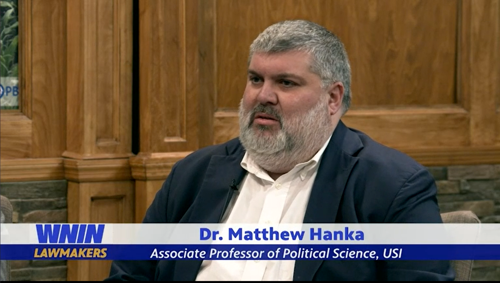 Dr. Matthew Hanka, Associate Professor of Political Science, appeared on WNIN Lawmakers to discus local, state, and federal governments with WNIN's John Gibson. See the Video
---
Dr. Jessica Jensen, Associate Professor of French, was the recipient of a $1,500 Indiana Language Roadmap Grant from the Center for the Study of Global Changes and the Hamilton Lugar School of Global and International Studies at Indiana University. It is intended for developing and implementing a statewide plan to strengthen world language learning, with collective input from stakeholders across business, education, health care, and government sectors. This project is supported through the Language Flagship, an initiative funded by the Department of Defense through their National Security Education Program and administered by the Institute for International Education.
---
Dave Black presented his documentary In Harmony's Way: A Battle to Save a Bridge on October 18 to a meeting of the Southwestern Indiana Historical Society with a discussion following on the current state of the bridge and efforts to fund its revitalization. The documentary provides a history of the closed toll bridge in New Harmony and the efforts to find a solution for its long-term survival.
---
Criminal Justice faculty have been active in presenting at the American Society of Criminology in Atlanta, GA. Presentations included "Examining Attitudes Towards Police Reform and Use of Force through Public Opinion and Media Coverage" by Jason Callahan and Whitney Hayes (Virginia Tech), "Substance Use and Mental Health" by Laura Lutgen-Nieves, Caroline Jalain, and Taylor Petty, and "Gender and Trafficking Myth Acceptance: Making Child Sex Trafficking Case Decisions" by Taylor Petty, Richard Wiener (University of Nebraska-Lincoln), and Anna Pittman (USI student).
---
Dr. Oana Popescu Sandu has had two recent publications. The first is an article in an edited volume entitled Cultures of Mobility and Alterity: Crossing the Balkans and Beyond (ed. Yana Hashamova, Oana Popescu Sandu and Sunnie Rucker-Chang; Liverpool University Press, 2022). The book trailer can be found in the include link. The second article appeared in Comparative Literary Studies and is titled  "New Cold War Nostalgia in Recent US Cultural Productions: Retro and Irony in the Transnational Postsocialist World." Comparative Literary Studies, 59 (3), 612-630. This article examines the intersection of nostalgia, irony, and retro in "new Cold War" story lines that dominate two U.S. cultural productions—the feature film Creed II (2018) and the series Comrade Detective (2017).
---
Rosalie Moffett's works "Hawks" and "Hysterosalpingography" have been nominated for a Pushcart Price by 30 Poems and the New England Review. The Pushcart Prize is an American literary prize published by Pushcart Press that honors the best "poetry, short fiction, essays or literary whatnot" published in the small presses over the previous year.
---
Casey Pycior's work was recently showcased online by the South Dakota Review. They feature his essay "Cahokia, Summer 2017," from whence this observation: "About 10 times southwest through the haze, the Gateway Arch goose eggs on the horizon, the St. Louis skyline an uneven roll of dominoes ready to topple into the Mississippi River as it wends past. I pull out my cell phone to take a photo and undergo a brief but jarring realization that 1000 years of technological advancements separate the mound I'm standing on and the cell phone I old in my hand.
---
MT Hallock Morris judged the State "We the People" competition in Indianapolis. In this program, middle and high schools learn about the Constitution, prepare a written statement, and then participate in "hearings" where they are questioned about their knowledge. The winner from each state goes on to the National Competition. It is an example of great outreach work by our faculty.
---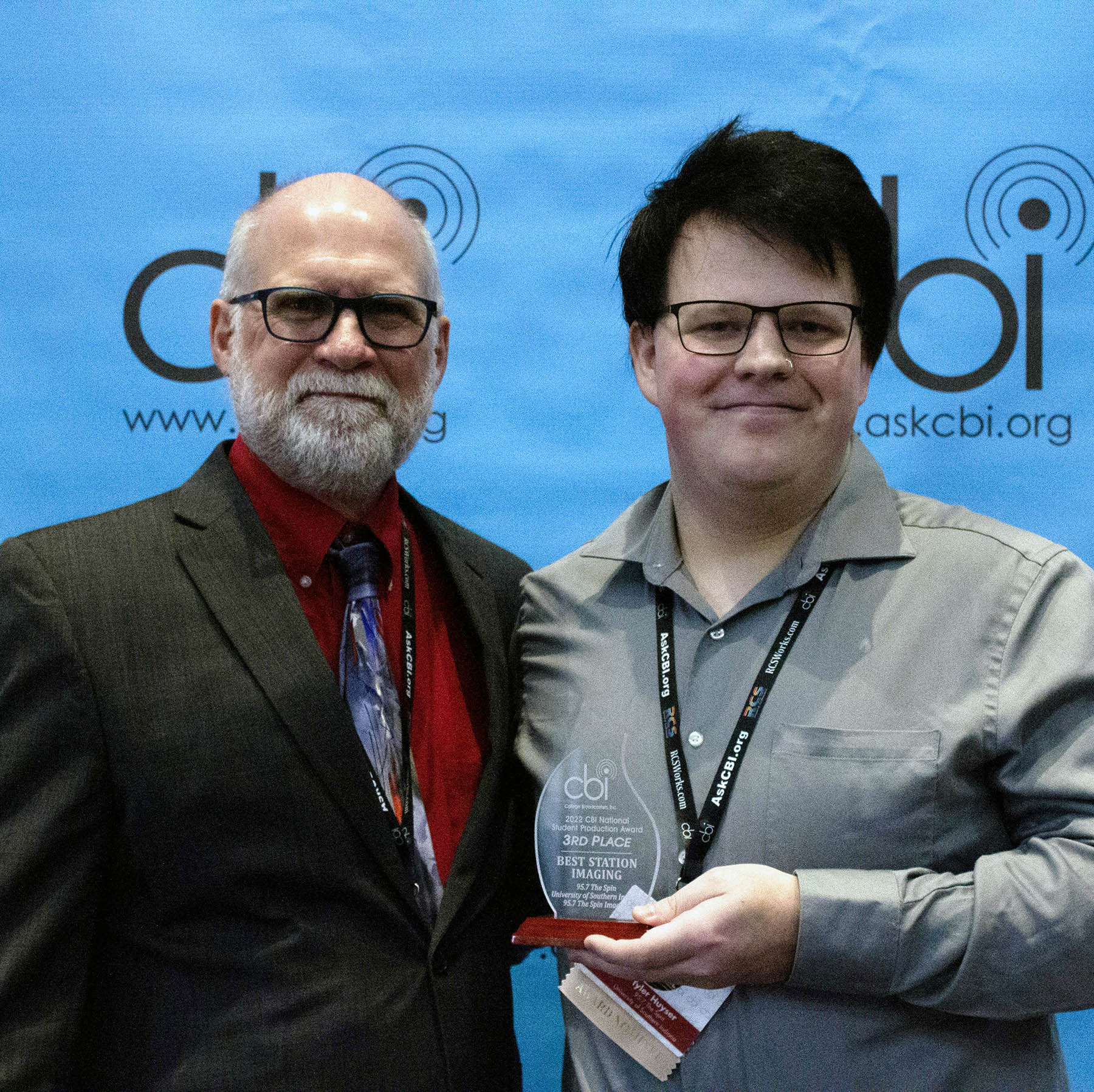 2022 National Student Electronic Media Convention
John Morris, Instructor of Radio/TV, and student, Tyler Huyser who, along with three other radio station workers, took third place in the Imaging category of the National Student Production Awards.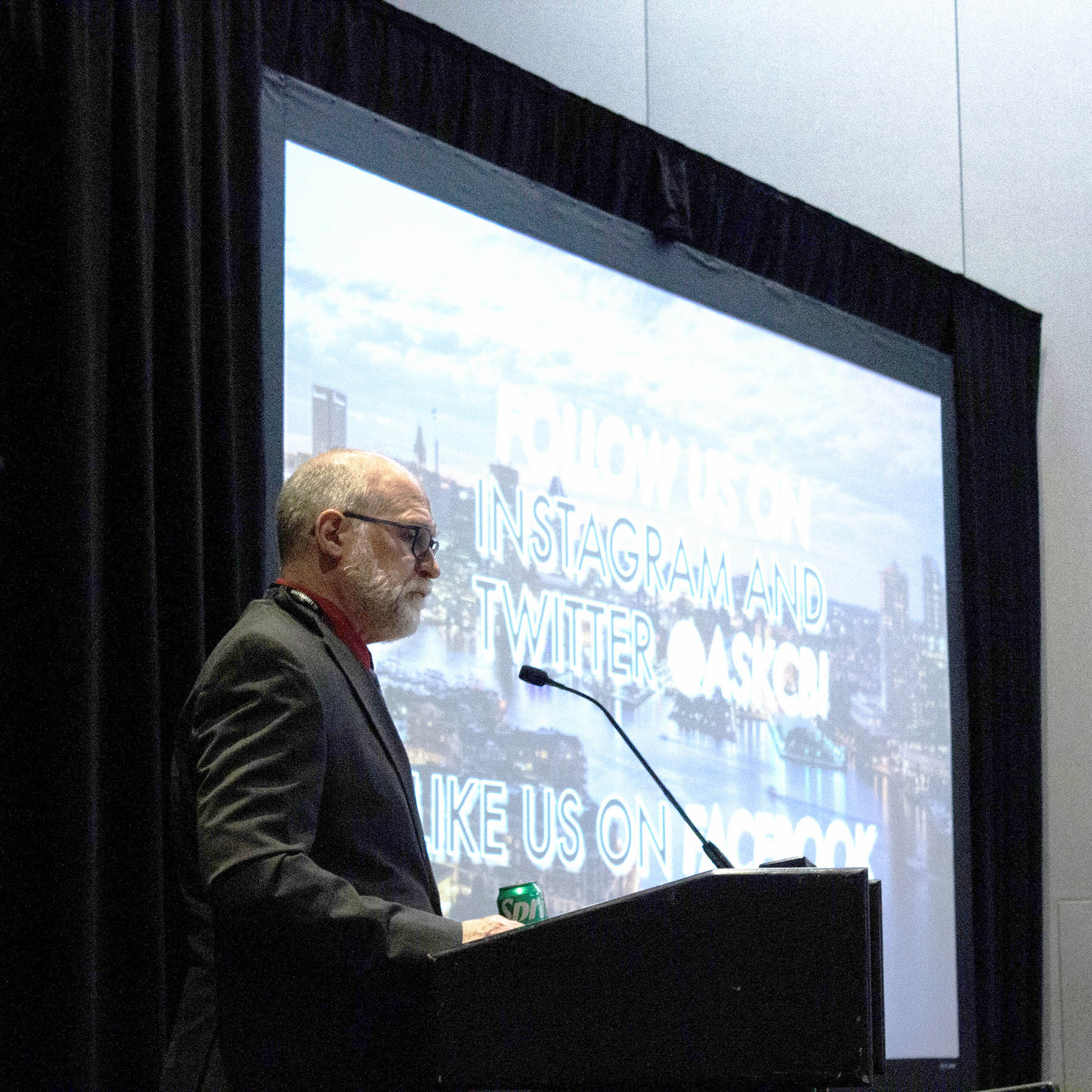 2022 National Student Electronic Media Convention
USI Instructor and current president of the event sponsoring organization, College Broadcasters Inc (CBI), John Morris addresses the crowd prior to the awards program.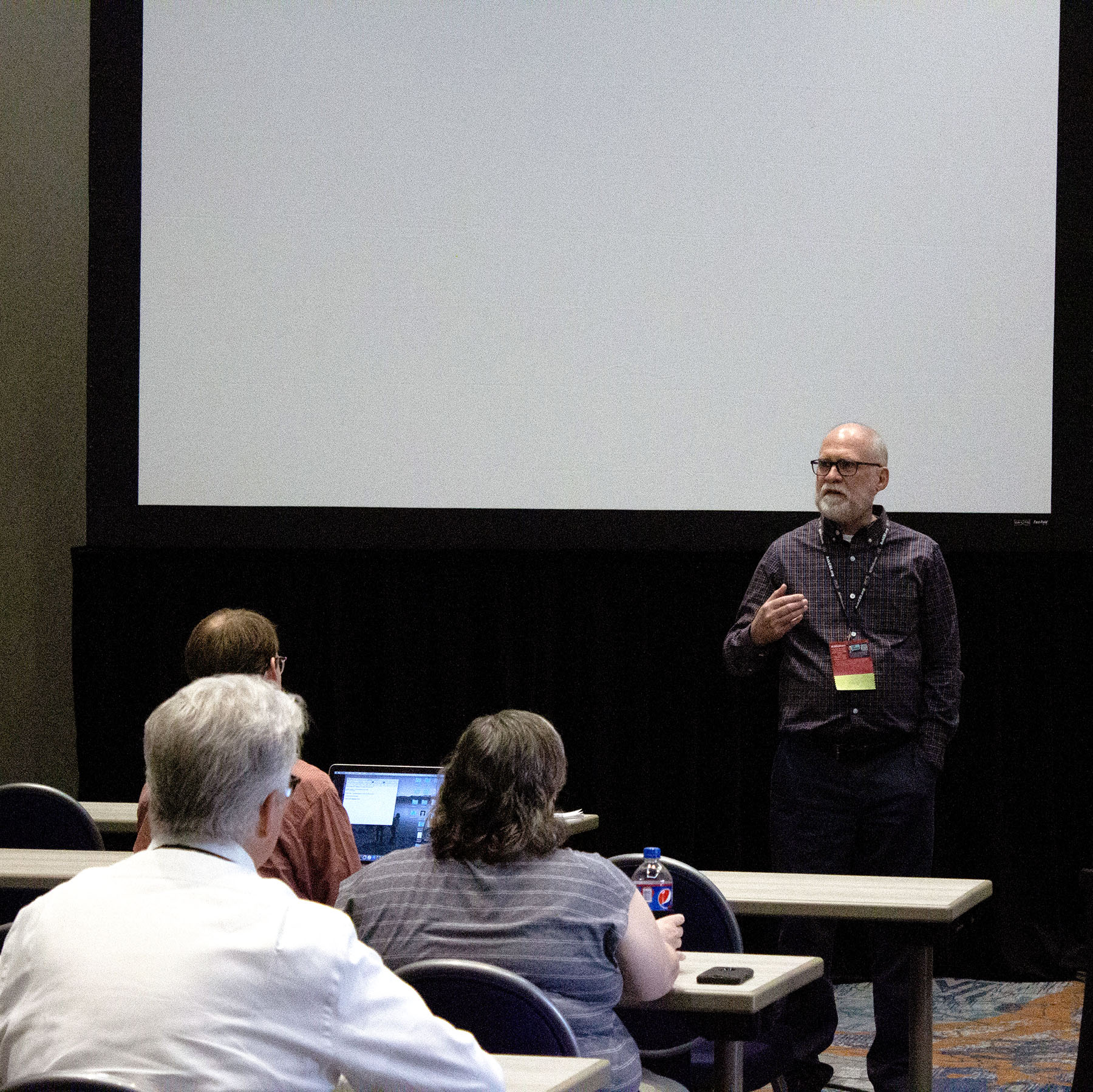 2022 National Student Electronic Media Convention
John Morris, USI Instructor of Radio/TV, discusses "play by play" reporting for sports broadcasts in a breakout session at the National Student Electronic Media Convention in Baltimore, Maryland.
---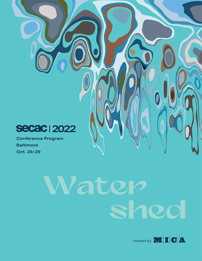 Sara Christensen Blair, Professor of Art and Chair of the Art and Design Department, and colleagues represented the University of Southern Indiana Art and Design Department by presenting at the 78th Annual Southeastern College Art Conference (SECAC) in Baltimore on October 26-29, 2022.
Sara Christensen Blair presented "The Sweet and Subtle Smashing of the Status Quo — Not Just a Pile of Candy." Dr. Gregory Blair, Assistant Professor of Art and Design, presented "Street Art and the Disruption of the Expected." Virginia Poston, Instructor in Art History, presented "The Invisible Celts: A Neglected European Tradition." Chuck Armstrong, Assistant Professor of Graphic Design, presented "Preparing Students to Flourish in a Digital World: The Importance of Learning to Code or Script." Nancy Raen-Mendez, Instructor in Art, presented "The Unpainted." Robert Millard-Mendez, Professor of Art, presented "Spectacles of the Sublime: Monsters in Contemporary Sculpture." Click here to learn more about SECAC
In addition to SECAC, art faculty have been involved in other venues. Dr. Greg Blair was invited to the Department of Art at Mississippi State University from Oct. 17-19 as a Visiting Artist/Scholar. During his visit, Dr. Blair led a student workshop at the Noxubee Wildlife Refuge on how to connect artistic practice to the experience of place. Likewise, Al Holen, as a result of her sabbatical work, had an article published in the Nov./Dec. issue of Pottery Making Illustrated, which is a partner magazine with Ceramics Monthly.  The article, entitled "Double-Walled Chopstick Bowls," provides pictures and descriptions of several of Al's works along with her clay/glaze recipe and a pictorial step-by-step process for creating the bowls.  It features "how-to" photos taken by recent alum R. Cole Collier.
---
Dr. Kristin LaFollette, Assistant Professor of English, gave a presentation entitled "Toward a Humanistic Approach in Medical Education" at the 2022 Indiana College English Association (ICEA) Conference in Indianapolis. LaFollette was also voted in as secretary for the organization.
---
Jennifer Horn, Instructor of English, gave a presentation entitled " Folklore & FYE: Building Community through Created Traditions" at the Annual Meeting of the American Folklore Society in Tulsa, OK.
---
Dr. David O'Neil published two peer-reviewed articles: "Syntax, Prosody, and the Brut: Continuity in the Medieval English Alliterative Tradition." and "Social Integration and Campus Internationalization Through Performing Arts Volunteerism."
---
Dr. Elissa Mitchell, Associate Professor of Social Work, has four contributions in the new book, Active Learning Lessons, Activities, and Assignments for the Modern Social Work Educator, coming out later this month (Routledge). The book includes example assignments and class activities. Elissa's contributions focus on the teaching of Macro Practice (chapter 5 of the book).
---
Dr. Jane Weatherred, Assistant Professor of Advertising and Public Relations, along with coauthor Leigh Moscowitz from the University of Southern Carolina, recently published their study "Exemplification of child abduction in US news media: Testing media effects on parental perceptions and assessment of risk," which was published in the Journal of Experimental Criminology. The study uses a three-group experimental design to examine how news stories of child abduction affect parental concerns. Their findings suggest that watching news stories about abduction doesn't lead people to report that the problem of child abduction is worsening. However, watching news stories about abduction does make people think that their communities are less safe and those who think that their communities are less safe are more likely to report worsening conditions of child abduction.
---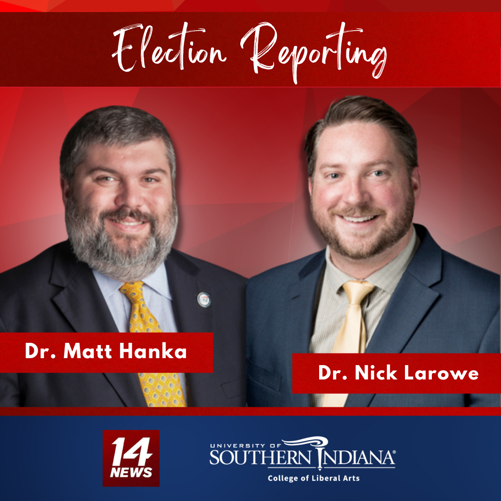 Drs. Nick Larowe and Matt Hanka provided pre-election and election night coverage on News 14 in Evansville, and other news outlets in the area.

Election appearances include:
8/29 - Evansville Courier & Press
10/20 - WNIN Newsmakers
---



Congratulations to Al Holen, Associate Professor of Ceramics, who received the Third Place Award for her 4-piece serving set, Bullseye Bourbon Server. This award comes from the Wichita National Ceramic Invitational Exhibition with this year's Judge, Eddie Dominguez, Professor of Ceramic Arts at the University of Nebraska, Lincoln NE, selecting three entries out of 33 total participants from all around the Nation. 
---
Congratulations to Laura Lutgen-Nieves on her recent white paper published by the National Commission on Correctional Health Care. The paper, entitled "From the General Public to America's Jails: MAT Saves Lives", examined the use of medication for the treatment of opioid use disorders in our jails.  Her research finds that despite research indicating the efficacy of medications currently approved by the U.S. Food and Drug Administration (methadone, buprenorphine, naltrexone) in treating opioid use disorder (OUD), opioid-related overdose deaths continue to rise each year and access to treatment remains impeded. This is particularly the case for justice-involved people, and especially for those who find themselves in America's jails. Adoption of these medications for treatment has been slow within the criminal justice system. However, some states have begun making changes to the system in an effort to expand access to these medications for the treatment of OUD among justice-involved people. Her findings suggest that if policymakers and health care providers are truly interested in reducing recidivism and enhancing public safety, more deliberate movements need to be made in expanding treatment to people in jail and those being released.
---
Urska Dobersek and Srikanth Dandotkar have become certified Peer Reviewers for Quality Matters.  Quality Matters is a national nonprofit dedicated to promoting and improving the quality of online education and student learning. As certified peer reviewers they are experts on research based pedagogy to improve the quality of online learning. Sri (and some other colleagues) have also recently published an article on "Knowing about Knowing" in the Journal of Effective teaching in Higher education. In this study, they examined the effectiveness of the reflective writing task as a means of changing how students think about what is known. The teaching method under investigation successfully improved students' beliefs in a way that predicts student learning.
---
Eric Altheide's work in audiobooks is really thriving.  Over the last two years, he has recorded nearly 40 audiobooks including non-fiction, historical fiction, mysteries, romances (released under the pseudonym Grayson Owens) , short stories, thrillers and literary fiction. Upcoming work includes a mystery/thriller about an FBI detective tracking a serial killer, several non-fiction business titles and a non-fiction book about a man retracing the steps of John Muir's walk from Louisville to Florida in the late 19th century and how much our environment has changed since then. He records this work from a home studio, which thanks to so much interest in his work,  has been upgraded to a professional sound booth this summer. Congratulations Eric.
---
---
Congratulations to Dr. Anna Stroulia, Adjunct faculty member in Anthropology in the Department of World Languages and Cultures recently publish an article with colleges the Journal of Neolithic Archeology.  The article entitled, "Fishing, Weaving, Matting: Debating the Function of Notched Cobbles in Neolithic Greece"  addresses notched cobbles (stone piece with symmetric indentations).  These artifacts are widespread, but rarely studied.  Anna and her colleagues find that they were likely used in fishing and represent one of the rare components of fish capture technology preserved from Neolithic Greece.
---
Dr. Manuel Apodaca Valdez's book was recently released by Brill Press.  It is entitled Cofradías Afrohispánicas: Celebración, resistencia furtiva y transformación cultural [Afro-Hispanic Confraternities: Celebration, Furtive Resistance and Cultural Transformation]. One Reviewer wrote, "This encyclopedic study of organizations led and founded by Africans and their descendants in the broader Ibero-American world starts with the medieval origins of these groups and carries their stories through to the present day. A timely, sweeping book which synthesizes decades of vibrant scholarship on African diaspora lives, cultures, and beliefs, this engaging work brings together many strands in an expansive geographic overview ranging from Spain to Peru. Readers seeking insights on the complex mesh of African and Catholic spirituality and practices will consult this book for years to come. ~ Nicole Von Germeten, Oregon State University."