Learn the Latest Skills With an Online Master of Science in Sport Management Degree
Offered by the Pott College of Science, Engineering, and Education at USI, the 100% online Master of Science in Sport Management will ensure you develop the skills and knowledge to advance your career in the sport and recreation industry.
Our affordable and flexible program is designed for individuals who have completed a bachelor's degree from an accredited university in subjects such as sport management, marketing, business administration, communications, or related fields. 
What Can You Do With a Sport Management Master's Degree?
Upon completion, you'll discover new opportunities to careers such as: 
Courses within the MSSM are offered entirely online using a learning management system. Access to a reliable computer with internet access is required. 
Acquire knowledge and skills across a diverse set of professional environments. 
Gain the ability to communicate effectively and persuasively. 
Learn to work with diverse groups and organizations.
Develop skills to promote equality and social justice from local to international levels. 
Learn to successfully engage with others as a professional in the sport industry.
Go Further with an Accredited Sport Management Program.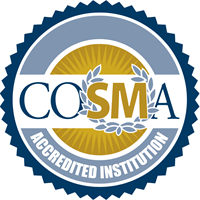 The Master of Science in Sport Management degree program at the University of Southern Indiana has received specialized accreditation through the Commission of Sport Management Accreditation (COSMA) located in Fort Collins, Colorado, USA.
Master of Science in Sport Management Curriculum
The MSSM requires 33 graduate credit hours. All courses within the MSSM are three credit hours and seven weeks long. Courses are designed using the Quality Matters Rubric Standards based on best practices and research for course design.
Courses can be taken in an accelerated version, where students take two courses (six credit hours) per a seven-week term. The accelerated option allows students to finish the MSSM within one academic year.
MSSM students may also take courses in our alternative option, which allows students to take one course (three credit hours) per a seven-week term. The alternative option allows students to finish the MSSM within two academic years.
Required Courses (33 credit hours)
SPTM 592 - Contemporary Issues in Sport and Exercise
SPTM 604 - Sport Facility and Event Management
SPTM 605 - Dimensions of Diversity and Society in Sport Organizations
SPTM 633 - Sport Marketing
SPTM 652 - Sport Budgets & Fiscal Practices
SPTM 653 - Sport Law
SPTM 664 - Research Methods and Statistics in Sport Management
SPTM 688 - Strategic Sport Communication
MKTG 601 - Marketing Strategies
MNGT 601 - Human Resource Management
MNGT 611 - Leadership Skills and Innovation
Earn Your Sport Management Degree on Your Time
The Master of Science in Sport Management program at USI let's you learn on your schedule. Our courses being on an accelerated format means you don't have to wait to start advancing your career. We accept applications 6 times a year. 
| | | | |
| --- | --- | --- | --- |
| Course Start | Application Deadline | Document Deadline | Registration Deadline |
| 03/13/23 | 02/24/23 | 03/03/23 | 03/10/23 |
| 05/08/23 | 04/21/23 | 04/28/23 | 05/05/23 |
| 06/26/23 | 06/09/23 | 06/16/23 | 06/23/23 |
| 08/21/23 | 08/04/23 | 08/11/23 | 08/18/23 |
Get Started Today: 100% Online Master's of Science Sport Management
Take the next step on your journey at the University of Southern Indiana. Start your application or request more information today.
---
Need Your Bachelor's Degree First?
Check our our Bachelor of Science in Sport Management page below.
---