Welcome to USI Regional Science Olympiad
Teams from southern Indiana middle and high schools will gather on the campus of the University of Southern Indiana (USI) on Saturday, February 4, 2023 to compete in USI's first ever Science Olympiad. Please remember, USI is on Central Time. 
Participating schools field teams of up to 15 students who compete in 23 STEM events tat cover almost all of the Indiana Science Standards. Some of these events require that students build a model bridge, flying machine, vehicle, and musical instrument for demonstration. Each event, however, requires that students take their existing knowledge of science and apply it to the tasks they are given. 
University of Southern Indiana students, faculty, staff, and community members serve as judges and volunteers for the Science Olympiad. 
The annual Science Olympiad is the premiere STEM competition in the nation and began in 1983. More than 12,000 schools participate annually. For more information, see the links below or contact Allison Grabert, Director of the SwISTEM Resource Center at afgrabert@usi.edu.
Resources for Teams
USI Schedule (Google Spreadsheet with 2 tabs)
Directions to USI
Campus Map (web version)
Campus Map (.pdf with buildings/parking areas highlighted)
Lunch - 4 pizzas (2 cheese/2 pepperoni) will be delivered to each team's homeroom at 11:30 a.m.
Other food options
      Starbucks (Rice Library) -- 10:00 a.m. - 5:00 p.m.
      The Loft (University Center) -- 10:30 a.m. - 3:00 p.m. (brunch)
Registration and Forms - By 8:00 a.m. on the day of the tournament, each team must check-in at the registration table. Registration will take place in the 1st floor lobby of the Education Center (See campus map above). During registration, each team's coach must submit a team roster, code of ethics, and USI photography release form. Please print and complete these forms. 
Team Roster Form (1 per team)
Code of Ethics Form (1 per team)
USI Photography Release Form (1 per student/coach)
Announcement regarding "Flight" - The room constraints are 95' (l) x 35' (w) x 16' (h).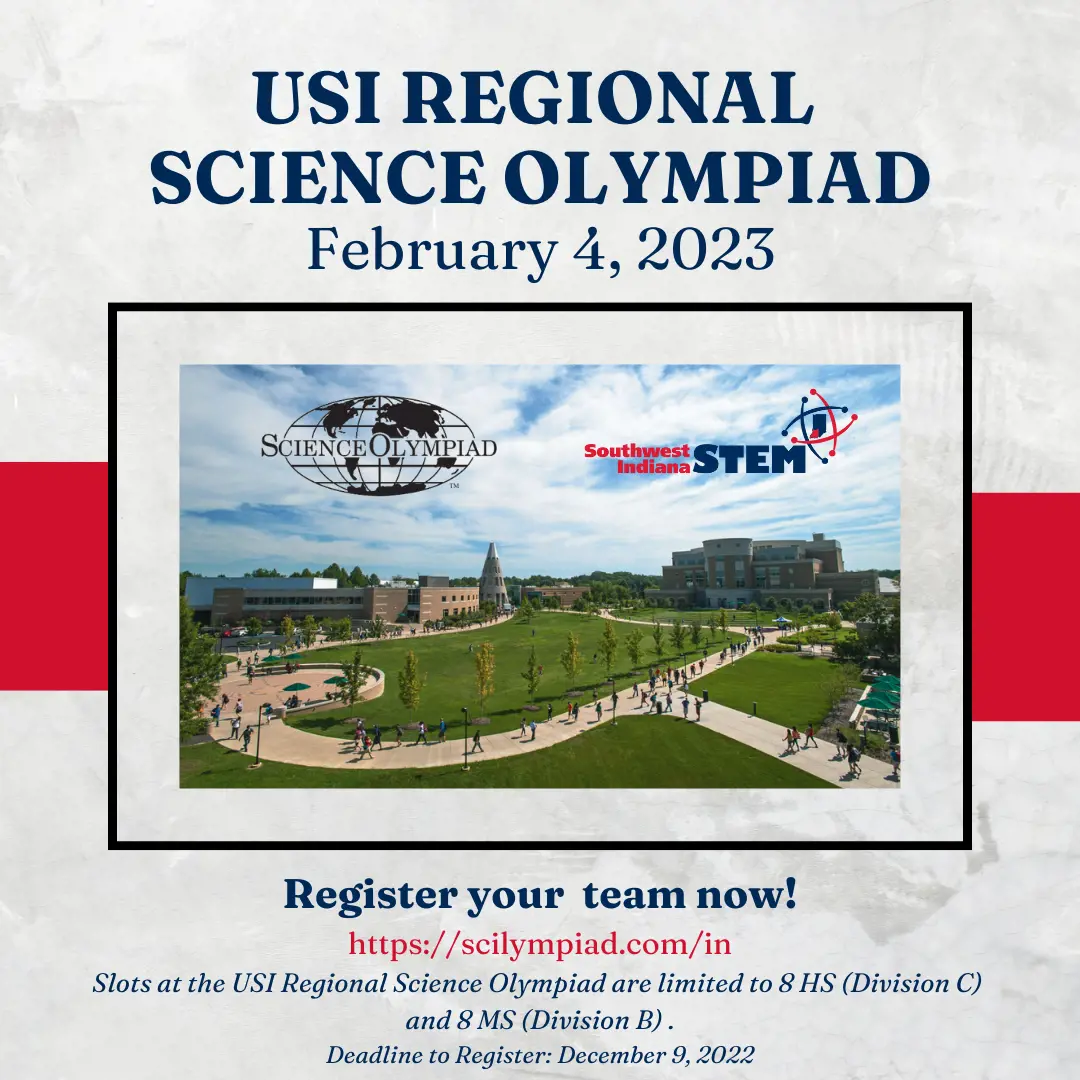 Contact: 
Allison Grabert, Ed.D.
Director, Science Olympiad
Email: afgrabert@usi.edu
Phone: 812-228-5019