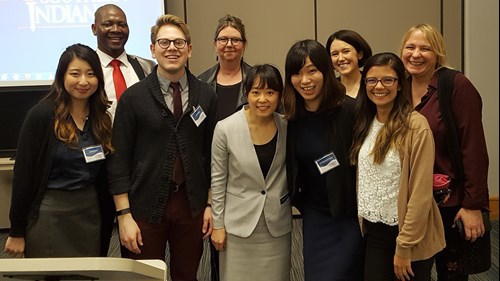 The students and alumni of the MASPC program enjoy so many great experiences during their time with USI and after they graduate. Our Alumni Spotlight page showcases some of those students and their stories.
If you would like to be featured on our page, please reach out to Dr. Jessica Jensen.
---
Anh T. Nguyen
Anh T. Nguyen (Class of 2019) is currently pursuing his doctorate in Media & Critical Cultural Communication in the Department of Communication and Journalism at The University of New Mexico.

He writes "the interdisciplinary training in MASPC helps me to recognize the role of discourses in shaping and reconstructing social orders reflected through sociocultural lenses. Communication courses embedded in the program fostered my activism standpoint of fighting for cultural citizenship where tension between identity inclusion and exclusion become visible in the public relations. The insightful perspectives of language, identity, and culture that I gained from the program boost my motivation to become a scholar and activist who believes critical cultural communication will facilitate transformative changes in the world."
---
Marcia Mishler
Marcia Mishler is currently teaching English and Spanish for the South Gibson School Corporation where she is also the K-12 Curriculum Director for ELLs and a certified WIDA Facilitator. Mishler has served for the past two years on the INTESOL ELL Regional Collaboratives Leadership Group, representing Southwestern Indiana, has been a past presenter at IFLTA, and was selected as a reviewer for the WIDA ACCESS for ELLs at the Center for Applied Linguistics this April.

Recently accepted into the English PhD program (Rhetoric Concentration) at Indiana University, she hopes to add minors in Second Language Studies, and Literacy and Language Education.

For the past two summers, she has attended the Genomics Short Course at the National Institutes of Health and is researching the genetic aspects of language acquisition and cognition. She would like to thank USI Graduate Studies and also the World Languages and Cultures Department for helping to make this possible. Mishler, MSEd 1999, MALS 2010, and MASPC 2017, is a three-time USI graduate. Previously a member of the adjunct faculty at USI, she has also served as a CAP instructor since 2007 and feels that USI will always be home.

She currently spends her free time with her husband, two sons, and Mika the rescue dog. 
---
Phillis Brown
After receiving her degree at USI in Economics with a minor in French, Phillis Brown graduated with a Master's degree in Second Language Acquisition, Policy and Culture in 2018.

After graduation, she was accepted into the Japan Exchange and Teaching (JET) Program. Her degrees from USI directly prepared her for her work teaching English to junior and senior high school students in Kyoto Prefecture, Japan. Coming into this position with a background in teaching methodologies, theories, and having had hands-on experience in the classroom allowed her to transition into this role with confidence and ease.

 After the JET Program, she joined the Peace Boat, a Japan-based international NGO that promotes peace, human rights, and sustainability through a passenger ship that travels the world. She served as an English Language Instructor, helping students gain the necessary communicative language skills for their voyages. 

Currently, Phillis is working at Texas A&M University in Education Abroad as an exchange student advisor. 
---
Kountiala Jean de Dieu Somé
MASPC graduate, Kountiala Jean de Dieu Somé, Fulbright Scholar, Class of 2018, is currently teaching English to Masters students at a private university in Burkina Faso while working as Lead project and strategic communicator for an NGO that advocates for human rights. He is also the founder of the Dream Center for Young Leaders (DRYL).

He recently completed his first year in a doctoral program at Illinois State University. 
---
Afnan Alnashwan
MASPC graduate, Afnan Alnashwan, Class of 2019, is beginning a Master's program in English at Georgetown University.

In the future, she hopes to teach English as a second language in addition to English literature. 
---
Cesar Berríos Chavarria
MASPC graduate, Cesar Berríos Chavarria, Class of 2018, is the Program Advisor in the Multicultural Center at the University of Southern Indiana. Some of his duties are to organize various programs and events throughout the year to promote Latino culture on our campus. Outside of programming, he also advises individual students and two student organizations, the Hispanic Student Union and College Mentors for Kids. He is currently working to complete his doctorate in Educational Leadership at USI.

He writes: "One of the ways that I am using the knowledge and skills that I gained from the MASPC program is by trying to find new ways to better serve our Latino students. While conducting my research for my oral presentation, I was quickly motivated and inspired to not only present over a topic that I am very passionate about, but actually use some of that research in my current position to start making changes. The MASPC degree has not only made me a more culturally diverse and well-rounded professional, but it has also opened many opportunities for me."
---
Ai Hashiguchi
| | | |
| --- | --- | --- |
| | | Ai Hashiguchi, Class of 2016, is currently working at Indeed.com in Tokyo as a Team Leader.  |
---
Virginia Morgan
| | | |
| --- | --- | --- |
| | | French Studies and International Studies Major and MASPC masters graduate, Virginia Morgan, Class of 2020, is currently working at Berry Global in the International Compliance department.  |
---
Lance Grubb
French Studies Teaching major and MASPC masters graduate, Lance Grubb, Class of 2015, is currently teaching French at Westfield High School in Westfield, Indiana. He leads the Globalizing the Classroom PLC which focuses on increasing culture in the classroom and directed the first ever "Global Fair: Passport to the World" event at WHS to promote the diversity of the student population through food, music, and dance.

When he isn't teaching, he also is the staff sponsor of WHS French Club, which focuses on developing students' communication skills and cultural understanding outside of the classroom. This student-led organization has more than doubled in size since his start in 2017. As if teaching full-time, leading a PLC, and sponsoring French Club wasn't enough, he is also the new Co-Director for the WHS Theatre Department, which is performing Les Misérables, High School Edition this spring. Lance says that he uses what he learned from his years at USI to increase the intercultural competence of his students while making language learning a fun and exciting experience for all.

Through participating in this diverse Master's program, he feels that he was able to tailor his degree to meet his future goals while experiencing the wide variety of classes that USI has to offer. His advice to students thinking about the Master's program is to go for it because the program offers you a unique experience to broaden and enrich your future.