Each issue of the College of Liberal Arts Newsletter, Focus, features a student, alumni, faculty or event highlight. See the different highlights from past issues below.

Amelia Schmitz
Amelia Schmitz — current theatre performance major at USI — aspires to be a professional actor, and this semester she has taken on her most challenging role yet: director. In spring of this year, USI announced that it would be accepting show proposals from students who wished to direct a production at the university. Schmitz — who has been wanting to direct a show since her freshman year at USI — wasted no time in seizing the opportunity. She submitted a proposal to direct a show titled These Shining Lives, and shortly after her proposal was selected, plans were made for her to direct the show this fall.
These Shining Lives is a historical production centered around the women that painted watch faces at Radium Dial in Ottawa, Illinois during the early 1900s. Radium Dial taught the women to use a lip-point painting method, which required the women to put their paint brushes in their mouths before painting the numbers on the watches. During this time period, the lip-point painting method was deemed safe because people believed radium had medicinal applications. However years of using radium proved be extremely harmful for the women and many suffered from radium poison, an insufferable and terminal illness. So, the production follows the dial-painters as they stand up against Radium Dial because the company knew about the dangers of radium and chose to exploit the workers anyway. 
The historical significance of These Shining Lives proved to be Schmitz's greatest asset as well as challenge as she directed the show. On the one hand, Schmitz described how conducting historical research for this production was one of her favorite parts of the process. "These women are truly amazing," Schmitz explained. "They helped change the legal system for employees and create a safer work environment for the future."
On the other hand, the time period in which the show is set creates more challenging dialogue for the actors. "I have found moments of the dialogue challenging since sometimes the characters speak more poetical," Schmitz admitted. "It has been challenging dissecting those lines and helping the actors understand them, but overall, it has helped me grow as a director and an artist."
Overall, Schmitz seemed confident in the work she and her cast put into the production. "I have been loving rehearsing with my cast. They are a very talented group of actors and I love seeing how the show grows every time we rehearse. Just getting to guide a story as it comes to life is a priceless experience."

Tommy Kautzman
"I just want to do something that makes the world a better place."
Tommy Kautzman — current political science major and public relations minor at USI — may not yet know the trajectory of his future career in politics, but that does not stop him from seizing every opportunity possible to advance his knowledge and experience in his field. This past summer, Kautzman worked as a Digital Communications Intern for the Office of Congressman Brian Mast in Washington, DC. Kautzman would like to preface the discussion of his internship by stating that working with the Office of Congressman Brian Mast was an excellent professional opportunity and the opinions and values expressed by said office do not reflect his own.
Although working in the nation's capital may be intimidating to some, this was not Kautzman's first internship in Washington, DC. In fact, Kautzman learned about the Digital Communications Internship through a connection he had made in a previous internship working for the Office of Indiana State Senator Mike Braun. Not only was Kautzman resourceful in securing yet another internship in Washington, DC to gain more hands-on experience, but the Digital Communications Internship did not provide housing, so Kautzman had to secure housing on his own. Ultimately, he was able to stay in a dorm at the Catholic University of America.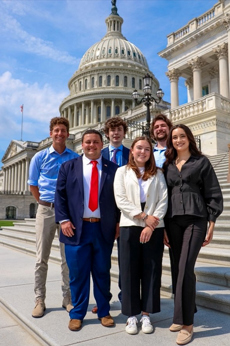 Some of Kautzman's responsibilities as a Digital Communications Intern for the Office of Congressman Brain Mast were keeping up with current events, understanding the office's political goals, and creating digital content tailored to the office's political views. Some of the content he was in charge of creating included social media captions, tweets, and graphics.
"I really learned how to use Adobe Photoshop in design and gained a better understanding of the software," explained Kauztman. "Overall, I definitely had the ability to strengthen my graphic design skills, writing skills, and was able to connect with professionals in the realm of communications."
When reflecting upon how his experience at USI thus far has contributed to his success outside the classroom, Kauztman specifically recalled Advertising 101 with Dr. Summer Shelton. He elaborated on how Dr. Shelton is not only a true inspiration to her students, but how her course helped lay the framework for a lot of the concepts he has encountered in his real world experience.
Finally, Kautzman encouraged anyone considering studying abroad or working for an internship in a new place to seize the opportunity. "The feeling of getting ready to go can be really overwhelming," he admits, "but you just have to learn to be comfortable getting uncomfortable and remember the reason you want to do it. Then everything will work out with time."

Alexia Wilson
College is a place of great opportunity, not just in academic and professional advancement, but in personal growth and self-discovery as well. USI student, Alexia Wilson, has wasted no time in seizing all these opportunities. Alexia has had immense academic and professional success, as she recently had her essay "Despite the Abuse and Bullying I Suffered Growing Up with Autism, I'm Now Going to College!" published in a collection called Autistics on Autism: Stories You Need to Hear About What Helped Them While Growing Up and Pursuing Their Dreams, edited by Kerry Margo. This collection, as well as her essay, was released for sale on Amazon on March 29, 2022. Since the collection's release, it is now in listed as a "Best Seller" in its genre on Amazon. Furthermore, all proceeds go to KFM Making a Difference, a non-profit organization founded by Kerry Magro that helps provide scholarships for adults with autism to attend college.
Alexia explains how, although publishing her work has always been a dream of hers, she did not expect her essay "Despite the Abuse and Bullying I Suffered Growing Up with Autism, I'm Now Going to College!" to be the first piece she published. Alexia originally wrote her essay as a part of her application for the KFM Making a Difference scholarship and, even though she was not chosen as a recipient of the scholarship, she was contacted by Kerry Magro to see if she would be interested in publication. She describes the publication process as quick and painless, involving just a few emails and a free early release copy of the collection.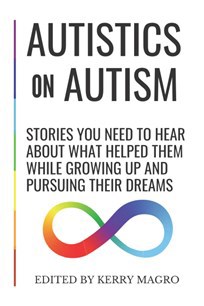 Although publication is a mark of great academic and professional success, Alexia's inspiration for writing the essay derives from the self-discovery and liberating sense of independence she has found while attending USI. In her essay, Alexia recalls how when she was younger, she "was pushed into the sides of lockers and walls, called a SPED (which is worse than 'retard'), called fugly, and [her] homework was stolen the few times that [she] finished it." Now, in college, Alexia believes that she has found a more accepting and less judgmental community. She describes college as one of the greatest experiences of her life.
However, despite Alexia's passion for writing, for the first two years of her college career her major was undecided because she wanted to choose a major that would please her family. In the end, Alexia's newfound freedom and independence pushed her to pursue her passion for writing and editing, and she declared a major in English with an emphasis on Professional Writing and Rhetoric. Also, on her path of self-discovery in college, Alexia researched more about autism, discovered what it was, and found her identity in it. While some may prefer to be referenced as "a person with autism," Alexia prefers the term "autistic," although she does not like being categorized on the autism spectrum. She explains how certain medical groups will deny care if someone is classified as too high or low functioning on the autism spectrum. Alexia remembers that during her freshman year at USI, her insurance denied covering her medication because she was considered too "high functioning" to need it.
Among the issues Alexia believes there are with the social perceptions of autism in relation to the autism spectrum, inaccurate stereotypes are one of the most harmful. Alexia explains how "Autism is not easy and the hardest part to deal with is the way society treats us." Some of the stereotypes Alexia tackles are the victimization of parents, the innocence of autistic people, and the assumption of physical indicators. She details how the majority of the support and sympathy given to those with autism goes towards the parents. Alexia wants to make it clear that parents of autistic children are not victims but just normal parents who have normal parental responsibilities towards their children. Moreover, another harmful stereotype Alexia wishes to debunk is that all autistic people are completely naïve, innocent, and dependent on others. She asserts that autistic individuals are just as capable and mature as neurotypical individuals (those without autism). Lastly, a lot of people assume that you can tell someone is autistic by the way they look but that is not the case. Alexia states that "There is no look to [autism], that's not how it works." She believes that is unfair to say someone is or is not autistic based on the way they look. Overall, it is always better to ask questions rather than make assumptions about other people.
Click here to purchase the collection.
Click here to learn more about the KFM Making a Difference Foundation.
Interview conducted and written by Aubrey Swart '22


Alice Wickliffe
Class of 2024
Major: Criminal Justice
Distinguished Student Award winner, Alice Wickliffe, had the rare opportunity to present joint research with Dr. Caroline Jalain at the Southern Criminal Justice Association Conference in September of this year. Alice was kind enough to answer some questions about their presentation, entitled "Examining Veterans Treatment Courts Operations during the COVID-19 Pandemic: Preliminary Results." 
How did you come to USI and the Criminal Justice program?
I first attended USI in 1984. Last year, I decided to return and finish what I started 37 years ago. I wanted to be a corporate lawyer all those years ago, but life has shown me the disparity in the criminal justice system, and I believe that being a voice for those who are accused of a criminal act is my purpose. I have been a Court Appointed Special Advocate (CASA), for more than nine years and found that I love working in criminal justice.
Tell us about your paper.
It was a joint effort with Dr. Jalain. We both wrote sections of the paper and did parts of the PowerPoint. The presentation focused on the research we will be conducting. Veterans Treatment Court is a specialty court that was started in 2008 by Judge Robert Russell in Buffalo, NY. Judge Russell had seen an influx of veterans on the court docket and felt that because of their unique situation, a specialty court could offer them an opportunity to receive treatment, get their life back on track, and avoid prison. The focus of our research is how the VTC (Veterans Treatment Court) operated during the COVID-19 Pandemic. The pandemic has had such a profound effect on every aspect of life. We feel that knowing and understanding the effect on VTC will help to improve policies and protocols going forward.
As a student, how does it feel to have been a presenter at an academic conference?
I am very honored to have been asked to be a part of such a rare opportunity. I did not fully understand the magnitude of it all until I arrived there. I had the opportunity to meet another undergraduate and during our conversation realized that few, in my position, got the opportunity to do what I was able to do.
Are you happy with how the presentation went?
Yes! I was nervous. Dr. Jalain and I practiced many times and she encouraged me. She said I did well. I wanted to make her and the University proud, so it was important to me that I did my best.
What are your future plans?
2024 is my graduation date. I have not decided if I will attend graduate school or go to law school. I do know that I will use my education and skills to be a voice for those who are wrongly convicted.
Is there anything else you would like to share about this experience?
It was the best academic experience I have had so far, and I am profoundly grateful for the trust and the honor that was given to me by Dr. Jalain.

Stephanie Folz
Class of 2021
Major: History
Minors: Creative Writing, Professional Writing and Rhetoric
Involvement: USI History Society
---
Have you ever had your hands on a piece of ancient history? Literally? USI History major, Stephanie Folz has. She frequently works on researching the ancient artifacts and artwork within the USI Art Collection thanks to her position as Student Archivist in the John M. Lawrence '73 Library. 
The Lawrence Library is one of USI's (somewhat) hidden gems. Located in the lower level of the Liberal Arts Center, the Library is home to a rotation of curated exhibits featuring antiquated items donated by the Library's namesake, John M. Lawrence '73, and others, such as former USI College of Liberal Arts Dean Michael Aahkus. Lawrence is an international expert and collector of medieval manuscripts. Lawrence donated many of his medieval manuscripts as well as other artifacts, for use as a study collection for students. Michael Aakhus's wife Patricia (Patty) Aakhus was instrumental in the formation of the Library, which sprang from a friendship between her and John Lawrence. Patty Aakhus, who was an Associate Professor of English, served as the director of the Center for Interdisciplinary Studies and also served as program director in Global Studies (formerly known as International Studies). She served as the first caretaker of the Lawrence Library. Since her death in 2012, the College of Liberal Arts oversaw the Library until 2018 when Susan Colaricci Sauls M'16, Director of University Art Collections, officially took over the management of the space and the collection.
Sauls now oversees not only the space but also the student workers for the Library. She tells us, "The Lawrence Library prides itself on the student leadership of the space. Each semester there is a Senior Student Archivist and one to two Student Archivists that curate exhibitions, research manuscripts and artifacts, and participate in collections management and care." Stephanie Folz started her position at the Library about one year ago and immediately fell in love with the work. As a History major, she is no stranger to doing research and, coupled with her minors in Creative Writing and Professional Writing, she can craft a great story to go with each piece in the exhibits.
It may not surprise anyone that her first stops in researching any of the unknowns about pieces in the Library are Google and Wikipedia. Using key terms and comparing images of similar artworks helps her sleuth out the origins and subject matter for many of the works. "When you can't read a language, you have to use context clues to figure out the meaning. I have even been able to use Pinterest to find little 'breadcrumbs' of information that lead me down a trail to learning more about a piece," Stephanie says. This detective work was put to use when Stephanie curated her own exhibit, "A Global Phenomenon: Religion," on display now. She chose a selection of Eastern Hemisphere religious artifacts and texts that range from the ancient thoughts of Buddhism, the branches of Christianity, and to the life way of Hinduism.
As someone who loves mythology, Stephanie reveled in the chance to work with the different gods, goddesses, and saints depicted in her exhibit. Her favorite eras to study include Ancient Greece and Ancient Egypt and she has been able to handle pieces from those eras in her role at the Library. A couple of her favorite pieces are Vishnu Under the Sun, the Thai Buddha Folios, and the Hellenistic Greek Krater (which also has an exhibit running concurrently with her own). If you would like to see any of these pieces up close, visit the Lawrence Library where both exhibits will be on display through the end of the academic year (May 2021).
The Library is open to the public and open to USI classrooms wanting to do their own research. To find out more about the library, its exhibits, and scheduling, please visit the website.
If you would like to learn more about the USI Art Collection, check out USI Foundation's video featuring Susan Colaricci Sauls.

Alleigh Dillman 
From: Washington, IN
Class of 2022 | Majors: French and Business Administration
Advice for fellow students: "Get close with your professors because a lot of people are scared and don't talk to them but they're all really helpful and want us to succeed. If you don't take the step to establish a good relationship with your professors, you might miss out on the resources they could provide to help further the future of your career."
In the College of Liberal Arts every member of our faculty and staff and each of our students play an important role in the College's success. Alleigh Dillman happens to fit into two of those categories: student and staff. Alleigh, a current sophomore, works in the College of Liberal Arts as a Liberal Arts Assistant. In this position she makes package runs to other buildings, delivers faculty mail, informs Dean Beeby of meetings, and helps students and other staff with their everyday tasks.
In addition to her role in Liberal Arts Alleigh is majoring in both French and Business Administration. When asked about why she chose these majors Alleigh talked about how she has been practicing French for six years and described it as "second nature." Alleigh knew she would pursue French in college because it is one of her passions but she wanted to combine it with something she knew would add to her marketability, leading to discovering the business administration major. Alleigh sees many career options in her future once she graduates from USI and she is currently considering going into international business, accounting, or business law.
Whenever she's not busy with classes or work, Alleigh enjoys all things outdoorsy, ASMR videos, Netflix binges, and dancing... especially for USI's Dance Marathon.
What is unique about the College of Liberal Arts?
"How accepting people are here." Alleigh has a tattoo and was pleasantly surprised to find out that others working in the College (including many professors!) have them, too. She appreciates how people in the College of Liberal Arts aren't so worried about your appearance but more concerned with who you are and what skills you can provide.
Best USI Memory
So far, Alleigh's best memory at USI was when she covered the opening of USI's arena as a journalist for The Shield. While there, she met Dr. Rochon who gave her hug, took a picture with her, and complimented her glasses.

Riley Cornett
Riley K. Cornett '19, who will graduate magna cum laude with a Bachelor of Science degree in Communication Studies during the College of Liberal Arts Commencement Ceremony, will receive the President's Medal, the highest honor presented to a graduate in the class of 2019.
A native of Mt. Vernon, Illinois, Cornett knew from an early age that she was drawn to educational spaces and has sought to provide and promote opportunities for students entering higher education. She is being recognized for her years of volunteer service, peer mentorship and enthusiastic passion as an advocate for USI.
During her time at USI, she has served in various capacities across multiple student organizations, including the Ruston-O'Bannon Area Council, AMIGOs, and mentorship positions within Student Ambassadors and the Honors Program.
She is praised for her work ethic, professionalism, character and performance in the classroom and in her extracurricular activities. She has been described as a high achiever, a respected leader, and as a role model for student service-leadership among her peers. As a representative of USI's student body, Cornett has spoken to members of the Indiana Commission for Higher Education and at USI's Fuquay Welcome Center opening ceremony.
While working as a radio personality for 95.7 FM The Spin, USI's student radio station, Cornett and her colleague Colin McDuffee '20 were awarded first place in the national "On Air Personality" competition of the College Broadcasters, Incorporated National Student Production Awards, and the "Radio Show" competition of the Indiana Association of School Broadcasters.
As a student, her awards and honors include the David L. Rice Merit Scholarship, Emma A. Gorby Endowed Deans Scholarship and the 2018 Spirit of the Eagle Award, given by USI's Student Government Association annually to those dedicated to creating a better USI.
Following her graduation, she plans to pursue a master's degree in higher education administration and student affairs with the eventual goal of employment as a dean of students in a university setting. 
Cornett is the daughter of Mary and Larry Cornett. Her sister, Ashtyn, is a student at USI and plans to graduate in the fall of 2019.
Other finalists for the President's Medal from the Class of 2019 included Haley Limper, Hannah Spurgeon and Kristen Stout. The Student Affairs Committee of Faculty Senate annually selects the recipient of the President's Medal.

Anna Ardelean
I have always been honored to call myself a Screagle. With every class I have felt myself growing into a scholar, with every meeting I have felt myself growing into a professional and with every passing day I have felt myself falling more in love with the school I call home. From the moment I toured the University of Southern Indiana as a senior in high school,
I knew that I would be happy here. What I didn't know was that this University would be my absolute favorite place. In fact, I didn't fully realize this until I had to leave due to the COVID-19 outbreak. Of course I was upset that the semester was being cut short, but sitting at home gave me a lot of time to think about all that I was missing.
I missed sitting in the UC with my friends chatting about the lecture we were just in. I missed scrambling to plan meetings for my organization and really believing the font on the poster was the absolute most important thing. I missed sitting in the Multicultural Center and feeling the chaotic energy of the room as everyone rushed to welcome each other and ask about their days. I missed walking across The Quad and seeing a professor, with me with excitement. I missed laughing with my classmates before the professor walked in.
I missed my friends challenging me to take on new leadership positions. I missed the loud rumble of Starbucks contrasting with the click of my shoes as I walked toward the silent library. I missed hanging out in the Honors office. I missed seeing the wonderful theatrical productions. I missed sitting in the basement of the library until 10 p.m., discussing and debating philosophy. I missed arguing with professors and classmates over which policy would be most effective. I missed the late nights of studying or planning. I missed seeing all the friendly faces in the administrative wing. I missed the thrill of seeing my favorite parking spot being empty. I missed fist bumps with James the bus driver. I missed the excitement of seeing Dr. Rochon walking around campus. I missed my friends and acquaintances because they were all part of my world and the life I had built at USI.
The University of Southern Indiana isn't just a school. It's a life. It is the first thing I see when I wake up in the morning and last when I fall asleep. It is my journey to becoming the opportunity and second chances. It is help when I need it and service when I can give it. The University of Southern Indiana was the first thing in my life that was really mine. I could shape my experience here into whatever I wanted. I could be as successful as I dared. I could push boundaries and explore my interests.
USI is constantly changing and moving. Growing. Improving. It allows for the self- actualization of its students. If we see something missing, we can work to improve it. We can create concrete change in this ever so stubborn world. We can make an impact here far beyond our short time as students.
The University of Southern Indiana has proven to be the steppingstone I needed to take me from a kid with big dreams to a young adult with tangible skills to make those dreams a reality. USI has become the home I didn't know I was missing and the family I never want to leave. And that is why I will always be proud to be a Screaming Eagle.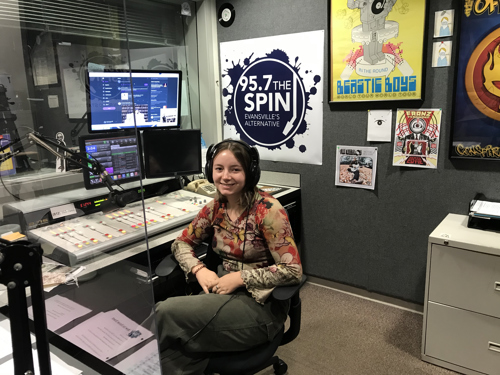 Kasey Hunt-Short
Working during the pandemic has been a big adjustment for everyone. Before the coronavirus drove us into quarantine, most people had never worked from home or worked for extended periods under a mask. Now that these adjustments have become the new norm, we are learning about the ways people got creative with their roles and found ways around the hurdles COVID-19 provided.
For the students employed at 95.7 The Spin, USI's own radio station, the first COVID-19 hurdles came in the form of finding a way to provide their content to the public without access to their radio equipment. We interviewed Kasey Hunt-Short, the Local Music Director at The Spin to get insight on how the team persisted and what it was like to come back to work early on in the pandemic.
What do you do in your role as Local Music Director? 
It is my job to add local music to the radio station and talk to local bands and artists about their experience in the music industry on the radio. Since COVID-19 began, I began interviewing them over Instagram Live. I am also the co-podcast director of The Spin's music review podcast called "The Spin Soundtrack." (To find out more about all of The Spin's podcasts, check out their website!)
What has it been like working during the pandemic?
There are definitely pros and cons to working during the pandemic. One pro is that I have more opportunities to reach out to artists who are farther away. Under regular circumstances I wouldn't have the chance to interview them. The only problem with that, though, is that I don't get to make that personal connection like I usually do.
Another one of the cons about working during the pandemic is that there are a lot of rules to keep us safe in the studio, like being so many feet away from each other and only so many people can do things at once. The limits make things stressful but, ultimately, it's all worth it to make sure no one gets sick.
What are ways you've had to be creative with scheduling, programming, etc. during the pandemic?
We have been taking some interviews from Instagram Live and rerunning them on the air. We've also been taking these interviews and uploading them to our YouTube channel and other online platforms. Besides the interviews, we've been creating some themed shows. For Halloween I made up a theme of "bands that resonate spooky energy."
What has your personal experience been like as a student worker during all of this? 
As a student, I have always valued my education first and getting good grades, so it can be really tricky balancing that and my job, social life, and mental health… especially during a pandemic. The way I cope with the stress of it all is that I remind myself "this isn't going to last forever; this is only temporary."
Even though the pandemic is a negative thing happening right now, I know there will be some positivity that will come out of it.
Listen to Kasey and the whole 95.7 The Spin team live on your radio or through your browser.

Stephanie Draper-Moore
Class of 2020
Major: Bachelor of Professional Studies, Individual Studies
Minors: Anthropology, Gender Studies and Geography
Anthropology. Gender Studies. Geography. At first glance, you may wonder what these three subjects have in common. To Stephanie Draper-Moore, each subject represents something she found a passion for or strengthened her passion for during her time at the University of Southern Indiana. As a Bachelor of Professional Studies (BPS) student on the Individual Studies pathway, Stephanie was able to earn a degree that suited her unique wants, needs, and professional aspirations after working for over two decades in the political sector. So how did this veteran political consultant and campaign operative find her way to USI? What made her pick this institution and this degree over others? 
Stephanie's career in politics at the city and state levels, working with Congressmen and being a member of the Indiana Commission for Women meant she had the opportunity to work on numerous initiatives and campaigns. But it was a multi-day event in 2016 on Capitol Hill in Washington, D.C. that would change her life. This event, which focused on the victims of the 2014 Chibok schoolgirls kidnapping (#BringBackOurGirls), consisted of bringing together representatives from over a dozen countries fighting for ways to provide aid to the Nigerian government and getting the rest of the (276) girls home safely. Stephanie was determined to contribute more. This led to questions of, "What is the geographic landscape? Where do we look? What more can I do?" So, for her, wanting to be more educated on international matters meant going back to school. A chance encounter with USI's Provost at the time, Dr. Ronald Rochon, followed by another chance encounter with USI's President, Dr. Linda Bennett, cinched it. Both were adamant that Stephanie bring her talents to USI.
"Through the BPS program, I was able to put 23 years of government training to use," Stephanie shares. Although, it was never what she would call easy. "BPS was very flexible. I was able to take classes I was interested in and hone my skills in those areas, but I took classes that I knew would be a significant challenge." One of those classes was Geography. Dr. Joseph Di Pietro's GEO 123 class was tough, but she could tell he was very passionate about the subject. Stephanie joked, "His exams were all memorization, which was terrifying. I was already a grandmother walking into that class!" But, determined to learn, she found ways to sharpen her memory and passed the class with an A, in what she considers the most pivotal course in her academic success.
Another fond memory she has is in an Anthropology field course with Dr. Michael Strezewski, which was originally taken to deepen her understanding of stratigraphy for her Geography studies. In it, the students were able to actually be a part of the unearthing of an ancient wigwam. On the final day of the dig, Dr. Strezewski was joined by fellow anthropologists from other universities and one of their comments stuck with Stephanie, "None of us got to do this as undergrads. Most people don't get to do digs like this until graduate school." It was then that she realized one of the most special things about USI: as a smaller institution, there are more opportunities for hands-on, real-world experience than on larger campuses and she experienced that value first-hand. An in-depth study of Medical Anthropology with Dr. Michael Rynkiewich the next semester sealed Anthropology as an additional major/minor.
Though most her time at USI has been spent taking scientific courses that were quite foreign to her background in government and politics, she found a home for her first love—politics, with instructor in political science and global studies, Ellen Topper. "I have taken every course she teaches, and would do it all over again," she proclaims. "The insight gained in Ms. Topper's International Studies and Global Engagement courses helped identify how to apply the intersection of my interest in a real-world scenario. BPS is the only program on campus that allows that type of flexibility. I encourage anyone pondering educational pursuits to take the plunge, and closely consider BPS an option."
Throughout her time at USI, Stephanie has been a full-time student balancing the duties of school, work and family. One highlight of going to school while also working with younger people in her role as a Job Developer at YouthBuild Evansville is that she gets to share the things she is learning in the classroom with her own students. She says, "I take what I learn in class to the community and vice versa."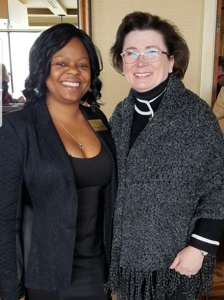 There is another unique highlight in her journey at USI: the onset of the coronavirus pandemic. Stephanie admits that this semester, her final semester, has been rough but is thankful that professors have been very understanding. "I'm completing my degree in just four years, which I am told is quite unique for adult learners. I have taken classes every summer, and yet, nothing compares to this semester." She likened this semester to an out-of-body experience with its several ups and downs but noted one particularly emotional email. She was very disappointed, but not at all surprised, when the University announced the Spring 2020 Commencement ceremony was canceled. It dampened what should be a very happy moment for her and her classmates. Thankfully, an upswing came in the form of an email, too. Stephanie was thrilled that the ceremonies were being rescheduled and revamped so she could celebrate this major accomplishment.
After graduation, you can find Stephanie finishing the newly-minted Yale Climate and Health Program which focuses on climate adaptation mitigation, or how communities can be more resilient against the environmental changes ahead. Below are a few other questions we had for this Wonder Woman:
What's the best career advice you have received?
Women should negotiate their salaries just like men do. We get the job offer and we're excited to start planning our future with the company... But the offer is only the beginning. Next step: negotiation. You're worth it.
What's the most effective daily habit you possess?
Quiet time with just a pencil and piece of paper. About 15 minutes. It's almost like a moment of meditation but, really, just a moment of rest. Quiet your mind and what fills it? For me, it is writing down ideas, thinking about what to read next, or catching up with my to-do list. It may be a reminder to call someone or pay a bill but sometimes I also sketch.
Hobbies and Interests:
I love to read articles. I'm very much a beach person. And I love spending time with family. Game night is better than a night in Paris. We have done a lot of karaoke during quarantine!
What is one thing you can't wait to do once we are out of quarantine?
Take the family to Florida and meet up with my best friend from New York. That and a reunion with all my children and friends on the beach would be nice!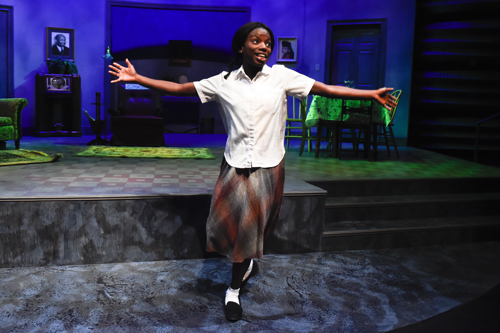 Jada Hampton
Class of 2020
Majors: Theatre Arts
Involvement 
Assistant General Manager for the College Mentors for Kids
Theatre/Africana Studies representative on the Dean's Student Advisory Board
Student Government Association (SGA) as a constructive member
Public Relation chair for Career Services Ambassadors
USI AMIGOS
Emerging Leaders
Jobs
Student worker for the College of Liberal Arts Dean's Office
Former Box Office Assistant for New Harmony Theatre
---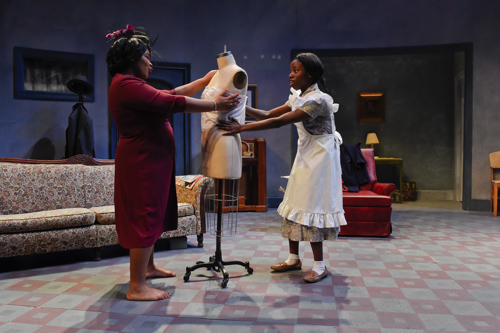 How many performances have you been a part of at USI?
I have been a part of six USI Theatre productions including my role as the sassy and brave Ermina Crump in Crumbs from the Table of Joy, the passionate and loving Hermia from a Midsummer Night's Dream, as well as the bright, endearing, and nameless The Girl in Eclipsed (which unfortunately didn't make it to production due to the pandemic).
I also served as an assistant stage manager and got to work on my dramaturgical capabilities for our student production of Standing On My Knees. I have extreme gratitude and adoration for every single actor, director, designer, faculty and crew members that made the magic of USI Theatre possible. I will certainly never forget it.

Jada as Ermina Crump in Crumbs from the Table of Joy
Have you been able to perform outside of the USI Performance Center? If so, where?
It requires a considerate amount of time to be a theatre major and a part of productions, but I think we all pride ourselves with our ability to create outside of the mainstage. Whether that be writing a script and holding a staged reading, putting together a showcase, or coming together and reading our favorite scripts—I've always admired my peers for following those veins of artistry.
 I have been able to perform as an actor in selected plays at the Kennedy Center American College Theatre Festival (KCACTF), as well as a dancer, puppeteer, and actor at the Eugene O'Neill Theatre Center. One of my fondest memories is meeting the director of Flock Theatre and getting into audio/voice over work for a very special project concerning slavery and historical figures in New London, Connecticut. It was such a cool opportunity!
What has been your favorite performance to be a part of so far?
It's so hard to choose just one, because all of them hold a special place in my heart. However, Midsummer Night's Dream was an absolute delight. I mean, who knew I would be swimming on stage while being restrained by two men? I've never been so in tune with my impulses as an actress and it was all invigorated by the caliber of the talent in the show. Every rehearsal was a beautifully fresh discovery into the words of Shakespeare. The number of laughs, surprises, and, ultimately, phenomenal reviews for the show proves that USI Theatre is an incredible force of emerging and rising talent.
What is the title of the current chapter in your life?
Oh, it's definitely titled, "The Art of Stillness". Curt Columbus, artistic director of Trinity Repertory Theatre, said that the hardest part about our current circumstance is the sheer amount of patience the universe is willing us to practice with ourselves and each other. I'm the type of person to just "go, go, go", but I have the same amount of control over my future as everyone else and it's humbling. I know my hard work and efforts haven't been in vain, so I'm taking this time to reflect and to love myself in a way that prepares me for the opportunities and dreams that are right around the corner.
What nominations have you received and what awards have you won for your work?
The Kennedy Center American College Theatre Festival is a nationwide theatre competition for colleges across the eight different regions to recognize talent in performance, playwriting, technical theatre, and other related careers. I have been nominated for the Irene Ryan Scholarship competition twice in my four years, once for Hermia and previously for Ermina. I was able to advance to the semi-finalist round my sophomore year and it's always been a blast to witness the incredible talent in our region. 
Another amazing opportunity is the National Playwriting Program, which chooses six 10-minute plays for hundreds of submissions to showcase at the festival. My play Hip Hop Heaven was one of the six chosen for the regional festival. The opportunity that's impacted me the most is the ASPIRE program, started by Curt Columbus and Victoria Nolan, of the Yale School of Drama, to diversify the arts administration field by finding and recruiting emerging arts leaders. My first year I was an alternate and this year I was the chosen fellow of 8 across the nation. Already, I have learned so much from my cohort and am excited to meet them in person at the 2021 National Festival. Obviously, KCACTF is an incredible blessing and without the school's support I would have never been able to experience such growth in my career over my collegiate career.
What is the most challenging part about acting? Writing plays?
The most challenging part of acting is getting out of your own head. Many people have the notion that acting is about "becoming someone else", but I believe that the character is using the actor as a vessel of truth. Those characters become an embodiment of whoever the actor is, which makes it an incredibly personal experience. It's hard to follow your gut and your instincts when humans have the tendency to doubt themselves but, to be the best vessel you can be, you have to trust yourself. The same goes for playwriting. I write a sentence and I can question it a thousand times, "Can I hear this being said on stage? Coming out of the lips of my favorite actor? Is it special enough to be on this page", and the list continues. The most important part is honesty. Honesty is the place whence impulses spring, and if it's true to the experiences of the characters, it will be true to others as well.

Jada, second from left, performing in Dog in the Manger
What is the best career advice you have ever received?
I was having a crisis once and I was so concerned about not getting into my dream schools, not being prepared to move to New York, and had just a general sense of doubt. Out of impulse, I ended up talking to Forest McClendon and he told me that if I was asking him these questions, someone I barely knew, then I already knew the answer. I know what I wanted, I was just too scared to go for it and he asked, "Do you really want another voice in your head to complicate things? What do you want?".
That is the best advice I received which, theoretically, was none at all. Like I said, your gut is vital, and I wasn't listening to it. I've followed my gut since then, and it's not a panacea but it helps to never question if I'm the reason my dreams aren't accomplished. I'm doing everything I can and the rest is up to factors that are out of my control–and God–which I can accept.
What are your plans for after graduation?
This period of stillness has allowed me to reflect on how much control I thought I had over my future. I didn't get into those graduate programs, I haven't heard back from some of those apprenticeships, and I'm probably not moving as fast as I would like. However, I'm still applying and I'm still sending positive energy out into the universe. That "yes" will echo back to me one day, and I'm so excited for it. In the meantime, I am working on my craft, starting my podcast, dancing, and learning everything I can about arts administration. This period of quarantine won't be productive because I did the most but because I loved the most-my passions, my loved ones, and myself.
What inspired you to pursue this career?
Wow, theatre is everything to me. It's the beating heart of humanity. It's how we imprint how we feel and the circumstances of our generation through words and experiences that last forever. My heart was always in it, and I never said no, no matter how many people questioned the stability of the path or the financial risk, I always knew this was what I wanted to do for the rest of my life. 
Theatre is a reflection of the human condition in our current and past worlds, so naturally it is also inequitable. Women who look like me should be able to see themselves represented and existing in this medium with the fullness of truth, clarity, and boldness they deserve. My hope is to create a lineage of opportunity behind me, reaching back and helping others fill the gap that exists in our art form. It's never been about me, nor will it ever me. I just hope the work I do in my life benefits a steady change that outlives us all.
If someone made a play or a movie about your life, what genre would it be? Drama? Romantic comedy? Science fiction? Something totally different?
It would definitely be a serio-comedy. My life is absolutely hilarious! I can't believe some of the situations that I've been in, which is mostly due to my crazy imagination, silliness, and willingness to be free and unapologetic. It has its areas of intensity which have the power to still and humble us all, but its purpose is to be a celebration of life. The roses in between the crack, the streaming light in the darkness, and the burst of laughter in the deafening silence expose the idiosyncrasies and the beauty of living this life. So arm yourselves with tissue and aspirin because you'll cry hysterically from both human relativity and glorious laughter.

Brandon Carrington
Class of 2020
Major: English, Emphasis in Creative Writing
Minor: History
Brandon Carrington has worked in the College of Liberal Arts front office for around three years. You may have seen him performing with the USI Choir in their annual Madrigal Feaste or on stage during President Rochon's Inauguration. When he isn't running games of Dungeons and Dragons for his roommates and friends, he is creating his own superheroes and crafting new worlds in stories of his own.
Our writer, Brandon Hartman, sat down with Brandon Carrington for a quick Q&A.
Dream job: Accomplished Author
Favorite color: Black
Hobbies: Writing, singing, and listening to music.
Something that makes you sad: Not being able to help other people
3 adjectives that best describe you: Creative, Friendly, Loud
Organizations: University of Southern Indiana Chamber Choir
Special talents: I can drop my voice octave to something much deeper.
How old would you have to live until you truly believed you were immortal? Long enough to see my future books published

Larissa Sobczak
Class of 2023
Majors: Global Studies and Sociology
Minor: Spanish Studies
Throughout my life, I partook in Polish customs; my mother's side of the family is Polish, and my father's side is Mexican. As a young girl, I remember seeing Pisankis (colored decorative eggs) placed in the living room during Easter time. For Easter we had polish sausage, sauerkraut, my grandmother's homemade babka and lamb cake (don't worry, it's not actually made of lamb!) Christmas was a tad Americanized, but a few items we would have were pierogis, glazed ham, braised sauerkraut, and my grandmother's delicious kolaczki (a melt in-your-mouth pastry that holds a jam or nut filling). Since I have always connected more with my Polish side, I knew I had to visit Poland once I could travel on my own.
My desire to travel abroad truly began after my first year at overnight-summer camp. I had counselors from around the world – countries such as England, Scotland, Australia and Spain. Throughout many years of attending summer camp, I had the opportunity to meet and befriend people across the globe. They would talk about their lives back home and it felt as if I was traveling through their stories. I would try to envision life abroad. This fueled my desire to travel around the world and, hopefully, experience what it was like to live in a foreign country. In the spring of 2019, I had the marvelous opportunity to make those dreams a reality: I studied abroad in Barcelona, Spain.
During my time in Spain, I studied within the Cultural Experiences Abroad (CEA) Liberal Arts & Social Sciences program. All of my classes were held in one area: the CEA Barcelona Study Center, located on the Plaza Catalunya in the heart of the city. I took classes similar to the types of classes offered at USI; sociology classes, international studies classes, and an advanced Spanish language class. One of my sociology classes focused on immigration, race and identity in contemporary Spain. Another was called International Service Learning: Society, Inequality and Social Exclusion. This class focused on volunteering within the community throughout the semester. My International Journalism and Global Media class required us to write journal entries about the Syrian refugee crisis, Spanish writers, and current hot topics.
One class I was enrolled in, Communication and Global Competence, was taught by an American professor and became one of my favorite classes. Both Communication and Global Competence and International Service Learning became favorites because these classes required interaction with the community. Thanks to my coursework, I was able to engage with the local Catalonians and learn more about their culture and day-to-day life. I also enjoyed taking the metro and traveling to different cities across the coast of Spain in my spare time and on my three-day weekends. I even had the opportunity to fly to Ireland, Morocco, Georgia, Azerbaijan, and Poland (of course!).
I was able to experience this once-in-a-lifetime opportunity thanks to the support of the wonderful Mr. and Mrs. Campbell and the USI Foundation. I am forever grateful for the Campbell's generous donation that allowed me to experience my childhood dream of living abroad. In addition, I could not have been able to sort out all of the necessary paperwork without my study abroad advisor, Melissa Gonnerman. Melissa was always there whenever I was confused or stressed, making sure everything went smoothly. I would also like to thank my mother, friends, and USI faculty and staff for supporting my crazy, but wonderful adventure.  Their encouragement gave me the strength to make this trip happen.
You see, it takes courage to leave a familiar place where you don't have to worry about language issues, where you automatically know the cultural customs, and you already how to get from point A to B. When I said "see you later" to USI, my friends, family, and the life I know here in Indiana, little did I know I would also say goodbye to the old Larissa. Because of my travels, I have become more independent, which I didn't think was possible. I interacted with people from all over, I learned how to stay calm in sticky situations, and I saw just how beautiful the world can be.

Gabrielle Wy
From: Newburgh, IN
Class of 2019 | Majors: Journalism, Criminal Justice, and Psychology
Advice for fellow students: "Constantly look ahead. Plan each day and each week with purpose."
Awards
2019 Trustees Distinguished Merit Award
Distinguished Sophomore Award
Distinguished Graduate Award
Duffus Melvin Achievement Award in Criminal Justice
Academic Achievement Award in Psychology
Endeavor Award recipient
---
Presenting research at a professional academy may seem like a realm saved solely for professors but USI undergraduate student, Gabrielle Wy, is proof that younger academics can share that stage. Gabrielle joined USI Criminal Justice professors, Dr. Melinda Roberts and Dr. Martin Koen, on a panel at the 56th Annual Meeting for the Academy of Criminal Justice Sciences (ACJS) in late March 2019. They, along with Bryce C. Newell of the University of Kentucky, presented their research from case studies on body-worn cameras.
Gabrielle was involved with the analysis of data from two studies under discussion at the conference, including one study in which she is first-author: Making Sense of Body-Worn Cameras: An In-Depth Examination of Special Units Across Two Agencies. She explains, "For this project, we were looking at perceptions of body cameras, specifically within special units. So, departments like K-9, SWAT, or undercover units that have officers in more specialized roles." The data they used was collected through an interview process in which the officers shared their own experiences with body cameras. At the time of writing, only one other study had delved into special unit officers' perceptions. With this new work by Gabrielle and Dr. Koen, researchers can start making comparisons between the data.
While criminal justice has become her new passion, Gabrielle did not start her college career in the Criminal Justice department. She came to USI after graduating from Castle High School in Newburgh, IN and began her college career as a Journalism student. For the first three years, she worked at USI's student-run newspaper, The Shield. First as News Editor in her freshman year, Features Editor as a sophomore, and Editor-in-Chief in her junior year. Gabrielle initially had thoughts of becoming an investigative crime reporter which put her in classes with Dr. Koen. When he asked about her post-graduation plans after class one day, she admitted she was reconsidering. They were talking about her interests and other possible careers in criminal justice when Gabrielle brought up her love for school. "I have always loved learning. As a kid, I would get so mad when they would call snow days." Thinking a career as a professor would satisfy that quest for knowledge, Gabrielle set her sights on getting a Ph.D. and becoming a professor. This new path led to Dr. Koen asking her to participate in his criminal justice research to help prepare her for graduate school.
At the same time, Gabrielle found that she was really enjoying her Psychology courses with Dr. Urska Dobersek, who happened to be looking for research assistants for her studies in sports psychology. Gabrielle collected and analyzed data in the psychology labs for two semesters as a part of Dr. Dobersek's team, in addition to her criminal justice research. For both subjects, Gabrielle says, "So many areas within psychology and criminal justice haven't been studied yet and I have so many research questions to ask."
Now, as an Honors Program student with a triple-major in Journalism, Criminal Justice, and Psychology, Gabrielle is looking forward to continuing her education after graduation this spring. She applied to four graduate schools, three of which accepted her with a full-funding. She feels that the various research opportunities she had during her time at USI really helped her stand out to those schools. However, she remembers "figuring out how to sell myself was the hardest part. It was very nerve-wracking!" Luckily, she had support from her professors who encouraged her each step of the way. After lots of site visits and consideration, Gabrielle plans to attend the University of Maryland in the fall as a doctoral student.
Heather Offerman
Class of 2009
Major(s): Spanish
Minor(s): Psychology
Degree(s): Bachelor of Arts (BA) Spanish 2009; Master of Arts (MA) Spanish Linguistics 2014; Doctor of Philosophy (PhD) Spanish Linguistics 2020
Hometown: Evansville, IN
Job History/Current Job Title: During my time at USI, I taught English as a Second Language classes 1-2 times a week for a year. Once I began my Master´s, and later my Ph.D., at Purdue University, I taught Spanish language, culture, and linguistics courses. I additionally taught intercultural communication courses through the Center for Intercultural Learning, Mentorship and Research for 3 years, also during my time at Purdue. Between my Master´s and Doctorate, I took some time off from graduate school to take an opportunity to teach abroad at the Nanjing University of Science and Technology in China, where I taught graduate-level English courses and undergraduate-level Spanish courses. Currently, I serve as the Spanish Language Coordinator as well as a Spanish Lecturer in the Hispanic Studies department at Davidson College. This year is my tenth year of teaching classes at the university level!
Q&A with Heather
What did you want to be when you grew up?
As a young child, I remember making my own versions of a "desk" and a "chalk board" for my 3 year-old brother and telling him that I was going to be his teacher and help him learn – I think I've always harbored the desire to become an educator and facilitate learning opportunities and support for others. 
Why did you choose USI?
I am an Evansville native, and initially I chose USI since it was the most financially feasible at the time and close to my family. However, after my first year, I realized what a gift it was to be able to get to know my professors in smaller-sized classrooms and receive more personalized feedback. This is probably my favorite thing about USI; I felt a sense of community among students and professors.
What inspired you to pursue your career path?
I remember having many wonderful educators throughout my life (elementary, middle, and high school, as well as at USI) who I admired not only because I learned a lot from them, but also due to the evident care that they encompassed for all of their students. That was the main thing I learned from them and that I now strive to do in my own teaching. In terms of research, I never thought that I enjoyed it until I worked with Dr. Norma Rosas Mayén at USI. When she shared her research, I could always see the joy that it brought her, and I knew that, just like her, I loved languages and linguistics and wanted to find an area that was as intellectually challenging as it was motivating in terms of helping others (my current research focuses on investigating and comparing various pedagogical practices and assessing which are most useful in helping university-level students develop and acquire a second language).
Which teacher(s) had the most impact on you during your time at USI? Why?
I remember during my first semester, the first Spanish course that I took at USI was Spanish 101 with Mercedes Hayes. She was wonderful; she pushed us to speak, which had not been my experience in language courses I took in high school, and she was very encouraging. Additionally, that first semester, I took a composition course (I believe it was a requirement) with Dr. Matthew Graham; this was the first time anyone had provided me with constructive criticism and thorough feedback on my writing abilities, and to this day, I still reflect on certain comments he provided, as they helped to develop tremendously as a writer. Next were Dr. David Hitchcock and Dr. Guillermo Latorre, some of the Spanish faculty. I had just solidified my decision to become a Spanish major, I had completed my semester abroad in Mexico, and I was taking upper-level Spanish courses for the first time. With Dr. Hitchcock, I recall having my first discussions about applying for graduate school. He was very instrumental in this process, as he met with me fairly frequently to discuss any concerns or questions I had about the application process and how to best prepare for graduate school. Additionally, I remember taking my first course with Dr. Latorre and how encouraging he was; on multiple occasions, he took the time to acknowledge my growth and development in my Spanish language and linguistic skills. Once I decided to apply to graduate school, I remember calling to ask him for the recommendation (which I was so nervous about!), and, after he graciously agreed, he offered some invaluable advice on how to plan and strategize my time well in graduate school for a linguistics program. Finally, during my junior year, I took Spanish Diction with Dr. Norma Rosas Mayén. I immediately fell in love with the topics of phonetics and sociophonetics that we covered in the course, and I also observed and admired the passion that Dr. Rosas Mayén embodied for linguistics. At the time, I had very little familiarity with these topics, and I also experienced a lot of insecurities about choosing linguistics as my area of focus for graduate school; but, Dr. Rosas Mayén was very patient and encouraging. She believed in my abilities and my drive to learn, grow, and thrive as an academic. I am certain that, without these professors, I would not be where I am today.
Were you involved with any clubs or internships?
One internship through USI that comes to mind is one in which I taught English as a Second Language to adults that had recently come to the U.S. from primarily Spanish-speaking countries. This was a really great opportunity that helped me to not only gain some teaching experience, but also to get to know others from the community and be able to hear their experiences as first-generation immigrants to the U.S. I was very unaware at the time of the many hardships they faced being in a new country, and I felt honored to be able to hear their stories and learn from them. Additionally, there are so many privileges I realized I had growing up in the U.S. as a white, straight, middle-class, cis-gender, non-immigrant woman, and this experience was one of major catalyst that caused me to begin to address these privileges.
What are some highlights as you've advanced in your career path?
I think one highlight was recognizing the reality of "imposter syndrome" (it will make sense later why I consider this a highlight!). I have struggled with this for years, feeling self-doubt with respect to my abilities and the field I am in, and I remember my graduate school advisor expressing his own struggles with imposter syndrome. Ironically, these conversations with him really helped bring me some confidence because I knew I wasn't the only one. I was then able to embrace the fact that I can't know everything, and it's always ok to say, "I'm unsure about that, but I will look it up and get back to you." I've carried that with me at professional conferences, in writing my dissertation, in publishing articles, in my teaching, and also in coordination for my current position.
Do you have any advice for current students, either that someone gave to you or just something you wish you would have known?
"Don't stop just because you think you can't do it – you can do it, but you've convinced yourself that you can't."
I think that was some of the best advice someone ever gave me. As I mentioned with suffering from imposter syndrome, I was experiencing a lot of self-doubt in graduate school, and I almost quit my PhD because I didn't think I could do it/ I thought I wasn't the right "type" for academia. I realized that I was basing my perceived abilities based on others' thoughts and opinions and therefore greatly limiting myself. It took a long time for me to see that there is no "type" for academia and that the only person who could hold me back was myself.
Something I wish someone had told me is that it is ok to take breaks and to RELAX. In undergrad and grad school, I felt guilty if I was not constantly working and perfecting something. First, I had to learn how to throw this notion of "perfect" out the window – there is always room for improvement but trying to hit your idea of perfect will either drive you crazy or cause you to lower your standards, settle, and lose your drive. Second, learning how to mentally shut off your brain every day and take an hour or two for yourself is so necessary. If you are working constantly, you'll soon become burnt out constantly and not be able to perform at your best. So, take that yoga class, watch that tv show, have that beer with your friends; take time out of your day to care for yourself and the relationships that you value.
What is on your desk right now?
A coffee cup that says, "Cat mom," exams awaiting to be graded, my laptop, and a small but very green succulent.
If you had an all-expenses paid trip to go anywhere in the world, where would you go and why? 
Colombia (any city); I have many friends I met in grad school that are either from Colombia, lived there for a time, or are living there now. I would love to see and travel through Colombia, but mostly I would want to visit these friends and learn more about their home.
What are the top 3 things on your bucket list?
Visit all of Latin America, learn a third language fluently (I know 3 other languages besides Spanish and English but very minimally), and become a certified fitness trainer in some capacity.
What is your favorite quote?
"People will forget what you said, people will forget what you did, but people will never forget how you made them feel." – Maya Angelou
Learn more about Dr. Offerman:
https://www.davidson.edu/people/heather-offerman
https://heatherofferman.wixsite.com/summary
Interview conducted by Aubrey Swart '22

Christy Skie
Class of 2007
Major(s): Sociology
Christy Skie of Evansville is currently working as a Youth Vocation Rehabilitation Councilor with the State of Indiana in Evansville, Indiana. Focus had a chance to catch up with her recently about her career goals and her time at USI.
What did you want to be when you grew up and why did you choose USI?
There were many things that I wanted to be growing up, but I always had a difficult time settling on just one. I think it started as an astronaut, then to be in the WNBA, and a doctor at one point.

I chose USI because it was close to home and the diverse course selection that allowed me to work while being a full-time student.
What were some of your best memories at USI?
I absolutely loved all of the Sociology and Criminal Justice classes that I took. I know I will be the odd one to say that I loved Sociology Statistics with Dr. Priest. The Sociology courses just captivated me and kept me entertained throughout my time at USI.
I did an internship with the Adult Drug Court, but that was the only thing that I did as I worked full-time at an oncology office while going to USI. The biggest impacts that my internship with the Adult Drug Court had on me was that it taught me how to work with individuals with Substance Abuse issues. This skill set actually carried over into all of my future career paths.
Do you have any advice for current students?
Talk with a variety of individuals with diverse backgrounds. Honestly, you never know who will have some valuable insight or information to pass along to you. Also, don't sell yourself short. It is alright if you try out a career path or field that ends up not working out the way you had hoped. There are many choices and options out that that will end up working for you and being the right fit.
What are the top three things on your bucket list?
Traveling through Europe and seeing the home that Monet painted all the waterlilies, Seeing Niagara Falls from both sides (I have a fascination with waterfalls), and seeing the largest waterfall in Africa (Victoria Falls) as I have seen the second largest already!
What's the most interesting documentary you've ever watched?
Honestly, I am obsessed with true crime documentaries, and there are so many amazing ones out right now, especially on Netflix. I don't know if I could name just one!
What is one cause are you most passionate about?
I am incredibly passionate about Inclusion in the Workplace. I believe that everyone has the right to work in an environment that they feel safe and included in. I believe that employers should really be more open-minded about working with all types of individuals to make a well-rounded workplace.
What were the biggest ways that you were impacted by USI?
The ways that USI impacted me were that I made connections with professors and students that I continue even all of these years later. Also, I feel like many of the courses that I took impacted me by opening my eyes and looking at things through a different lens. USI really helped form me into the person that I am today. 
Maria Nguyen
Class of 2015
Major(s): Anthropology
Minor(s): Psychology
Hometown: Evansville, IN
What did you want to be when you grew up?
I wanted to be so many things, but I remember specifically wanting to either be a singer or a pilot. The joke's on me, though, because I can't sing at all and I have grown incredibly scared of heights.
When you were a student, why did you choose USI?
I chose USI because of the location and people. Being close to home was comforting to me but I also had the opportunity to get to know my classmates who were from all over the world. Having that sort of diversity along with the comfort of being in my hometown was very appealing.
What were some of your favorite/most memorable classes and why?
I enjoyed Japanese because I was able to come together with many other students who had similar interests as me. We wrote letters to pen pals in Japan which was a fun experience. I also took a Sociology class that was a seminar in globalism. It had an impact on me and made me realize how the world is evolving together in ways that may not be so apparent at first. I try to be more conscious as a consumer after taking that course.
Were you involved with any clubs or internships?
I did an internship at the Evansville Museum of Arts, History and Science. I am so happy I did because my experience made me appreciate museums even more and I witnessed the collaborative efforts required to run a museum. The Evansville Museum has exhibits that change all the time and connects viewers with current events, but they also have permanent exhibits that walk you through Evansville's history and more.
Do you have any advice for current students?
Do the best you can and be kind to yourself. I think it is too easy to get overwhelmed with stress, and to compare ourselves to others. Your feelings are perfectly valid, but be gentle with how you treat yourself.
Share a good memory you have from 2020.
Although 2020 has been weird, I was fortunate enough to visit the Smoky Mountains with my partner. We rented a vintage red camper for our trip that had no A/C, and it was my first time using an outhouse and showering outdoors. There were chickens that greeted us each morning, a dog named Alex that kept guard, and fresh, homemade bread from our host. Everything about that trip was perfect, including descending Mt. LeConte through pouring rain.
What are the top three things on your bucket list?
I would like to hang out with red pandas, and travel on a cruise to Antarctica. I should also probably learn how to swim at some point, maybe before the Antarctica cruise.
If you could have an all-expenses paid trip to go anywhere in the world, where would you go and why?
I would love to do a trip that includes Croatia and Slovenia. Plitvice National Park looks gorgeous, and there is a "Museum of Broken Relationships" in Croatia that I think would be cathartic for my inner teen angst. In Slovenia, Lake Bled would be amazing to see
What is your favorite quote?
"It be like that sometimes" might be a meme, but is totally comforting to me when bad things happen for no reason. I think to myself, "it be like that sometimes," and move on.
What's the most interesting documentary you've ever watched?
Dear Zachary is a documentary that I think is a must watch, but would not want to watch twice.
What is one cause are you most passionate about?
Animal welfare, for sure, but especially when it comes to pets. I have a soft spot for senior dogs and wish more people were willing to welcome senior pets into their home so they could live out their final years in comfort.














Ellen Small Billard
Class of 2005

As an Evansville native, why did you decide to attend USI?
"I didn't want to come to USI. I wanted to go out of state and went to [a Big Ten school], but then had unforeseen health issues and returned to Evansville at the end of my freshman year. I would never have made that choice on my own, but it turned out to be one of the best decisions of my life. Most of my teachers at [the Big Ten school] were grad students, and as much as they are smart, they have so much on their plates that they don't have time for you. At USI I was taught by PhDs, and they made time for me."
Can you describe the difference between the two universities?
"At [the Big Ten school] I felt like I was a college student and my life was a college campus. At USI, you get off campus. You have people from all walks of life… who bring a lot of different stuff to the table. The classes are small. USI worked for me. It was a community where people came together to talk about problems and to create community. I always felt I had a great sense of community here. USI is like a big state school with a small college feel. You really feel like you are part of the community."
What did you do to get where you are today?
"I sought opportunities constantly. I didn't care about formal office hours. I had relationships with my professors that when I knocked on their doors…none of them ever turned me away. I would pick my professors' brains. I would write papers and want to know immediately what they thought of my analysis. They wanted me to change the world. They wanted me to use my skills and ability to do something positive, and to do it to the best of my ability."
What was the overall message you came away with from USI?
"[My professors at USI] wanted me to know that what I learned was going to matter in the long run. The vision of my professors, to be able to see beyond the classroom, was very useful. USI does a great job in preparing students to go out and have great careers. It put an emphasis on your responsibility and your obligation toward your community."
David Staples
Class of 2009
Major(s): History
Minor(s): Classical Studies
"I didn't know they still taught Latin," was a common response I got as a USI student when I would tell people what kind of classes I was taking. As a history major and classical studies minor, a follow-up question would often be, "What will you be able to do when you graduate?" For me, it was law school.
   
And now, as a full-time public defender in Indianapolis, my impoverished and often incarcerated clients are not concerned whether a liberal arts education is still relevant today. They care that I can listen to them. They care that I can put myself in their shoes. And, they care that I am able to explain their point of view to a jury. The ability to take in diverse ideas, with empathy, in a way I can explain to others was foundational to my liberal arts education at USI, and I am a better lawyer for it.
   
If the body of knowledge taught at USI were a literal body, the College of Science and College of Business might make up the bones and blood, but the College of Liberal Arts is the soul – that which makes us human. Algebra doesn't bring people to tears, but the arts do. My humanities education from USI is the basis from which I am able to bridge the human experience between the trier of fact and my accused client.
I have represented thousands of clients in my brief career and had jury trials for everything from public drunkenness to murder. My time at USI has been invaluable in my practice of the law and will always be.
Written by David Staples
Tiffany Coles
Class of 2019
Major(s): Psychology
People like Tiffany Coles don't go to college.
People whose mothers are addicted to drugs. People who grow up in foster care. People who are expelled from three high schools, get involved with the wrong people and end up pregnant at 19. Degrees aren't meant for those people.
Most of her life, that's what Tiffany Coles believed. "I had a bad childhood, and I just don't see that for myself," she told a friend who brought up the idea of college.
It seemed far-fetched. Impossible even. No one in her family had ever gone to college, let alone graduated.
Still, something about the suggestion stuck—and became the catalyst for change Coles desperately wanted.
Pushing through
At first, nothing happened. Coles, then in her mid-20s, visited USI and had some encouraging conversations. But despite the GED she'd earned, she still lacked the confidence to take the next step and apply. Two years passed before she decided to enroll—as a single mom of three, working full-time.
"Those first few years it wasn't easy at all, but I just kept pushing through it because I really, really, really wanted this," she says. "I didn't want to live the life my mom lived, and I didn't want my kids to ever get taken away from me."
While working toward her bachelor's degree in psychology and minor in social work, Coles often relied on USI's Student Support Services. Former program director Heather Bauer and current director Aaron Pryor connected her with tutors, helped with assignments and offered the encouragement, structure and motivation that had been missing all her life. "I really needed someone who was familiar with me and my situation to give me that push, like, 'Tiffany, yes, you've been through a lot, but you're here now and you can do it.' And he [Pryor] gave me that," says Coles. "I feel like they were my guardian angels. They really guided me … I don't think I could have made it without them."
But Coles' own "passionate persistence," as Pryor puts it, may have been her greatest resource.
"Tiffany would be the first to admit that certain aspects of school did not come effortlessly to her, but what I admire the most about her is that she met every obstacle with her head held high, a smile on her face, a vision of the future in her eyes and words like 'can't' and 'won't' out of her vocabulary," Pryor says.
With her mother and children there to watch, Coles reached the finish line of an emotional five-year journey Saturday at Commencement. "I just cried. I cried a lot. I cried before, I cried after," she says. "It was extra beautiful for me because I look back at my life, and I'm just like, 'Wow. Things could have been way different.'"
Changing the narrative
People like Tiffany Coles do go to college.
People who are mothers (and fathers). People who refuse to stop growing. People who go back for what they missed, get involved in their future and end up graduating at 33. Degrees are meant for those people. 
That's what Tiffany Coles believes now.
"When you go to school and have a degree, you have something. That's your ticket to a successful life. It's your way to say, 'Hey, I made it. Whatever I want to do, I can do it,'" Coles says. "I feel like the sky's the limit for me right now."

Alex Bailey
Class of 2014
Major(s): Art & Design
Art and Design alumna Alex Bailey '14 first stepped onto USI's campus as a student in 2010. Planning ahead and making deliberate class choices allowed her to graduate within four years. Alex mentions, "I was very focused and made it a point to be in and out in those four years..." which is no small feat, especially considering her choice to change majors twice in that time. Alex started her college career as an Art major but the mounting cost of supplies was a bit daunting. She found a (temporary) home as a major in the Psychology department before realizing that classwork was not where her heart was. "I wanted to be back in the studio... I missed that a lot, so I switched my major back to Art."
The first time she picked up clay as a college student was not until her second year. "I never took classes in high school and I never took private lessons," Alex adds, making this her first real foray into clay. Her fellow art students and the ceramics teacher, Al Holen, saw her potential and encouraged Alex to emphasize in ceramics. After much consideration, including a memorable sleepless night, Alex realized she had to go after that dream. Snagging a job in the Kenneth P. McCutchan Art Center/ Palmina F. and Stephen S. Pace Galleries (MAC/PACE) with professor emerita Katie Waters also helped solidify her decision to pursue a career in the arts. Alex reflects, "Working with Katie was really fun and it helped me hone in on where I wanted to go with my art degree. It helped me decide on how I wanted to fit my degrees into my career instead of just being a 'starving artist.'"
In addition to Waters's and Holen's mentorship, having the opportunity to work in our gallery on campus played an important part in preparing Alex for graduate school. Alex was accepted into the ceramics program at Southern Illinois University Edwardsville (SIUE) in 2016. "It is a renowned program in terms of ceramics, and I was really drawn to how large their ceramics facility is." During all three years at SIUE, Alex was able to work in The University Museum. "I think what got that ball rolling was working with the gallery here at USI." Handling artwork, putting up exhibitions, inspecting art objects were all skills she picked up at the MAC/PACE and became important parts of her new job. According to Alex, SIUE's museum is more like a research archive, an interactive tool for students and faculty to use, with tens of thousands of objects. "I spent a lot of time moving objects, handling them carefully, and making sure they were in decent condition. I wrote reports and did research on items for the museum."
Her job in the SIUE museum was only a portion of her graduate school experience. At the time of applying, Alex had a portfolio full of functional ceramic work (utilitarian objects such as vases and mugs) but she was able to take other studio courses like sculpture and textiles, to round out her skills. She shares, "I found out I loved textiles. I started incorporating a lot of that into my clay work and the rest is kind of history because I still incorporate those elements into my work today." The final project for the graduate students at SIUE, a thesis exhibition of work, allowed Alex to showcase these newfound skills on a grand scale. In her own words:
"I created a large installation on a pedestal I built. It was four feet wide by fifteen feet long, just a couple inches off ground. This piece had a lot of these really narrow, vertical tubes. Each was oval-shaped and kind of tapered upwards. I pinched them out – a process where I literally pinch areas of the clay to thin it out. Each piece came to a different height and I fired them to a specific temperature with a specific surface application to give them this nice, soft, fleshy subtle surface.
I have this really meditative practice of rolling out a coil, pinching it, rolling out a coil and pinching it… You're doing the same thing over and over again – lots of repetition. I have a lot of similar themes that show up in my work. I like unity and variety and I like multiples. I turn that into this repetition of form and repetition of surface."
Alex extended dyed paper from the tops of those ceramic pieces, stiffened with glue to create this very natural, organic-looking object. 59 of those ceramic pieces were spread out across this long pedestal, giving it an appearance of some kind of living organism. Titled "You Are the Outlier," it touches on ideas of humans ostracizing and excluding versus being inclusive, welcoming, and banding together in solidarity.

Sara Beth Vaughn
Class of 2011, Master 2012
Major(s): English
Sara Beth Vaughn's feet have a lot to say. They tell an important part of her lifelong story of hope over hopelessness, one that began the moment she was born, three decades ago, and failed to take her first breath.
Due in November but born in August, alumna Sara Beth's life began as a fight for survival. As a premature infant with blood clots in her brain, she was not expected to live, or—if she did—to ever be self-aware.
She did live, however, and has become much more than self-aware. Even as an infant, Sara Beth— who now enjoys karaoke and performing comedy at open-mic nights—was highly verbal, speaking in complete sentences by age one. But as a result of brain damage, she had spastic cerebral palsy (CP), a condition that affects motor development.
Because of CP, her leg muscles were permanently contracted—crooked legs was the term she used as a child to communicate her condition. Her right arm, although normal in appearance, wasn't functional. And her feet—"my not-so-beautiful feet," she calls them—were so turned inward that her parents were told that she would likely never walk.
At a young age, she felt hopeless in the face of all the dim prognoses she heard doctors giving her parents—dismal prospects about everything from walking and cognitive ability, to independent living. "As a child, you have ears," she says. "It disheartened me." 
But then came social services and Shriners Hospital. Social workers helped her replace can't with hope, and surgeries physically changed her. Pegs implanted in both ankles held her feet straight, and surgeries to lengthen her Achilles tendons brought her feet down flat, instead of on tiptoe. Other treatments to straighten her legs weren't successful, but with the changes to her feet, she could now learn to walk, at age 5, for the first time with a walker. But when Sara Beth began elementary school, she stopped using her walker. "Out of stubbornness," she says. "When I realized that none of the other children had a walker, I decided right then and there I wasn't going to use mine anymore."
After many falls, for which her parents endured some criticism, Sara Beth eventually learned to walk without a walker, using her stomach muscles to move her legs. Now, more of life that had previously seemed out of reach, such as driving, living independently and having a career, seemed possible.
Inspired by her childhood social workers, Sara Beth became one, earning both a bachelors and masters in social work from USI in 2011 and 2012, respectively. She spent the first five years of her career at Aurora, Inc. in Evansville, serving as an assessment specialist, providing empathetic crisis diffusion and counseling to people experiencing homelessness; then she was a development specialist, focused on grant writing, program renewals, reports, performance measures and public relations. She's been social worker for the Vanderburgh County Health Department, too, where she helped people navigate their medical diagnoses and treatment choices, while seeking "to understand the why behind the what" of another person's situation. This kind of compassion is healing, she says, for others and for herself.
From her own experience, Sara Beth knows the importance of hope in difficult times. That's why she's begun a new path as a public speaker, sharing her message: You can. While she loved her life of local service, she's dedicated to expanding her reach: "I would like to be, at some point, an international speaker and author," she says.
Sara Beth's words tell another part of her story that can't be told just by seeing her feet—or her legs, or the rest of her petite body. And this inner part of her story gets complicated, because it's not easily reconciled with the visible reality. She talks about there being "no limits," and about the power of the words I can. "I think when you're told, 'No,' and, 'You probably won't,' and, 'You probably can't,' you kind of take on the attitude of, 'Yes, I will, and I don't need anyone's blessing to do it,'" But she's so pragmatic about her actual limits and what she can't do, that there seems to be a contradiction between the story that her physical body is really experiencing, and the story that her spirit—expressed in her soaring words—would like to be true. For alongside her many successes and accomplishments, and a very full life, some doors have remained closed to Sara Beth because of physical limitations.
Her legs are still permanently, painfully bent, making many activities unsafe or impossible, and she lives with severe arthritis. She would have liked to have done the outreach type of social work, visiting people in their homes, but that was ruled out because she could require physical assistance—like navigating stairs—when help might not be available. And she would have loved to have joined the military; she craves service, structure, exercise. Although she uses a treadmill every morning, set on the highest incline to give her contracted leg muscles more of a workout, balance is always a challenge. She needs the handrails, so she can't ride a bike. She recalls with visible joy, however, how her family has always encouraged her to try things: "They bought me a bicycle when I had walking casts, and I could sit on it, and I had dreams of riding that bike," she says. "That was something the doctors could have told me up front--that balance is not something you can acquire, no matter how much you practice.
"I don't like admitting limitations," she says, "but in truth they are there." And that's the crux of the seeming contradiction of Sara Beth's I can and her I can't. She has found immovable obstacles in her life. However, it is equally true that she has seen the boundary line of can't move before, and who knows when or whether she or someone else might be able to push that line again, with the right hope and help.
Every statement Sara Beth makes about her identity, her life, seems tied in some way to the experience of living in a body that has weighed in so dramatically on her options, and, in doing so, has made her so empathetic to other people experiencing life's challenges. So it is a puzzle when she says she wouldn't speak about her physical limitations unless asked direct questions about it, yet readily describes herself to others through the lens of the physical disability they see (her LinkedIn profile leads with her cerebral palsy). Is this a contradiction?
No longer the insecure child at the New Harmony, Indiana, pool trying to hide her feet, Sara Beth is now proud of the outwards signs of CP and says she mentions it as a way to take down barriers and helps others connect with her.
Clearly, this is a complicated dance, this two-step between her tiny body and her towering spirit. It reflects the ratio in which her formation has taken place—the fingers of circumstance molding her versus her breaking, or else accepting, each limitation. And that's the part of the story her feet cannot fully tell; the story to which her bent legs have contributed at every turn.
Christy Morley
Class of 2019
Major(s): Social Work
I walked this path because they walk behind me.
With those words on her cap and her family in the stands, Christy Morley '19 proudly accepted a Bachelor of Social Work (BSW) degree at USI's spring Commencement that once seemed unimaginable. "I never thought eight years ago that I would be a BSW graduate, summa cum laude," she says. "Just to see them [my children] watch me walk across the stage and succeed—as a mom—it was a moment that I don't know if I could actually explain."
Earning a college degree at any age takes work. Doing it at 40 with seven kids, two of whom have cerebral palsy, requires extra dedication. Add in an 80-minute, one-way commute and part-time job, and things get even more complicated.
Some would see obstacles. Morley saw opportunity.
"The bug that bit me"
By the time many of her high school classmates entered college, Morley was married and working—without a diploma. "It wasn't that I didn't like school, or I didn't want to go to school," she recalls. "When I was a high school student, I got straight As."
What she didn't like was life as a foster child. So, at 16, she moved to New York. Married at 18, with two kids a few years later, thoughts of education all but disappeared. "Life got in the way," she says.
In her early 30s, divorced and in an unstable marriage, now with six children to care for, Morley says she turned to drugs and alcohol to escape her responsibilities. Her kids were placed in foster care, and she ended up in rehab. Months of inpatient and outpatient therapy followed.
Today, Morley is nearly nine years sober. "Eight years, six months, six days," she offers. Her kids are home, and she's in a new marriage with someone who supports and encourages her.
She has a social worker to thank, at least in part, for her new life. "One of the [kids' social] workers said to me one day, 'You know that you could be doing this [work]. You know you're smart enough to be doing this. All you have to do is choose to live this way. And it just stuck," she says.
Morley remembers the final push she needed to return to school coming during a disagreement with her teenage daughter. "I was arguing with her one day that she needed to pay attention to her school books and not boys, and she turned around and said, 'Well, you don't have an education, so why do I need one?' And I didn't get mad. I was like, 'You're right.' And the next day I went and signed up for GED classes," she says.
"Getting my GED was like the bug that bit me. It opened my eyes to realize that I was intelligent. I could do this if I applied myself."
Becoming a Screaming Eagle
In 2015, armed with her GED, Morley enrolled at Olney Central College (OCC), not far from her home in Lawrenceville, Illinois, where she earned her associate degree in arts and science. It was during an OCC-sponsored visit to USI that her future became clear as she learned about the University's Social Work Program. "[It] just hit me," she explains.
So did the reality of being a non-traditional student on a thriving campus. "I took a lot of online classes [at Olney], so coming to USI, [I] was a little nervous about actually being in a classroom and being the oldest one in the room most of the time, besides the professor," she admits. "The anxiety was really high, but not one time did I feel like I didn't belong in the seat that I was sitting in. I was always welcomed. Everybody was inclusive."
Her supervisors in the College of Nursing and Health Professions, where she's worked the past two years as an undergraduate and now a graduate assistant—while maintaining a 4.0 GPA, sing her praises.
"Her work ethic is amazing," says Dr. Ann White, dean of the College (CNHP). "She is always here and committed to completing her assigned responsibilities. Her positive attitude is shared with all who work with her."
And when the challenges of balancing life as a student, employee, mom and wife become overwhelming, Morley, who relies heavily on her faith, knows she has backup at USI. "You cannot be afraid to say, 'I am struggling, this is happening, I need help. You have to reach out,'" she says. "You have to communicate with your professors."
Moving forward
For the next year, Morley will continue her frequent treks across the state line as she pursues her master's in social work and completes an internship at Southwestern Behavioral Healthcare, Inc. in Princeton, Indiana.
"It doesn't matter how old you are," Morley says. "You can start again and get the education that you need. I love to learn, I love to gain knowledge. I think that every day we can learn something new, and we have to be open to it."
She's interested in helping people who, like her, have made mistakes because of their addictions. Those mistakes undeniably shaped Morley—but they no longer define her.
"My moment now is that I walked across the stage, and I got my BSW, and I'm working on my MSW," she says. "It was a long haul. [I] took a wrong course and went the wrong way for a while, but I realized that there was something better. I wanted my kids to see that no matter what, they can wake up and say, 'I'm going to be different. I'm going to choose to do different.'"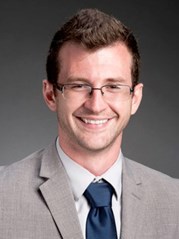 Dr. Zachary Pilot
What memories do you have of being a first-generation college student? What challenged you and what surprised you?
Being a first-generation student is a part of your identity, so there aren't any specific memories that stand out. My status and experiences as a first-generation student continue to affect me here and in ways that students can probably relate to. A lot of first-generation students have to navigate a novel context (school) where they feel a bit out of place, like they don't belong, and maybe they should do what the rest of their family and loved ones do. My family was endlessly supportive and encouraging, but there are some things you can't connect with your family about if they've never been there. I was learning about new worldviews, disciplines, and having cool experiences…but my family wasn't always able to relate or understand. Eventually, you figure out how to talk about things in a way that they can relate to. In the meantime, you learn to value the support they provide and share some of your excitement and knowledge with them.
Some of my fondest memories are of findings other first gens and the relief I felt when someone else understood my experiences. Those friendships are still important to me and shape the way I talk about being a first gen in my classes, ultimately that we all have shared experiences, and there are first generation students all throughout USI.
What advice would you give to first-generation college students?
A lot of first gens feel out of place and so may feel deferential or passive about their college experience. They may feel pulled to obligations at home or work, which is totally understandable. However, my advice is to own your college experience. If you don't have family members who can relate or help you answer questions about your future or discipline, you have to seek them out. You must go to office hours, participate in research labs, get involved in the campus community because you've got to build a support system that understands your present and future aspirations. If it weren't for my undergrad mentor, who I did research with for 3 years, I would not have gone to graduate school….I wouldn't have known how or what to do. Who else would I have asked? No one in my family had gone to undergrad let alone graduate school. But because I wasn't afraid of my ignorance, and I put myself in situations where I could learn and build relationships, I was accepted to a PhD program which ultimately brought me here.
What inspired you to pursue your career path?
I chose psychology because I thought I wanted to be a clinical psychologist. I liked helping people out with their problems and frankly I didn't know any other kind of psychology existed until undergrad. I did an internship the summer of my senior year at an inpatient behavioral health unit at a local hospital and found that line of work was not for me. I sat down with my advisor and reflected on the kinds of things I enjoyed doing; I was a tutor for lots of different classes, a drop-in writing tutor, I volunteered helping children learn karate back home (which I had been doing for years), and I loved learning. I had lots of questions and enjoyed talking about the answers, being a college professor was one way to mesh a lot of those interests.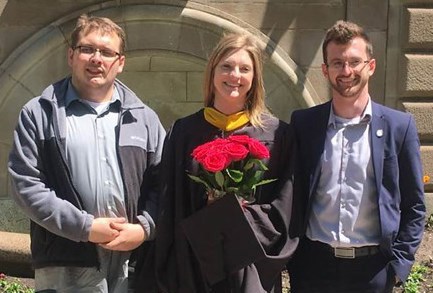 How do you spend your time away from USI?
When I first read this question, it was a bit jarring. The pandemic has made leisure time seem distant, but when I'm not working, I do several things. I do normal stuff, I love reading books (mostly fiction, sci-fi, thriller, fantasy), watching shows/movies, and playing videogames. Perhaps more uniquely, like I said I did martial arts for decades and when I can I like to practice that. I've also done musical theater quite a bit in the past, I like going to support local theater and shows at USI, but in the future, I'd like to get on stage again as the pandemic hopefully fades. Lastly, my whole family is back in Pennsylvania. I grew up in the laurel highlands, a very wooded area in PA, and so I go back home whenever I can to see my family and spend some time in nature.
What is your favorite quote?
When I was in high school, I read a lot of George Carlin and this is one of my favorites. "There are nights when the wolves are silent and only the moon howls." I just like the imagery the quote evokes, but it could also be interpreted as the difference between what we may say or show overtly compared to our inner monologues/internal states and things like that.
If you could have any superpower, what would it be?
I would pick teleportation, kind of like what Nightcrawler used.
What is one thing you wish you had learned sooner in life?
School, work, one's occupation and the tasks that come along with it are just one tiny part of life. Work will continue to ask more of you, and you have to be the one to set boundaries and allow yourself to do other fulfilling things.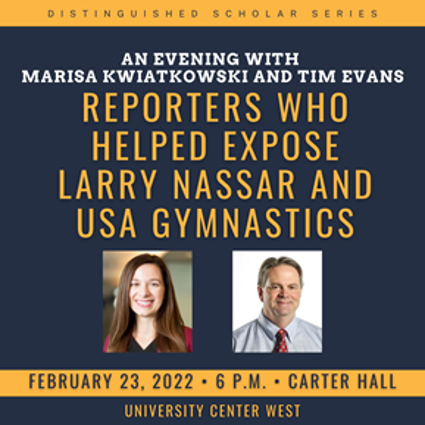 Distinguished Scholar Series
An Evening with Marisa Kwiatkowski and Tim Evans;
Reporters who helped expose Larry Nassar and USA Gymnastics
written by Aubrey Swart '22
In 2016, the IndyStar, an Indianapolis-based news publication, exposed USA Gymnastics' negligent sexual abuse policies which failed to protect young athletes from sexual predators such as Larry Nassar, (now former) USA Gymnastics sports doctor. In 2020, Netflix released Athlete A, a documentary which follows how the IndyStar reporters uncovered the story. Then, most recently, on February 23, 2022, USI's College of Liberal Arts and Communications Department co-hosted "An Evening with Marisa Kwiatkowski and Tim Evans," an in-depth interview/Q&A with two of the IndyStar reporters who broke the story. Dr. Leigh Anne Howard, Chair of the Communications Department, introduced the event, and Dr. Jane Weatherred, Assistant Professor of Public Relations and Advertising, served as the moderator.
To begin the event, Dr. Weatherred provided an overview of the story. She explained how the "investigation began with looking into complaints made by USA Gymnastics about USA gymnastics coaches" and "eventually revealed that USA Gymnastics had a policy of not reporting all sexual abuse allegations against its coaches to any law enforcement or authorities." After the IndyStar published the initial story in 2016, the organization had numerous survivors come forward and name Larry Nassar as their abuser. Larry Nassar was "eventually arrested, tried, convicted, and sentenced to more than 120 years in prison." Finally, in December of 2021, after five years in court, the over 500 Nassar abuse survivors reached a 380 million dollar settlement with USA Gymnastics and the USA Olympic and Para-Olympic Committee.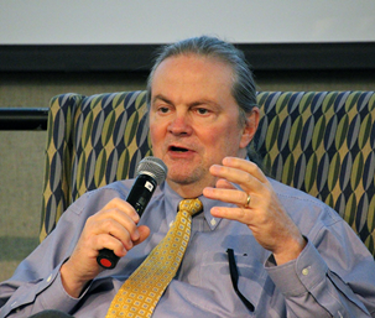 Following her introductory remarks, Dr. Weatherred then allowed the interviewees to introduce themselves. Although Marisa Kwiatkowski was an investigative reporter for the IndyStar during the time of the story, she is now an investigative reporter for USA Today. Marisa has also won over 50 journalism awards throughout her career. Her former colleague, Tim Evans is still an investigative reporter for the IndyStar and is a recent inductee into the Journalism Hall of Fame.
The discussion officially started with Dr. Weatherred asking Marisa to explain, in her own words, how the entire USA Gymnastics investigation began. Marisa explained how the initial focus for her investigation was on failure to report child sexual abuse in schools. Then, she received a tip that suggested she look into USA Gymnastics, which led her to discover that USA Gymnastics was not compliance with state laws concerning the mandatory reporting of child abuse. USA Gymnastics' child abuse policy was, as Marisa stated, to "only report if the allegations has been signed in writing by the victim, the victim's parent, or an eyewitness to the abuse." Marisa's discovery of the USA Gymnastics' policy led the IndyStar investigative team to wonder: what was the impact of this policy on the safety of children in the sport? The subsequent investigation was led by this question, as the team sought to dig deeper into how USA Gymnastics handled issues of sexual abuse.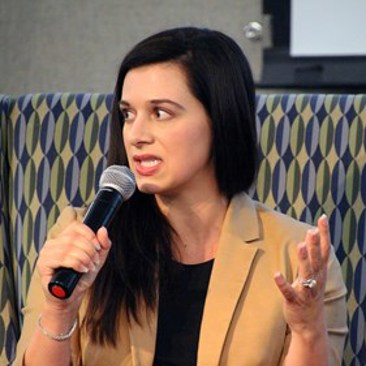 The conversation then shifted from the broader focus of USA Gymnastics to discuss more about how the IndyStar investigative team uncovered the truth about Larry Nassar. Now, the initial story published by the IndyStar discussed USA Gymnastics' negligence to child abuse inflicted by coaches within the organization. However, after the story was published, the IndyStar received an overwhelming number of responses from the public, with names of people involved in or associated with USA Gymnastics who should be investigated, including Larry Nassar. Tim noted how, during the time of the investigation, Larry Nassar "was running for school board in his local community, and he had started a foundation to help autistic children. He was this god-like creature in gymnastics." So, since Nassar was such an established figure within the community, it was especially important the team was careful to explore all avenues of the allegations to ensure the accuracy of the story. Tim added how, in his exploration of the sexual assault allegations against Nassar, he sought advice from medical professionals to determine whether Nassar's methods were legitimate. He elaborated that there was no reason for Nassar to be using said technique on young girls; and even if there were such a procedure that required penetration, Nassar still failed to follow the proper medical procedures of wearing gloves, receiving consent from the patient, and having another adult witness present. 
Moreover, Dr. Weatherred also pointed out how Tim Evans was the first and only reporter to interview Larry Nassar. Tim recalled how, during his interview, he had informed Nassar and his attorney about a lawsuit that had been filed against Nassar. Nassar's attorney then promptly concluded the interview with the statement that Larry Nassar had never penetrated any young girl. Tim highlighted how the attorney's claim — although intended to protect his client — essentially solidified the case against Nassar, as many women to stepped forward to disprove said claim. Marisa also drew attention to how important the attorney's statement was for the survivors. It is necessary to point out, that Tim stresses the importance of using the term "survivor" versus "victim." Someone who is a survivor of sexual assault has survived a traumatizing experience but is not limited by being defined according to the wrongdoings of another. Marisa mentions, "for many survivors, it was the first time they realized they were survivors." Some of the women, had still believed that what they had experienced, while uncomfortable, had been a legitimate medical procedure. So, when Nassar and his attorney tried to claim that Nassar had never used penetration, the women knew it was a lie and were able to realize that what they had experienced was sexual assault.
After discussing the details of the investigation, Dr. Weatherred asked: what would say has been the most satisfying result of your reporting? Tim, overcome with emotion at the thought of the impact his work has had, responded, "We gave voice to a bunch of people — some who had tried to speak out then didn't or people didn't believe them — and knowing that some stranger in Indianapolis was able to help them and stop this monster, there can't be a thing more rewarding than that." Marisa then answered that, alongside the good feeling of having had amplified survivors' voices that Tim mentions, another reward that resulted from their work was the new federal law which "requires all national governing bodies to immediately report child sexual abuse allegations to authorities." Thus, the story on the USA Gymnastics' scandal not only worked to rectify issues within the USA Gymnastics organization, but created a federal mandate which works to protect children all over America. 
The reference to the new federal law then prompted Dr. Weatherred to ask why the reporters believe that issues of child sexual assault continue to happen, and what needs to change in order stop it from happening? Marisa was quick to state that "sexual abuse is a pervasive community issue, it's not exclusive to gymnastics, or the Catholic Church, or Boy Scouts, or any other institution." She conceded that although she would love for sexual assault to no longer be an issue, it is unlikely that will happen; she then refocused the question to ask: what do institutions do when they find out about instances of sexual assault? Although sexual assault itself is a problem, there is a more pertinent underlying problem with institutions ignoring sexual assault reporting guidelines and jeopardizing the safety of children in order to maintain their public image. The discussion needs to shift from "a place is bad because they have sexual assault allegations" to "what did that institution do once those allegations came to light?"
Ultimately, "An Evening with Marisa Kwiatkowski and Tim Evans" concluded with a more comprehensive look at the field of investigative journalism as a whole and why it is especially important in today's world. Tim affirmed, "[Investigative journalism] is more important than ever. There are millions of sources of information and noise out there. You can find 'news' anywhere… But the bottom line is that we are fighting for people who are being underserved or who don't have a voice or who are being silenced." If there is anything to take away from the conversation with Marisa and Tim, it is we, as a society, need to shift the conversation around sexual assault to help the survivors and that investigative journalism is one of the best ways to do that. Both reporters emphasized how, as journalists, they have a duty to the public to report information that is accurate and fair. Investigative journalism is not simply a form of entertainment, much like other forms of media; it is not grabby headlines and catchy stories. Investigative journalism is a way to create a platform for advocacy for others by shedding light on important issues and hold people and organizations accountable for their actions.
Missed the event or want to learn more? Click here to watch the recording.

USI Choir Performs in NYC
Forty-six members of the USI Chamber Choir traveled to New York City's famed Carnegie Hall in May 2019. The ensemble performed in the Masterwork Festival Chorus 20th Anniversary Concert.
USI is one of five higher education institutions that shared the stage to perform Gabriel Fauré's Requiem, a 45-minute, seven-movement piece based on the Catholic Mass of the Dead. "It is absolutely beautiful," says Daniel Craig, associate professor of music and director of the USI Chamber Choir. The Chamber Choir was accompanied by the New York City Chamber Orchestra, under the direction of conductor Simon Carrington.
"For many students on the trip, this will be their first time in New York City," Craig says. "They have commented about how fascinating it is that their very first trip to New York City offers them an opportunity to sing in Carnegie Hall." It was much the same for Craig in 2011, when he traveled to New York for the first time, also with the USI Chamber Choir.
The Chamber Choir had been preparing since January and performed the Requiem during its Spring Concert in Evansville in April 2019. "We had to send them [Carnegie Hall] a complete recording of all of the movements to prove that we were ready to go," explains Craig, who says USI's pair of winning performances at an international festival in Ireland and participation in another festival in Poland have opened doors for the Chamber Choir, like the one leading to Carnegie Hall.
While in New York, USI students spent much of their time rehearsing, including one rehearsal in Carnegie Hall. They attended a reception (hosted by President Rochon, the USI Foundation, alumni and supporters), as well as a Broadway show.
Watch the video below that features choir members sharing what the experience was like.