Theatre performance major takes on director role

by Aubrey Swart '22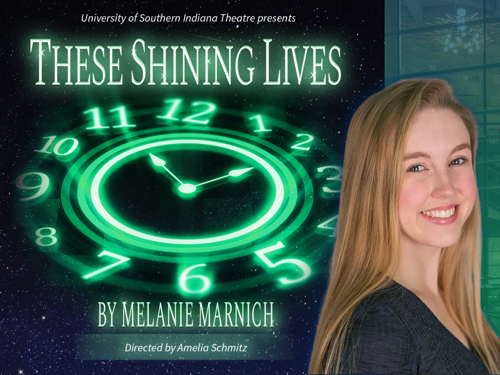 Amelia Schmitz — current theatre performance major at USI — aspires to be a professional actor, and this semester she has taken on her most challenging role yet: director. In spring of this year, USI announced that it would be accepting show proposals from students who wished to direct a production at the university. Schmitz — who has been wanting to direct a show since her freshman year at USI — wasted no time in seizing the opportunity. She submitted a proposal to direct a show titled These Shining Lives, and shortly after her proposal was selected, plans were made for her to direct the show this fall.
These Shining Lives is a historical production centered around the women that painted watch faces at Radium Dial in Ottawa, Illinois during the early 1900s. Radium Dial taught the women to use a lip-point painting method, which required the women to put their paint brushes in their mouths before painting the numbers on the watches. During this time period, the lip-point painting method was deemed safe because people believed radium had medicinal applications. However years of using radium proved be extremely harmful for the women and many suffered from radium poison, an insufferable and terminal illness. So, the production follows the dial-painters as they stand up against Radium Dial because the company knew about the dangers of radium and chose to exploit the workers anyway. 
The historical significance of These Shining Lives proved to be Schmitz's greatest asset as well as challenge as she directed the show. On the one hand, Schmitz described how conducting historical research for this production was one of her favorite parts of the process. "These women are truly amazing," Schmitz explained. "They helped change the legal system for employees and create a safer work environment for the future."


---
"No matter what, my ultimate dream job is being a part of the process of telling stories that make people think. The worlds and characters theatre create are so important and reflect our lives and the world around us. With this degree, I want to tell stories that show people their value and ultimately give God glory no matter the story."
- Amelia Schmitz, Director, These Shining Lives

---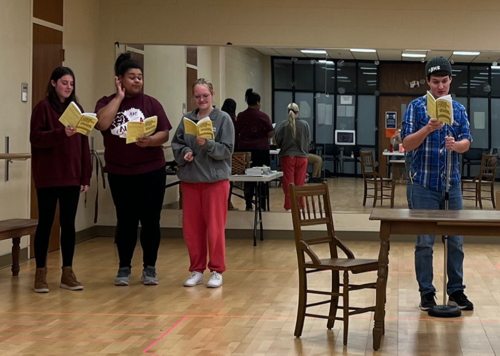 On the other hand, the time period in which the show is set creates more challenging dialogue for the actors. "I have found moments of the dialogue challenging since sometimes the characters speak more poetical," Schmitz admitted. "It has been challenging dissecting those lines and helping the actors understand them, but overall, it has helped me grow as a director and an artist."
Overall, Schmitz seemed confident in the work she and her cast put into the production. "I have been loving rehearsing with my cast. They are a very talented group of actors and I love seeing how the show grows every time we rehearse. Just getting to guide a story as it comes to life is a priceless experience."
These Shining Lives will run Thursday, November 17th, through Sunday, November 20th. The show will be at the USI Performance Center at 7 PM every night, except Sunday, November 20th, which will be at 2 PM. Tickets are available for purchase online and USI students can attend for free if they arrive 1 hour prior to the start of the show - subject to availability.


---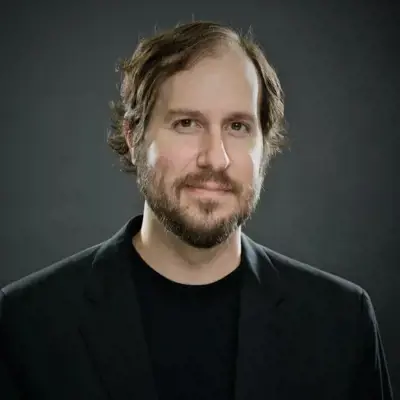 Woodend embraces new role as USI faculty member
When McManus Woodend sent his resume to a casting director for Geico, he proclaimed himself a "Rain Man" of filmmaking. Get him into a conversation about film, TV or storytelling in general, and he proves the description to be quite accurate.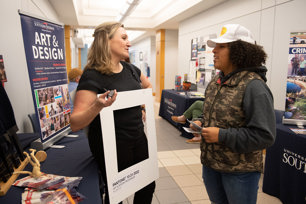 Fall is a great time to be on the USI campus! Tricks, treats, fun and games... click here to check out the Spooky Season at USI!
---


Faculty Achievements
Click here to see more achievements from the College of Liberal Arts.
Dr. Elissa Mitchell, Associate Professor of Social Work, has four contributions in the new book, Active Learning Lessons, Activities, and Assignments for the Modern Social Work Educator, coming out later this month (Routledge). The book includes example assignments and class activities. Elissa's contributions focus on the teaching of Macro Practice (chapter 5 of the book).
---
Dr. Jane Weatherred, Assistant Professor of Advertising and Public Relations, along with coauthor Leigh Moscowitz from the University of Southern Carolina, recently published their study "Exemplification of child abduction in US news media: Testing media effects on parental perceptions and assessment of risk," which was published in the Journal of Experimental Criminology. The study uses a three-group experimental design to examine how news stories of child abduction affect parental concerns. Their findings suggest that watching news stories about abduction doesn't lead people to report that the problem of child abduction is worsening. However, watching news stories about abduction does make people think that their communities are less safe and those who think that their communities are less safe are more likely to report worsening conditions of child abduction.
---
Dr. David O'Neil published two peer-reviewed articles: "Syntax, Prosody, and the Brut: Continuity in the Medieval English Alliterative Tradition." and "Social Integration and Campus Internationalization Through Performing Arts Volunteerism."
---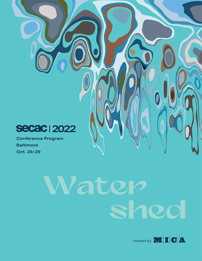 Sara Christensen Blair, Professor of Art and Chair of the Art and Design Department, and colleagues represented the University of Southern Indiana Art and Design Department by presenting at the 78th Annual Southeastern College Art Conference (SECAC) in Baltimore on October 26-29, 2022.
Sara Christensen Blair presented "The Sweet and Subtle Smashing of the Status Quo — Not Just a Pile of Candy." Dr. Gregory Blair, Assistant Professor of Art and Design, presented "Street Art and the Disruption of the Expected." Virginia Poston, Instructor in Art History, presented "The Invisible Celts: A Neglected European Tradition." Chuck Armstrong, Assistant Professor of Graphic Design, presented "Preparing Students to Flourish in a Digital World: The Importance of Learning to Code or Script." Nancy Raen-Mendez, Instructor in Art, presented "The Unpainted." Robert Millard-Mendez, Professor of Art, presented "Spectacles of the Sublime: Monsters in Contemporary Sculpture." Click here to learn more about SECAC
---


A Word From the Dean
​Del Doughty, Ph.D.
Dean, College of Liberal Arts
I'd like to talk about assets this month, but first I want to begin by saying a few words about democracy. I'm writing this message as we approach Election Day, and by the time that it appears, the day will have passed. I hope that you, the liberal artists of our world, will have exercised your right to vote. Democracy and the liberal arts have a long history together—they spring the same soil, after all—and the health of a democracy relies on an educated citizenry to maintain it.  In fact, although it is the case that these days when many people talk about higher education, they are apt to do so as a pathway to a job, one of the long-standing purposes of higher education in this country is to promote and maintain democracy. It's worth taking a moment to remind ourselves of that calling and to hold ourselves accountable not just for punching a ballot once every two years but for the other requirements of running a nation beyond holding elections—requirements such as staying informed, engaging with each other in civil discourse, learning our history and being honest about it, paying our fair share of taxes, and taking part in the legislative process. Our nation needs us at our best for this work.
Now, to assets. For the past couple of months, I've been going around asking various groups in our college community this imaginative framing question, "What would it look like if this was the best place to study the liberal arts in the Midwest?" My genuine thanks to all who have taken the time to answer. We are now in the process of sifting through those responses, looking for common themes, i.e., the things that nearly everyone thinks would be vital to have in place to attain that vision. But we're also interested—keenly so, in fact—in the "interesting outliers" among the responses, which to say that we're interested in identifying the things that may be a little odd or even weird. Yes, weird. Maybe our slogan will end up being, "Keep Evansville Weird."  Hey, what's the fun in looking and sounding like everyone else? 
The next question I want to ask our community is, "What assets do we possess that we can use to pursue this big ambition?" An asset, as we'll use the term here, will be something that we can use without asking anyone's permission and that we're willing to share for a common purpose. Broadly speaking, assets fall into four categories: physical, skills and knowledge, social, and capital. If we begin to take stock of our assets here, it won't take long to see that we are rich. Our physical assets would include a beautiful, well-maintained campus that has lots of meeting space and tech capacity; our social assets include local networks (partnerships with other schools, internship sites, for example) and national and international professional societies; and our capital assets would take into account things such as operating budgets, donations, and volunteer corps. When it comes to skills and knowledge, well, there we encounter an embarrassment of riches: among our faculty, staff, students, alumni, and supporters, we possess a diverse body of expertise that would be hard to fathom, much less inventory. The question is, what can be done with all of these assets? How can we, as they say these day, "leverage" all that wealth and talent to make this the premier place to study and practice the liberal arts in the Midwest? To some degree, of course, we are already leveraging those assets in the good work that we accomplish every day, but when you take a moment to actually catalogue all of those assets, you can't help being humbled and awe-struck at our potential.


---