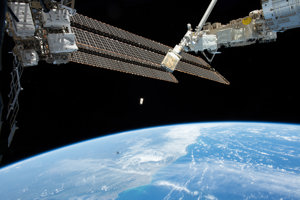 As UNITE CubeSat, USI's student-built satellite, nears yet another milestone, 1,000 days in orbit, it is also reaching the mission-critical phase of its journey where it will descend back into the earth's atmosphere, tracking critical data during reentry.  
It's been nearly two years and seven months since a handful of USI students and professors sat, eyes glued to screens, as NASA's Mission Control announced the deployment of UNITE CubeSat. The 18th Space Control Squadron of the U.S. Space Force is now predicting that the satellite could reach reentry as early as this Thursday, October 21. The 18th Space Control Squadron is tasked with providing support to the space surveillance network, maintaining the space catalog and managing United States Space Command's space situational awareness sharing program to United States, foreign governments and commercial entities. 
Designed and built by a team of University of Southern Indiana undergraduates, UNITE is the first orbiting satellite designed by students at an Indiana public university and was also the first functional CubeSat in orbit to have been made as part of NASA's Undergraduate Student Instrument Project, which provided funding for the undergraduate design and construction of satellites across several institutions. 
"I'm stunned that it has worked every day—not perfectly, but every day—for almost 1,000 days," says Dr. Glen Kissel, Associate Professor of Engineering and lead advisor to the UNITE CubeSat team. "I would never have guessed that it would work that long and stay in touch for that long."  
Asked to what he attributes the unit's longevity, Kissel says with a grin, "It was built here at USI!" But pressed further he aptly passes credit to the students involved with its construction and those who joined the team later to see through the testing and delivery to NASA. He also points out that "we kept it simple." 
As the CubeSat nears the end of its lifespan, its mission is to measure plasma levels in the lower ionosphere, record its own internal and exterior temperatures and measure its orbital decay as it reenters the Earth's atmosphere. As of Monday afternoon, the satellite was still around 125 miles out from the surface of the Earth. Kissel explained that at around 50 miles it would begin to break up. While data is coming in daily, Kissel says he most likely will not know exactly when and where UNITE burns up during reentry.  
Kissel is quick to point out that this is not the end of the mission. There will be significant amounts of data to review as it becomes available. "Orbital operations will come to an end, but we still have data to look at and examine," he says.  
As many as 12 students previously worked on various stages of the project over the past five years, most of whom are now graduated and have moved on to careers in engineering and aerospace. Currently, due to complications caused by the COVID-19 pandemic, only one student, the newest to join the project team this past year, is working with Kissel. Clayton Davis, a mechanical engineering major from Normal, Illinois, is analyzing the data being sent back by UNITE and will continue to do so both during and after burnup on reentry.  
The challenge for Davis and Kissel is that UNITE is not responding to new commands designed to ramp the satellite back into high-data mode. Early in its mission, UNITE was sending back data too frequently, which was costly, and had to be forced into a lower data frequency mode, a task that gave the team some fits as it was slow to respond. Now, as it nears its mission-critical phase, it needs to be sending data more frequently but is again slow to respond to commands. "The key now is the plasma data," says Kissel. "We will be getting some, but ideally we would be constantly taking in data, as well as constant temperature data. If we don't get a continuous data stream, we may be missing some things." 
Despite the hiccup, Davis continues to analyze incoming data with a current focus on the satellite's decay rate as it continues to near reentry. His first task was to reevaluate the original predicted mission time, using the same tools that the original predictor used, and spot any mistakes. In doing so, he found the cause of miscalculations that initially predicted a much earlier reentry date in 2016. Kissel explains that UNITE was deployed during solar minimum, a period of low solar activity that may have affected drag on the satellite and why it took longer to get to reentry.  
"It's very exciting to be a part of the project as the mission comes to an end," says Davis, "I never thought I would be involved in such an important project for USI Engineering, during my collegiate career." 
NASA's part in the project ended with a final report in June 2020 and Kissel looks back fondly on the two major papers and presentations students gave during conferences in 2019. He has remained in touch with several members of the core student team over the years and says he even consulted several of them during recent attempts to get the CubeSat back into high-data rate mode. He looks forward to congratulating all of them as UNITE pings its final signals back to Earth. 
Relive UNITE's journey to space:
Watch the UNITE CubeSat's deployment (courtesy of NASA/NanoRacks) and the UNITE CubeSat team's reaction to the deployment.
Read more about UNITE:
UNITE CubeSat celebrates second anniversary in orbit
Celestial milestone for USI's satellite project
UNITE CubeSat reaches 100 days in orbit, a milestone for student-built satellites
USI students, professors celebrate successful UNITE CubeSat deployment
USI CubeSat team honored with resolution at Statehouse
USI student-built UNITE CubeSat successfully launched, en route to International Space Station