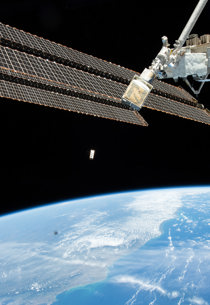 The UNITE CubeSat, a satellite designed, built and maintained entirely by undergraduate students at the University of Southern Indiana, marked one year in orbit on Friday, January 31. In that time, the satellite, deployed from the International Space Station, has remained operational and, despite unforeseen changes to its timeline, on track to complete its scientific mission.
Of the 23 undergraduate-only teams funded by the NASA Undergraduate Student Instrument Project, USI's satellite is the first to be placed in orbit and one of two to date to have successful missions thus far, according to Dr. Glen Kissel, associate professor of engineering and director of the CubeSat project. Kissel added that NASA officials have heaped numerous accolated on the project, with UNITE team's critical design presentation described as a "model of perfection." As many as 25% of CubeSats are deemed lost upon deployment; a testament to USI's satellite reaching one continuous year of operation in orbit.
The UNITE CubeSat "not only put USI on the map as a space-faring institution, but this speaks volumes as well for the State of Indiana and space exploration," said Angie Verissimo, operations manager for the Indiana Space Grant Consortium/NASA in a message to Kissel and the team. "USI is well recognized with the Indiana Space Grant Consortium as well as NASA for this great accomplishment."
UNITE's mission is three-fold: to measure plasma levels in the lower ionosphere, record its own internal and exterior temperatures and measure its orbital decay as it reenters the Earth's atmosphere at the end of its mission. While the original timeline for the project was 15-months after deployment, the project has now been extended to at least the end of 2021.
"The CubeSat was deployed at a slightly higher altitude than we had anticipated, and the Sun has been much quieter during this solar minimum period than had been expected," said Kissel. "These circumstances have resulted in less drag and less orbital decay, meaning a longer mission than had been originally planned for."
In addition to the experience working on the satellite, students participating on the UNITE CubeSat project, which first began in 2017, have had the chance to visit and use equipment from aerospace laboratories, engage with NASA professionals and other industry experts and publish and present their findings at national and international conferences, including the Small Satellite Conference at Utah State University and at the International Astronautical Congress in Washington DC. 
"For many people who want to work one day in the field of astronomy or engineering, knowing that there are teams like UNITE that can give that type of opportunity at the college level is immensely important," said Ryan Loehrlein and Nathan Kalsch, USI students and UNITE team members, in a presentation to the International Astronautical Congress on their experiences building and operating a satellite.
Five students currently operate the UNITE project, and Kissel anticipates that a majority of the team will turnover each year due to graduation. In addition to operating and collecting data from UNITE, Kissel and other engineering faculty are actively researching new opportunities for students to be involved in projects that directly tied to the space program.
"I and two colleagues from Engineering were recently at Caltech's Jet Propulsion Laboratory to understand their technology needs for upcoming space missions," said Kissel. "The intent of the visit is to assist us at USI in proposing technology developments or collaborations that could be used on future space missions."
For more information about USI's Engineering Program, visit USI.edu/engineering. A gallery detailing the design and construction of the CubeSat can be found at usiphotos.zenfolio.com/cubesat2018.