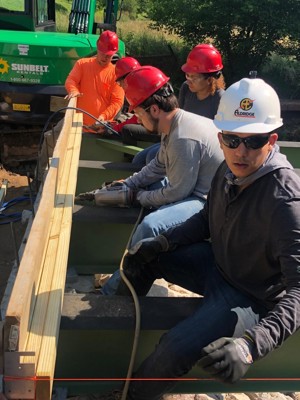 The Bachelor of Science in Civil Engineering (BSCE) and Bachelor of Science in Electrical Engineering (BSEE) programs offered through the Pott College of Science, Engineering, and Education at the University of Southern Indiana have been accredited by the Engineering Accreditation Commission of ABET, the global accreditor of college and university programs in applied and natural science, computing, engineering and engineering technology.
The BSCE and BSEE programs join USI's Bachelor of Science in Engineering (BSE), Bachelor of Science in Manufacturing Engineering and Bachelor of Science in Mechanical Engineering programs in having ABET certification. USI launched the BSE program in 2002 and has worked closely with community partners to develop programs and curriculum that both enrich students and fulfill the needs of local and regional stakeholders.
"Our University is building a world-class Engineering program as evidenced by the accomplishments of our students, alumni and faculty." said Dr. Zane Mitchell, Dean of the Pott College. "The ABET accreditation of our Electrical and Civil Engineering programs marks the continuation of years of hard work to offer programs that meet the workforce needs of Hoosier employers. From our Engineers in Action student chapter participating in bridge build projects both nationally and globally, to building the first orbiting spacecraft by an Indiana public higher education institution, we are excited to continue evolving the work our civil and electrical engineers are doing and will do going forward."
USI first began offering the BSCE in 2019. Students in the program develop the knowledge, skills, attitudes and critical thinking necessary to become successful civil engineers, as well as experience an applied perspective in the classroom with a focus on innovative real-world design problems and enhanced experiential learning through hands-on experiences within each project and laboratory class.
Students in USI's BSEE program, which started in 2018, are prepared for a profession in the design and development of electrical circuits, power and control systems, electronic components, computer architecture and embedded software.
"These accreditations are a testament to the hard work and investment of the faculty members who have ensured that our students are receiving a strong engineering education," said Dr. Paul Kuban, Chair of the USI Engineering Department. "Thanks to their efforts, students at USI continue to benefit from first class facilities and resources, and our region continues to benefit from our graduates entering the workplace ready to achieve at a high level."
Developed by technical professionals from ABET's member societies, ABET criteria focus on what students experience and learn. ABET accreditation reviews look at program curricula, faculty, facilities and institutional support and are conducted by teams of highly skilled professionals from industry, academia and government, with expertise in the ABET disciplines.
For more information about all of USI's engineering programs, visit USI.edu/engineering.