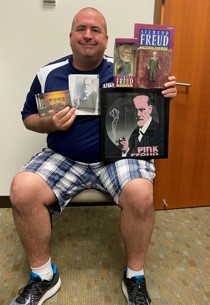 It's not every day one has the chance to gaze upon a Sigmund Freud bobble head. Or an action figure. Or a framed T-shirt.
But take a step into John Paulson's office in the Education Center, and you'll have a chance to encounter all three. The oddest thing about his collection, however, is not the items themselves, but rather the stories behind them.
"I've never actually read one of Freud's works," says the Assistant Professor of Social Work with a laugh. "Within our field, sometimes people align themselves with particular theories. Freud's theory of psychoanalysis is not even my main theoretical orientation."
So then why all the Freud gear?
"Because whenever anyone hears that you're a therapist, the first person that comes to their mind is Freud," he explains. "My family has been buying me Freud gifts for years."
Those gifts include a shirt, action figure and bobble head from his mother, postcards from the Sigmund Freud Museum in Austria from colleagues and other little tidbits.
"It's just so funny because I'm not even really that big of a fan of Freud," says Paulson. "I've never bought any of the items."  
One of his favorite backstories comes along with the action figure. The gift came out of a trip his mother took to West Baden, Indiana, years ago, where she came upon the toy in a gift shop in the West Baden Hotel.
"Why would their gift shop have that?" Paulson asks with a grin. "It's random enough to have the Sigmund Freud action figure, but why is it in the West Baden Hotel gift shop?"
Paulson doesn't just house his small Freud collection, either. His office is home to other small curiosities, including a coin and a wand that would be recognized by "Game of Thrones" and Harry Potter fans, pieces that are a homage to ninjas, several Star Wars items including a lightsaber and an Indiana Jones fedora with a unique story, too.
Before leaving his previous job as a social worker to teach full time, Paulson found himself on a mission to find a classic Indiana Jones hat—the well-known brown fedora the character wore in all his movies—to wear as he taught, much like Professor Jones himself.
"I thought it would be cool because that's one of my favorite characters of all time. He's one of my archetypes; Dr. Jones," says Paulson. "I thought it would be fun to get a hat."
Curiously, he found exactly what he was looking for in a Stein Mart, a discount  department store chain. He had never ventured into the store before, but it would turn out to be a lucky trip.
"I thought maybe I would find a hat that looks Indiana Jones-ish. And I found one—it was on sale for $25," he says.
He was sure he could pass the hat off as an Indiana Jones style hat. But when he looked inside the hat, he was surprised by the label near the brim.
"It is a Lucasfilm Indiana Jones Fedora," says Paulson.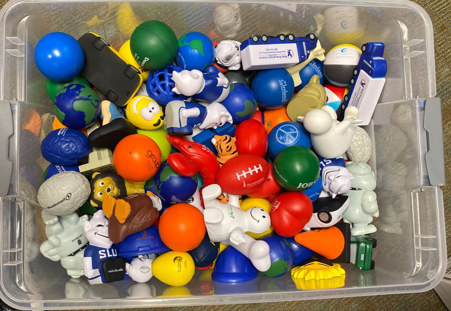 There's also one last collection  Paulson's colleagues like to take advantage of. A tub full of stress balls. Paulson's collection includes bees, a person in a yoga pose, a brain, a lobster and tons more.
"I'm a conference hoarder," he professes as he pulls the clear storage container out from under his desk. It is full to the brim with a rainbow of colors and different shaped plush balls. All are nestled in the container next to another that houses a collection of pens he says could get him "through a zombie apocalypse."
And while a few of his collections are fun and joking, they all combine, adding to the charm of his office. "Everyone laughs about it, so it's just become a reoccurring joke," says Paulson.
* * *
Do you have an interesting office collection or items you'd like to share with the USI community? Reach out to University Communications or email Trista Lutgring, Internal Communications Specialist, at tjlutgring@usi.edu.