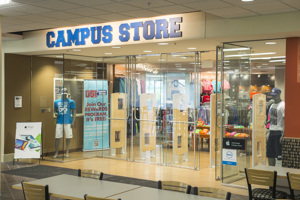 As the USI Campus Store transitions operations to Barnes & Noble College, its physical location in University Center West will briefly close. Students, in particular, should note the following important dates involving the temporary closure and reopening as they could impact the purchase of books and other materials needed for courses beginning during the second half of the Fall Semester.
Wednesday, October 14: USI Campus Store closes for one day for first phase of inventory
Sunday, October 18: Final day for online sales through USI Campus Store's current website (This is the final day to order Fall 2020 course materials; they will not be available through Barnes & Noble College.)
Monday, October 19: Final day for in-store sales under USI management
Tuesday, October 20 through Sunday, October 25: USI Campus Store closed for inventory and facility work
Monday, October 26: USI Campus Store reopens under Barnes & Noble College management 
Discounts offered on select merchandise
In preparation for the closure and reopening, the Campus Store will offer select merchandise at discounted prices for a limited time. Available sizes and quantities vary.
Friday, October 2: Up to 50% off select merchandise
Friday, October 9: 75% off select merchandise
These discounts are available in-store only and will end at the close of business Monday, October 19.  The Campus Store will highlight sale items through its Instagram account. Follow @usi.campus.store for more information.
With the exception of the closure dates listed above, the Campus Store is open Monday through Friday, 8:30 a.m. to 4:30 p.m.
Background on the Campus Store's transition to Barnes & Noble College operation