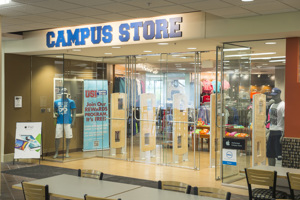 The University is in the process of transitioning operation of the USI Campus Store to Barnes & Noble College. This change will benefit students by offering price match on course materials available through both Amazon and bn.com, allowing students to charge books and supplies to their student account. When applicable, financial aid may be utilized to cover those costs, reducing out-of-pocket expenses.
When the USI Campus Store reopens under Barnes & Noble College management in October, following a brief closure, it will offer a range of merchandise and course materials, including textbook rental, digital book offerings and Open Educational Resource (OER) content. Faculty and administrators can also access the Adoption & Insights Portal (AIP) for course material options. The Campus Store will remain operational online throughout the transition.
"The USI Campus Store has proudly served the campus community for decades and will continue to do so under the management of Barnes & Noble College," said Steve Bridges, Vice President for Finance and Administration. "In recent years, the textbook industry and operations have changed dramatically, and we were among the last independently-operated stores in the state. After much consideration, the University decided partnering with Barnes & Noble College was the best way to support USI's mission and offer enhanced services to our students and community."
Through the new partnership, all in-store items will be available online, along with an expanded USI product line available for store pickup or home delivery. Book buyback will be offered year-round, and employees will continue to enjoy discounts on Campus Store offerings.
In addition to the USI Campus Store, Barnes & Noble will also operate the Screagle Zone™ in the Screaming Eagles Arena, which offers USI Athletics-inspired merchandise.
"We are incredibly excited to partner with the University of Southern Indiana, helping to drive affordability, access and achievement for the campus community," said Lisa Malat, President of Barnes & Noble College. "We look forward to delivering a dynamic retail experience and innovative academic solutions, all while providing great value to USI students, faculty and alumni."
Barnes & Noble College operates 1,419 college, university and K-12 bookstores, comprised of 772 physical bookstores and their ecommerce sites as well as 647 virtual bookstores.
Additional information about the transition, including dates the physical Campus Store will be closed, will be distributed in the coming weeks.