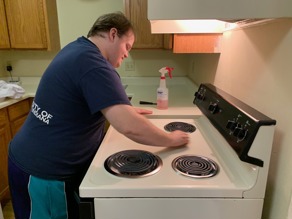 On a sunny summer day, Shelby Boutilier '19, communication studies, finds himself in the kitchen of a USI apartment—stumped.
The problem? Grimy oven racks.
"They just have this blackness on them that kind of looks burnt," the Summer Rehab crew supervisor explains. "I cook a lot, so if I came in here and saw those, I wouldn't be super happy."
He's soaked. He's scrubbed. And now, he's calling in backup. After spending three years living in the same apartments he's now cleaning, Boutilier understands the importance of his work. "I like to do a good job," he says.
Fellow Screaming Eagles—and their parents—will undoubtedly appreciate that attitude when they arrive on move-in day.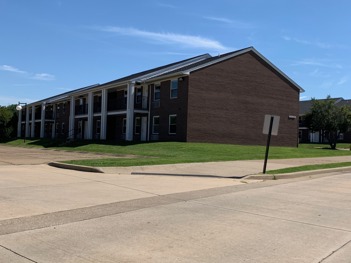 Before that happens, Boutilier and the 64 other members of USI's Summer Rehab staff will visit every residence hall suite and apartment on campus—more than 800 in all. "We clean everything," says Charles Blane, Summer Rehab cleaning area lead. "Stoves, cabinets, refrigerators, living rooms, chairs, tables, windowsills." When students move out, the maintenance team moves in: walls are painted, carpets are cleaned or replaced and furniture is fixed, so that the deep clean can begin.
"We don't want to put anybody else in an apartment that we wouldn't want to live in ourselves," says Alesia Flint, cleaning area supervisor. "We hold this campus to a high standard," adds Blane.
That high standard requires a lot of supplies—and a lot of lead time. "We started making preparations back in December," says Royce Newton, manager of Housing and Residence Life facilities operations. His equipment list includes everything from shower curtains and stove pans to magic erasers and mini-blinds. This year thousands of mattress covers were ordered, too. "That's something new this year that the residents will come home to," says Newton.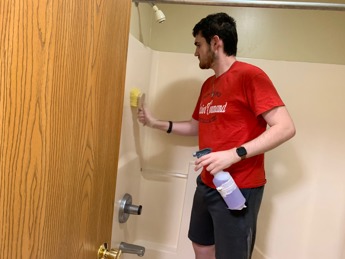 Human Resources helps with the hiring process and contractors (HVAC, carpet cleaning, etc.) join the effort when summer begins. For 13 weeks, Summer Rehab crews split into teams of three or four, aiming to clean two apartments each day. "Some of them look like they've hardly been touched [by the students living there]," Flint says. Others, well, they've seen more "wear and tear," adds Brian Gallagher, Summer Rehab coordinator.
Teamwork becomes crucial as an early August deadline looms. "There's a lot to it," says Gallagher. "It's a really good joint effort for everyone."
Whether they're scouring away soap scum or coaxing grease from oven racks, the Summer Rehab team's goal is the same: to guarantee a good first impression for USI students and their parents. "They open the door—everything's clean, everything's working—and they can have that great experience of moving into their home away from home," says Newton.
Summer Rehab by the numbers
65 team members (plus contractors)
13 weeks
27,874 hours
236 residence hall suites
580 apartments
3,200 beds
More than 500 gallons of paint
Additional summer construction/renovation work
Physical Activities Center: Phase II work continues
UC East: updates to the Student Activities Area (lower level)
UC West: roof replacement completed
McCutchan Art Center: roof replacement
Liberal Arts Center: minor renovations (paint, new furniture, white boards) in some classrooms
Tennis courts: all courts resurfaced
David L. Rice Library: first floor renovations