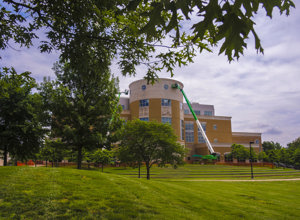 When students return to campus in August, Marna Hostetler, director of David L. Rice Library, hopes they'll notice—and help build—a new buzz inside USI's "third place." "It's not home, it's not work—or school if you're a student. It's a third place where you can be," she says of the library. "You don't have to buy anything here; you can just be here."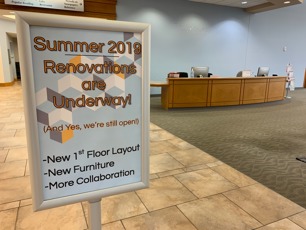 But you better keep it down, right?
"As soon as you walk into this library, people just automatically get quiet," she says. If a first-floor renovation does its job, however, that will soon change. The library is about to get louder—and for Hostetler, that's not a bad thing. She believes silence within a library's walls isn't always golden. Nor is it mandatory. "Librarians don't like the 's' word [sshhh]," she says.
Though quiet areas dedicated to individual study (primarily on the third and fourth floors) are, and will continue to be, vital to Rice Library, Hostetler says the facility must also adapt to the changing needs of its visitors. "This generation seems to want to study together, even if they're not in a class together," she explains. "So, we see a lot of friend groups using the group study rooms or the collaborative space, the open space. They're not working on the same thing, but they want to sit together and be together and still be able to chat."
With 30 group study rooms already available, Hostetler and her staff, with close direction from Mike Mohr, University architect, Jim Wolfe, director of facility operations and planning, and Andrea Herschelman, interior designer, are creating more collaborative spaces meant to encourage interaction.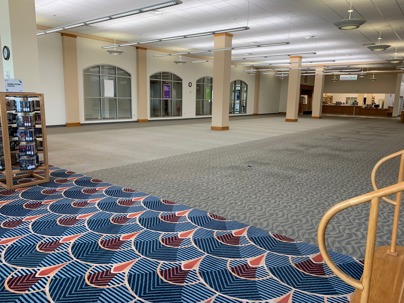 Computers once housed near the main entrance will be pushed back to the reference desk area making room for a gathering/waiting space featuring a large "s-shaped" couch. Tall tables and banquettes will replace club chairs along the front windows and group seating will occupy real estate that once belonged to reference materials in the center of the first floor. Another new seating area will be added on the library's north end. "We were intentional about the message we're sending with the furniture and the arrangement," says Hostetler.
The reconfiguration is possible, in part, because of the library staff's work over the past few years to better utilize space by compressing printed materials on shelves, reassigning volumes to the circulating collection and pulling outdated, extra and unused books. (Those books, by the way, are either donated or made available for purchase; they're never thrown away.) "To me, it's reclaiming that space," Hostetler says. "When I see students sitting out here where there used to be shelves, that means it's worth it, and to me that means it's the right thing to do."
Inspired by input gathered from recent campus-wide and library-specific master plans, Hostetler considers the changes, expected to be completed by the end of July, a "bigger bite" in the library's continued effort to stay on pace with today's trends—while remaining a constant, dependable home for scholarship and, at times, silence. 
Rice Library summer renovations 
Additional collaborative space. Several new seating areas will be incorporated on the first floor to promote and support group work.
Removal of reference desk. Reference assistance will be integrated into the library's checkout area.
Reconfiguration of first floor computer bank. Computers will be moved into the reference desk area and placed on tall tables. An ADA-compliant space will be available.
New welcome area. An "s-shaped" couch will replace the former computer bank space to provide a landing point for visitors as they enter and exit the library.
New carpet. Carpet in the center section of the main floor will be replaced.
Casual reading section change. The approximately 1,000 titles on loan from the Evansville-Vanderburgh Public Library will be made more visible on shelves near the centrally located first-floor reference materials.
Exterior work. Lifts and security fencing are in place as the crews reseal the library's exterior.
As work continues, some areas of Rice Library may have limited access and electrical interruptions are possible. Materials and services may also be in different locations. Library staff are happy to help you find what you are looking for.