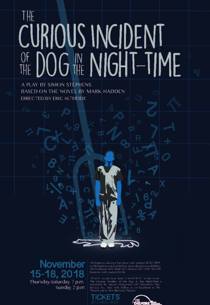 University of Southern Indiana Theatre will continue its 2018-19 season with the play The Curious Incident of the Dog in the Night-Time, based on the novel by Mark Haddon and adapted by Simon Stephens. The production runs November 15-18 in the USI Performance Center located in University Center East on USI's campus and is directed by Eric Altheide, USI associate professor of theatre. 
The Curious Incident of the Dog in the Night-Time is a relative newcomer to the United States, but its poignant, compelling story of an autistic boy named Christopher has been received with accolades. The Broadway production of The Curious Incident of the Dog in the Night-Time ran from October 2014 to September 2016. Awards for the run include: 2015 Drama Desk Award for Outstanding Play; 2015 Outer Critics Circle Award Outstanding New Broadway Play; 2015 Drama League Award for Outstanding Production of a Broadway or Off-Broadway Play; and 2015 Tony Award for Best Play, among others.
In the production, 15-year-old Christopher is an extraordinarily intelligent boy but struggles to understand human emotions He has never gone alone beyond the end of his road, he cannot stand being touched, and he does not trust strangers. One night Christopher finds himself under suspicion for killing his neighbor's dog, Wellington, who has been speared with a garden fork. Christopher decides to find out who really murdered Wellington and he carefully records each fact of the crime. His secret detective work takes him on a journey that turns his world upside down.
Altheide will be joined by a design team including USI faculty member Paul Weimer as scenic designer; USI staff member Kevin Gray as sound designer; USI staff member Maya Fein as lighting designer; USI staff member Andy Hammond as technical designer; and USI students Mikaela Fish as costume designer and Morgan Book as production stage manager.
The cast of The Curious Incident of the Dog in the Night-Time includes USI students Nate Jenkins, Clare McGregor, Otto Mullins, Isabelle Rogers, Zoie Hunter, Nathan Patton, D'Angelo Himes, Brennen Hobson, Kaitlyn Kearschner and Gela Ackerman.
Tickets are $2 for USI students, $10 for USI employees, $4 for non-USI students (student ID required), $10 seniors (60+), and $12 for adults. Shows start at 7:00 p.m. Thursday through Saturday and 2 p.m. for the Sunday matinee. To purchase tickets or for more information visit USI.edu/Theatre or call the box office at 812-465-1635. Follow us on Facebook at USITheatre and NewHarmonyTheatre, Twitter @TheatreUSI, and Instagram @USI_theatre for updates and photos.
Tickets are also now on sale for the rest of the 2018-19 season. Join us for Pygmalion, the 2019 Repertory Project co-produced by USI Theatre and New Harmony, running from February 14-17, 2019. Pygmalion will feature professional Equity actors and stage management.  The second spring show will be First Date, a new musical comedy, directed by Altheide from April 11-14, 2019. For more information on the remainder of the USI Theatre season visit USI.edu/liberal-arts/usi-theatre or call 812-465-1635.