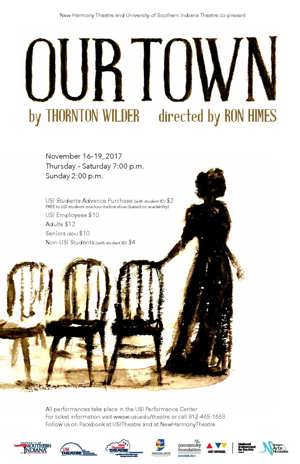 University of Southern Indiana Theatre will continue its 2017-2018 season with the play Our Town, written by Thornton Wilder, with special guest director Ron Himes. Himes is the founder and producing director of The Black Rep and the Henry E. Hampton Jr. artist-in-residence at Washington University in St. Louis. The production runs November 16-19 in the USI Performance Center located in UC east on USI's campus.
Co-produced with New Harmony Theatre, which operates under a contract with the Actors Equity Association, the professional union of actors and stage managers, the production will feature two professional actors in the cast—Linda Kennedy and Chauncy Thomas—and union stage manager Erin Joy Swank.
Our Town tells the story of a small town in New Hampshire in order to tell us the story of every town, at any time. The play follows two families through twelve years of life and all the changes that it brings – daily life, a budding romance, and even death.  Wilder presents timeless observations about humanity through wit, humor, and powerful storytelling.  A landmark in American drama, Our Town won the Pulitzer Prize for Drama in 1938 and remains a highly regarded American classic.
Himes will be joined by a design team including USI faculty member Paul Weimer as scenic designer; USI staff member Kevin Gray as sound designer; USI staff member Maya Fein as lighting designer; USI staff member Andy Hammond as technical designer; and USI students Rachel Clark as costume designer and Morgan Book and Sean Partain as assistant stage managers.
The cast of Our Town includes USI students Collin Culiver, Brandon Douglas, Ashleigh Dulik, Danye Faust, Clifton Jett, Isabelle Rogers, Parker Hart, Briana Weaver, Aatiqah Shareef, Brennan Hobson, Gela Ackerman, Kyra Roberts, Samuel Garrison, Hannah Jones, Noah Theriac, Rafael Gonzalez, Arden Tiede, Kyle Burgess, and Maggie Brown.
Tickets are $2 for USI students, $10 for USI employees, $4 for non-USI students (student ID required), $10 seniors (60+), and $12 for adults. Tickets are FREE to USI students with ID one hour before the show begins based on availability.  Shows start at 7:00 p.m. Thursday through Saturday and 2 p.m. for the Sunday matinee. To purchase tickets or for more information visit USI.edu/Theatre or call the box office at 812-465-1668. Follow us on Facebook at USITheatre and NewHarmonyTheatre, Twitter @TheatreUSI, and Instagram @USI_theatre for updates and photos.
Are you wanting more theatre? Tickets are now on sale for the rest of the season. Join us for Italian American Reconciliation, directed by Elliot Wasserman from February 15-18, 2018, and the beloved musical Into the Woods, directed by Eric Altheide from April 19-22, 2018. For more information on the remainder of the USI Theatre season visit USI.edu/liberal-arts/usi-theatre or call 812-465-1668.