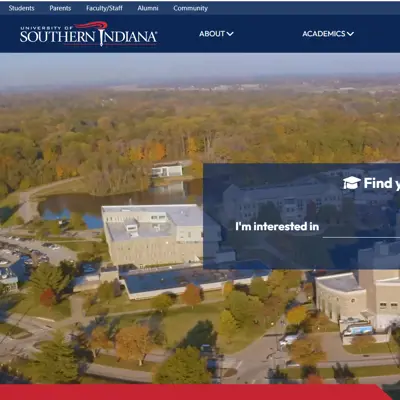 USI website migration information
On October 2, University Web and Digital Content (formerly Web Services) started the final steps of the migration to a new web server, upgraded Umbraco system and refreshed page templates. This migration project has been in the works for several months, and the task of moving pages was led by the four staff members of the Web Team with the help of many content editors from their individual University departments/divisions. In total, there are approximately 200 individual websites with more than 5,000 pages associated with USI.edu that were required to be manually moved.
"The project has been ongoing for several months, but I think we found the biggest momentum this summer with training and onboarding folks, then leading into September when a majority of the content migration was initiated and completed," says Brandi Hess, Director of Web and Digital Content.
While work happened throughout the summer and last month, some sites are still in the process of being moved with plans to complete those migrations this week.
"We know there are going to be broken links, and some content might have been accidentally left behind. Those departments should reach out to us, and we'll help them retrieve what they need," Hess adds. "The next phase for University Web is to work with departments to focus on curating quality content that is up-to-date and is written for the correct audience."
What to keep in mind as migration continues
If you receive error messages or have trouble accessing pages, please contact the individual in your department or division in charge of webpage content editing. If the problem still cannot be resolved, contact Web and Digital Content at webserv@usi.edu.   
Bookmarked links to any USI pages should be checked this week to ensure the links saved are up to date. If a link appears broken, it may have been changed in the migration process to reflect best SEO practices, and you will have to update your bookmark with a new link. Also, be sure to check links featured in published content on your page—these may also need to be updated to new links.
For example, usi.edu/careerservices is now usi.edu/career-services. Another example of a change in address is for Special Events and Scheduling, from usi.edu/specialevents to usi.edu/special-events.
If you have printed pieces for your departments or colleges that contain URLs or QR codes, you will need to check that these links are still accurate. If there is an error, please email webserv@usi.edu with the short link and where it should be directed so it can be updated.
An additional piece to remember, says Hess, is Google search (both on the USI page and google.com) will take a few days to recrawl the website to learn the new locations of pages and PDF documents. Please remember that while you may have issues searching for USI pages at the beginning of the week of October 3, the links may be updated by Wednesday, October 5.
As for other errors that may pop up or have been discovered during the migration, the Web and Digital Content team is working diligently to fix those.
Employees can also reference the Web Services Training Resources page at usi.edu/web/training for helpful and useful information. More information will also be added to this site soon.