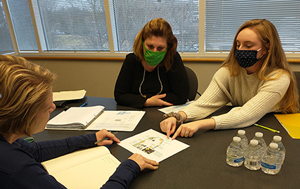 The partnership established between USI Teacher Education and BFit By Bob's to build kids curricula earlier this year required Dr. Jill Raisor, Chair of Teacher Education and Associate Professor of Education, and three USI students to think outside the box, a challenge they were eager to take on. And all it took to start such a partnership was a curious phone call.
"I got a call one day from Jenny Chumbler, the President of BFit by Bob's Gym," says Raisor. "I wasn't sure how she had been redirected to me, or maybe it was just she knew to call a teacher, and she called because BFit was looking at enriching their kids club."
That phone call set in motion a project for three USI teacher education students—Sarah Barnes, Gabrielle Birge and Kaiti Siedl—which not only gave them a unique, real-world experience but also came to benefit the Evansville community. What Chumbler specifically sought from Raisor and her students was something for children that was more than just a place to "babysit" them while their parents were using the gym facilities or attending group exercise classes.
"I told her to tell me more," Raisor says. "Then I connected her with Steven Stump, Assistant Director of the Center for Applied Research, and I told Steven this was a project I wanted."
With a primary goal of being a gateway for organizations and businesses in the Evansville community to USI, the Center for Applied Research (CAR) is a resource to allow faculty and students to apply their knowledge and talents as a cost-efficient solution for mid-size businesses without access to in-house resources. Raisor compliments Stump and CAR for allowing her and her students to focus on what they are good at—the needs of the project—while CAR focuses on the other items required for the partnerships, whether that be needed paperwork or creating initial connections to the proper faculty and programs on campus.
The task BFit set before Raisor, Barnes, Birge and Siedl was to build a curriculum that would be used in the childcare areas of the gym; the challenge came from the fact that children participating in the program would most likely be in the childcare area inconsistently (there is not a set time for drop off or pick up, so a child might join an activity mid-way or have to leave early), as well as come from multiple age groups, learning levels, etc. The students had to apply their educational knowledge to a non-traditional classroom setting.
Raisor provided her three students with photographs of the BFit centers' childcare settings and diagrams of each room, as well as other important information to tackle the project. She then instructed them to design activities under these constraints.
By the end of their deadline, the group had compiled more than 200 pages of content designed for children ages 3 to 8 years old, categorized in monthly themes. Raisor and her students also created layouts and designs for the BFit classrooms across the various gym locations that would best fit the curricula.
Raisor added the students went a step further by using room dimensions and a floor planner program to digitally recreate a classroom layout. When the group delivered their curriculum to BFit, Barnes presented the digital room layout, offering explanations on why the students set up the rooms the way they did.
"The BFit staff has been phenomenal through this process. Super supportive and very open to ideas," says Raisor. "I really admire them. They said, 'We want this space to be enriching for the children.' Most impressive was the fact that they recognized the opportunity to combine learning and fun in a non-traditional educational setting. They value the children's time and want to ensure they were happy and active, as well as their guardians while utilizing the gym."
For the students, participating in this challenge with Raisor was too good of an opportunity to pass up.
"I was honored to be asked by Dr. Raisor to work with her," says Sarah Barnes '22. "I thought it was a great opportunity to work alongside one of my favorite professors at USI."
For Kaitlin Siedl '22, who admittedly never turns down a challenge, she saw the BFit project as a way to prove herself.
"When you are taking classes as a college student on how to be the best example of yourself, you get excited about all the future possibilities but are oftentimes too far away to actually make something out of it," she explains. "This opportunity allowed me to build curriculum and start mentally designing a safe and nurturing learning environment, all while creating something new in the Evansville community."
A project like this goes beyond applying techniques and knowledge for students—it also presents other obstacles, ideas and real-world scenarios for students to traverse.
"My biggest obstacle was balancing my time between researching activities and lessons for the project while student teaching part time and taking 12 credit hours of classes," says Barnes.
Though she, Siedl and Birge did work more independently at times (each were assigned to find a variety of activities for a specific BFit location), Barnes adds the three collaborated well, too, working hard to get the project completed.
Siedl agrees, pointing out how this project offered her and her classmates a different perspective on what they could experience in an educational setting.
"As a future educator, when creating lesson plans, you mainly stick to your curriculum guidelines and incorporate what you can while still focusing on the curriculum. This project was the opposite," she says. "You had to be prepared for everything."
But like Barnes, Siedl was grateful for the comradery of her fellow students and friends as they navigated the tough twists and turns of the project.
"We immediately made group chats that helped hold each other accountable for certain parts of the project and helped guide each other when necessary," she says. "It really does take a village. I could not have asked for a better team to work with on this project."
Since the launch of the BFit Kids program, staff and parents have had high praise for work of USI's students, according to Jeremy Secrest, BFit By Bob's Director of Marketing. The variety of activities lined out by Barnes, Siedl and Birge have given children options that not only occupy them after school, but also promote development and growth.
"I'm extremely proud to represent USI in the Evansville Community. I was able to showcase what I have learned in my education classes as I researched quality classroom activities and as I designed new layouts for the children's centers," says Barnes.
"All in all, I never thought about the impact it would have on me or my future ... To think I was a part of this? Wow," Siedl adds. "You can do so many things in your life without realizing how important or significant it was or is until after the fact. This project definitely helped boost my confidence in my capabilities, my dreams, my goals and my future career. It also helped me shape my future better because I now feel more prepared and excited."
To learn more about USI's Teacher Education Program, visit usi.edu/science/teacher-education. To find out more on the Center for Applied Research, visit usi.edu/outreach/center-for-applied-research.