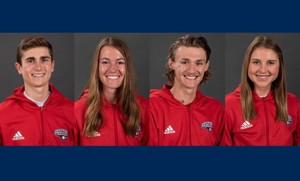 It's been a year of gritty competition and pure determination for four USI Track and Field student-athletes who are set to run at the NCAA Division II Outdoor Championships this week, Thursday, May 26 and Saturday, May 28, in Allendale, Michigan. Senior Jennifer Comastri, senior Austin Nolan, sophomore Cameron Hough and junior Titus Winders are eager to leave their Screaming Eagles marks on the national level.  
Comastri and Hough will compete in the women's 10,000 meters Thursday evening, Nolan in the men's 10,000 meters Thursday evening and Winders in the men's 5,000 meters Saturday afternoon.
Live stats and video links will be available at GoUSIEagles.com.
When asked what their biggest goals were going into the national championship week, here's what the four student-athletes had to share.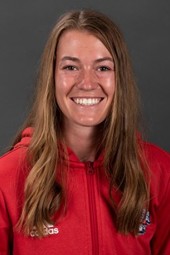 Jennifer Comastri
Women's 10,000 meters
I run best when I am happy and relaxed. Going into this last meet, I don't want there to be any pressure besides finishing my college running career on a positive note. 
---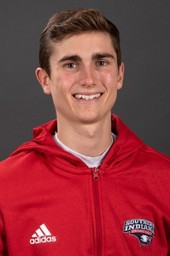 Austin Nolan
Men's 10,000 meters
I am extremely grateful that I get to end my collegiate career at the national championships. For me, I enter every race with the goal of trying to win, and I fully plan on going for that this week. Ending my career as an All-American would mean a lot to me and would be a great way to close out this chapter. 
---
Cameron Hough
Women's 10,000 meters
I'm just so grateful to have the opportunity to compete this weekend and over the past year. I am very lucky to be making the trip with three of USI's all-time greats who I have gotten the chance to learn from. Looking at my goals going into this national championship meet, I would say I'm just looking to roll with the punches and go into it with a little blind ambition—I just want to make the best of whatever comes my way. 
---
Titus Winders
Men's 5,000 meters
It's been another great season representing USI, and I'm looking forward to finishing strong at nationals.