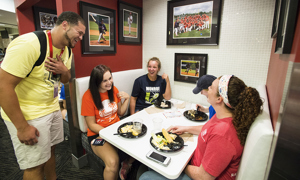 Dining options available on campus are undergoing a change over the summer. The hope is renovations and installations of these options will be completed during the summer break and be ready for the start of classes for the Fall 2022 Semester. 
These changes feature the installation of robotic food vending options as well as a ghost kitchen allowing guests to order food online and pick up. Rebecca Diamond, Director of Dining Services, outlined the changes USI students and employees can expect: 
Mein Bowl: An authentic Asian concept (including sushi) that will be located in the current Fiesta Fuego space. 
Ghost kitchen: This kitchen space will have no front-of-house; orders will be placed via mobile networks or a self-ordering kiosk.
Robotic vending: The Cyclone Salads area will feature robotic vending, including Yo-Kai Express, Pizza ATM, LeBread and Chowbotics. 
These new additions are coming to USI thanks to partners within Sodexo, says Diamond, "whose role is to seek out new and strategic planning for building new business and bringing new and innovative solutions to existing accounts." 
"A lot of research into what we're doing now, what the campus could benefit from and what would be a good fit went into the decision making for this refresh," Diamond adds. "They also look at enrollment and trends to plan, not for just as the campus is now, but for the future." 
When it comes to the ghost kitchen, Diamond says plans are still being ironed out when it comes to menu. However, the concept will allow for flexible and easily adaptable menu plans. She does note there will be a 59 cent Grubhub fee if guests choose to order through the app, however, the self-ordering kiosk in the vicinity will give students and employees an option to order on the spot. 
The robotic vending machines will be overseen by USI Dining Services, says Diamond. This means the Pizza ATM will include products and recipes similar to what is currently available on campus and served piping hot and fresh when ordered. Chowbotic serves guests selections of salad makings and dressing, places them in a bowl and then serves them to the guest.
"Our previous general manager traveled to another campus and tried the Pizza ATM. He was pleasantly surprised," says Diamond. "I haven't tried Yo-Kai, but have heard rave reviews from those who have." 
Yo-Kai Express has a menu that features various ramen, udon and pho bowl recipes. Guests order their selection and bowls are created and heated in under a minute before being served. 
Dining Services is currently working on the menu to be featured in the LeBread vending machine, but Diamond says the options will be bakery items similar to what you can find in coffee shops. They will be baked to order and come out fresh. 
Diamond doesn't have a specific start date for renovations and installations currently; supply chain shortages have been making sourcing some equipment a challenge. But the plan is still to open options as soon as they become available. 
"If equipment is still not onsite when classes start, we will open with what is in place and add items as they become available," she explains. 
More information about USI Dining options can be found online.