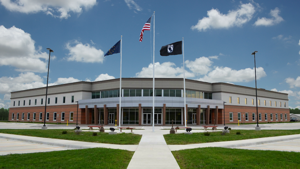 Ten students will compete in a battle of homemade robots as their final capstone project in the University of Southern Indiana's Technician-to-Engineer Program at Naval Surface Warfare Center, Crane Division (NSWC Crane).
The students, comprised of two teams of five, will present their "RoomBots" and hold a three-round battle at 5:30 p.m. Eastern Tuesday, December 14 at WestGate Academy in Odon, Indiana. The public is invited to attend the presentation. Dr. Paul Kuban, Chair of the USI Department of Engineering, will serve as the Master of Ceremonies for the event.
"Beyond a showcase of the skills of these engineers, this event is a chance to celebrate a group of students that have achieved an incredible milestone–an accredited Bachelor of Science in Engineering degree," said Kuban. ""The students who are completing this program have worked incredibly hard for five years while also working full time jobs and many having families. It's a very special day for them, and it's a very special day for USI Engineering to be able to recognize their hard work."
The battle is the capstone project for the Technician-to-Engineer Program, a combined program of NSWC Crane and USI's Pott College of Science, Engineering, and Education that is designed to allow students with some previous technical college education–in most cases with an associate or bachelor's degree in a technology field–to attend classes through distance learning toward completion of a bachelor's degree in engineering.
Teams were given a robotic floor vacuum cleaner and a budget of $1,000 and tasked with tearing down and rebuilding the robot to add remote controls, weaponry and other aspects to prepare for the competition. The competition is a culmination of the work the cohort has been involved with since beginning the program, and a final project as they prepare to graduate.
"Students have been working with USI faculty for two to three classes each semester since 2017, both by distance learning and through live, in-person instruction." said Kuban. "I want to thank my faculty colleagues for everything they have done to ensure that the students at NSWC Crane receive the high-quality, ABET-accredited instruction that an engineering degree from USI signifies."
For more information about USI Engineering, visit USI.edu/engineering. For more information about USI's partnership with NSWC Crane, visit the Outreach and Engagement page on the USI website.
The Pott College of Science, Engineering, and Education, one of four colleges at the University of Southern Indiana, enrolls more than 1,650 students in more than 35 academic programs, including engineering, teacher education, mathematic sciences, biology, chemistry, geology and physics, and kinesiology and sport. The Bachelor of Science in Engineering, Civil Engineering, Electrical Engineering, Manufacturing Engineering and Mechanical Engineering programs at USI are accredited by the Engineering Accreditation Commission of ABET.