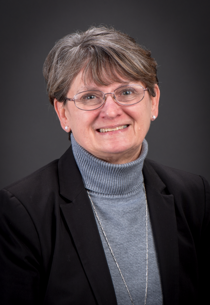 The University of Southern Indiana has named Dr. Constance Swenty, Associate Professor of Nursing, as the Interim Dean of the College of Nursing and Health Professions, effective Monday, January 3. She previously served as Assistant Dean of Nursing for the College. Swenty succeeds Dr. Ann White, who will retire at the end of the Fall 2021 Semester after 32 years of service to USI.
A member of the USI faculty since 2006, Swenty entered academia after serving as a school nurse, staff nurse and childbirth instructor in Missouri, California and Florida. In 2014, she was the primary investigator for a $1.2 million grant from the U.S. Department of Health and Human Services to build collaborative teamwork into the nursing and health professions curriculum.
Swenty holds a Bachelor of Science in Nursing degree from Drury University, a Master of Science in Nursing degree from Clarkson College and a Doctor of Nursing Practice degree from USI, where she is a member of the inaugural class of graduates from the DNP program. Her primary research areas are wound care and nursing education, and she has been published in The Indiana Bulletin, International Journal of Human Caring, Journal of Interprofessional Education & Practice and The Journal for Nurse Practitioners, among others.
A national search to fill the dean position will begin this Spring.
The College of Nursing and Health Professions, one of four colleges at the University of Southern Indiana, has a global influence in health, healthcare and healthcare education with over 1,900 students from 31 states enrolled in 12 academic programs. The College offers baccalaureate, masters and doctoral programs in nursing, and programs in dental assisting, dental hygiene, diagnostic medical sonography, food and nutrition, health informatics and information management, health services, health administration, occupational therapy, radiologic and imaging sciences, and respiratory therapy. The baccalaureate degree in nursing, master's degree in nursing, doctoral degree in nursing practice and post-graduate APRN certificate at USI are accredited by the Commission on Collegiate Nursing Education.
Will named Interim Executive Director of Human Resources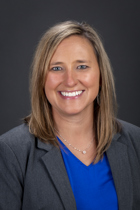 Sarah Will has been named the Interim Executive Director of Human Resources at USI, effective immediately. She will report to Steve Bridges, Vice President for Finance and Administration.
Will, who was previously the Associate Director, joined USI Human Resources in 2010. In her tenure, she has served as a Human Resources Generalist, Manager of Employment and as Assistant Director.
Prior to arriving at USI, Will was a Human Resources Manager at Shoe Carnival. She holds a bachelor's degree in business administration from USI.
A national search for the Executive Director of Human Resources position will begin this Spring.
The Human Resources executive director is responsible for leading the University's human resources team, which provides faculty/staff recruitment and onboarding, employee relations, benefits design, negotiation and administration, compensation administration and performance management, payroll, immigration services, training and development, and legal compliance.