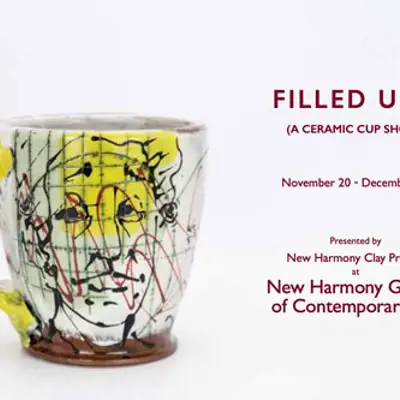 New Harmony Gallery hosts exhibition, "Filled Up 2: A Ceramic Cup Show"
The New Harmony Gallery of Contemporary Art, in partnership with The New Harmony Clay Project, will host Filled Up 2: A Ceramic Cup Show through Saturday, December 18. Filled Up 2 exhibits ceramic cups from contributing artists around the United States, juried by noted ceramic artist Virginia Scotchie.
A reception with the announcement of winners will be held at 4 p.m. Saturday, December 4. Purchased works will be allowed to be removed following the reception that evening in time for the holidays. COVID safety procedures will be required, including masks and social distancing, in accordance with University of Southern Indiana policy.
Scotchie is a ceramic artist and area head of ceramics at University of South Carolina in Columbia, South Carolina and exhibits her work extensively throughout the United States and abroad. She has received numerous awards, including the Sydney Meyer Fund International Ceramics Premiere Award from the Shepparton Museum in Victoria, Australia and has lectured internationally on her work and been an artist in residence in Taiwan, Italy, Australia and the Netherlands. Her clay forms reside in many public and private collections and reviews about her work appear in prestigious ceramic publications. She holds a bachelor's degree in ceramics from the University of North Carolina - Chapel Hill and in 1985 completed her Master of Fine Arts degree at Alfred University in New York. 
The New Harmony Clay Project (NHCP) is an artist residency and educational center located in historic New Harmony, Indiana. The Project fosters an environment that supports the investigation of new ideas and work in the ceramic arts. It was established in 2015 by Lenny Dowhie, an internationally known ceramic sculptor and Professor Emeritus of Ceramics at USI. NHCP is supported by the Robert Lee Blaffer Foundation, Efroymson Family Fund, Greater Houston Community Foundation and Lenny and Anne Dowhie Trusts. Its goal is to encourage emerging and professional visual artists/educators in ceramics by giving them quiet space and the time to develop a new body of work. The Clay Project is located within the Sarah Campbell Blaffer Ceramic Studio in New Harmony, next to the Roofless Church. For more information, visit https://nhclayproject.org.
New Harmony Gallery of Contemporary Art, part of USI Outreach and Engagement, promotes discourse about and access to contemporary art in the southern Indiana region. The gallery is open Tuesdays - Saturdays from 10 a.m.- 5 p.m. For more information visit nhgallery.com