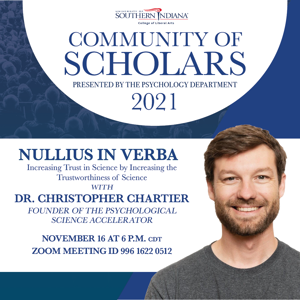 The University of Southern Indiana College of Liberal Arts will host Dr. Christopher Chartier, Associate Professor of Psychology at Ashland University, as the speaker for its annual Community of Scholars presentation on Tuesday, November 16.
Chartier will give two presentations, both of which are free and open to the public through a Zoom livestream:
5 p.m.: "Crisis or Opportunity?" - The Psychological Science Accelerator (PSA), which launched in 2017, now includes thousands of members from over 70 countries who collaborate on large-scale studies. Chartier will discuss the founding motivation and principles for the PSA, how the network has grown over the last 4 years, challenges that remain difficult for the PSA to surmount, and ways that faculty and student researchers can get involved in PSA studies.
6 p.m.: "Nullius in Verba" - The last decade has seen increased attention on improving the research methods and publication practices in the social sciences. Chartier will discuss several of the most promising developments to come out of this reform movement, some of the stickiest problems that remain, and how best we can increase public trust in our scientific work.
Chartier is the founder of the Psychological Science Accelerator and has been published in Science, Journal of Experimental Social Psychology, and Advances in Methods and Practices in Psychological Science. His interests include tacit coordination and pro-social behavior and he is currently studying group shared knowledge and decision making. Chartier holds a bachelor's degree in psychology from Indiana University and master's and doctoral degrees in social psychology from Miami University.
Each fall, the College of Liberal Arts engages a speaker for the Community of Scholars presentation aimed at drawing attention to one or more of the disciplines within the liberal arts, to appeal to the general public and to faculty and students by illustrating high intellectual achievement.
For more information, including Zoom links, visit the Community of Scholars page on the USI website.