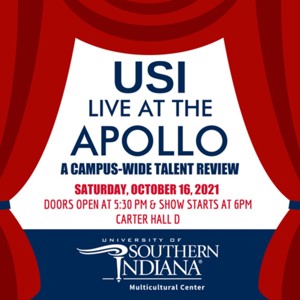 The University of Southern Indiana Multicultural Center is set to host their annual Live at the Apollo event at 6 p.m. Saturday, October 16 in Carter Hall D. Doors will open at 5:30 p.m., and the event is free and open to the public. USI students are encouraged to check in with their Eagle Access Cards.
Students carefully chosen from an application process will perform and showcase their talent in a variety of categories. Those categories include:
Songs – Lyrical Interpretation
Dance and Instruments – Rhythmic Interpretation
Rap and Poetry/Spoken Word – Artistic Interpretation
Monologues, Stand-up Comedy and Dialogues – Theatrical Interpretation
Participating students will be judged on crowd involvement, originality and overall presentation. Individual and group acts will be selected to perform at the event. 
Cash prizes will be awarded to first, second and third place winners in both individual and group categories.
"This year's event will present a new challenge as we have to take more precautions than in the past. However, we do not expect a drop-off in talent because we have some of the most talented students in this year's event," D'Angelo Taylor, Associate Director of the Multicultural Center, says. "We are all still trying to navigate this pandemic, so while we are at it, let's come together for a night of fun at USI Live at the Apollo!"
For more information, contact the Multicultural Center at 812-465-7188.