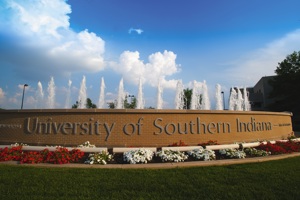 The University of Southern Indiana has been approved as a charter school authorizer by the Indiana State Board of Education. The University's vision for chartering is guided by its strategic plan and institutional vision ­– to be a recognized leader in higher education boldly shaping the future and transforming the lives of our students through exceptional learning and intentional innovation.
"As an authorizer, USI will play a role in expanding educational opportunities for students in urban and rural areas," noted Dr. Mohammed Khayum, USI Provost. "Our intention is to improve families' access to quality charter schools, provide school communities the autonomy they need for schools to excel and hold schools accountable for their performance."
Authorizers are the entities that decide who can start a new charter school, set academic and operational expectations, and oversee school performance. They also decide whether a charter should remain open or close at the end of its contract.
USI oversight as a charter authorizer will begin with the Indiana Agriculture and Technology School which opened in 2018 and is based in Central Indiana with a farm campus near Trafalgar and additional campus expansions in the southern and northern regions of the state. The tuition-free charter school is currently the educational home to 234 students in the seventh through twelfth grade.
"Through hands on and project-based agriculture and technology curriculum, both face to face and online, our goal is to grow and expand the educational boundaries in our state," said Keith Marsh, Indiana Ag and Technology School Executive Director. "We share USI's goal to elevate visibility and reputation through exceptional education offered through regional campuses."
One area of potential growth for the ag and tech school is in Evansville. Formed in 1998, Joshua Academy is a pre-K through 6th grade school which has been incorporating plant and animal-based agriculture and agri-business into their students' education. As they look to grow, Indiana Agriculture and Technology School's curriculum has appeal.
"As Indiana Ag School looks to establish an Evansville location, we are eager to partner with them and our long-time partner USI, to make quality seventh through twelfth grade ag education available for our students who chose to consider that as their next step," remarked Rev. Larry Rascoe, Joshua Academy Founder.
Primary oversight of authorization duties will be managed by a USI employee reporting to the Provost's Office.