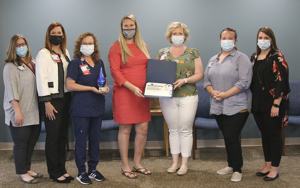 A vibrant rural healthcare system requires not only an ongoing commitment to education of current employees and the future healthcare workforce, but also to creating reciprocal partnerships across the region to improve healthcare for all. Southwest Indiana Area Health Education Center (AHEC) recognizes the efforts of two teams of healthcare providers that are helping achieve this mission.
2021 Partnership Matters Award
Southwest Indiana AHEC's 2021 Partnership Matters Award is presented to the Collaborative Interprofessional Education Team at Good Samaritan Hospital in Vincennes, Indiana. "Although the team consists of other members, Angela Shick, Andrea Goodman and Jenny Shrum have been invaluable resources for Southwest Indiana AHEC in the placement of students for clinical experiences," said Jane Friona, Executive Director of Southwest Indiana AHEC. "They routinely provide assistance in connecting with preceptors, ensuring students are set-up and oriented for placements, providing housing when needed and making students feel welcome. They have also been great partners in situations when clinical placements maybe didn't work out entirely as expected, and their understanding has been appreciated."
In addition to their work on clinical placements, the Collaborative Interprofessional Education Team has engaged with AHEC's regional Clinical Collaboration Team, providing expertise, insight and experience on a variety of topics to other regional organizations and professional colleagues across southwest Indiana. They coordinate the Simulation Consortium and are active members of the University of Southern Indiana's Strengthening the Healthcare Team conference planning committee. This team is also involved in community education activities that positively impact health and safety for all.
2021 Outstanding Preceptor Awards
Southwest Indiana AHEC presented its inaugural Outstanding Preceptor Awards to Dr. Stephen Cullen and Dr. Amy Archer of Cullen Medical Professionals in Washington, Indiana.
"These two physicians have committed themselves and their practice to helping ensure a strong pipeline of future health professionals in southwest Indiana," said Friona. "They precept about 24 students annually, providing clinical experiences to medical students from both IU and Marian University, physician assistant students and nurse practitioner students."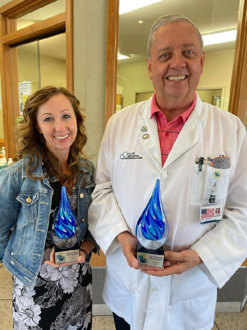 Friona said their willingness to provide family medicine and behavioral health clinical experiences to future health professionals across a variety of disciplines creates a breadth of understanding and strengthens the interprofessional healthcare team. "Students consistently provide positive feedback on the tremendous learning experience provided by these preceptors," she said.
Cullen graduated from University of Health Sciences College of Osteopathic Medicine in Kansas City, Missouri, completed five years of active duty in the United States Army Medical Corps, and has been providing primary care in rural southern Indiana since 1983. He holds certificates of added achievement in sports medicine and geriatric medicine, in addition to his board certification in Family Practice.
Archer has been providing primary care in rural Indiana for over 12 years. She graduated from the Kansas City University of Medicine and Biosciences – College of Osteopathic Medicine and completed her residency at the Wichita Center for Graduate Medical Education. She is board certified by the American Board of Family Medicine and shares her knowledge of eating disorder prevention and treatment through public speaking and counseling.
Southwest Indiana AHEC began as a regional center in 2008 and is hosted by the University of Southern Indiana in the College of Nursing and Health Professions. SWI-AHEC is part of a national network with a mission to improve health by leading the nation in the recruitment, training and retention of a diverse health workforce for underserved communities.