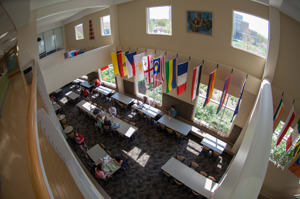 Three students were recognized by the University of Southern Indiana Center for International Programs for their contributions to cultural awareness and their leadership and academic accomplishments at the  USI International Graduation Reception on Thursday, May 6.
"It was good to see the expressions of pride and joy on the faces of the graduating students in person and to encourage them to go and make a difference," said Dr. Emi Zlatkovska, Interim Director of the Center for International Programs. "We are so proud of all of our graduates and can't wait to see what the future brings for them."
The reception, which was not held in 2020 due to the COVID-19 pandemic, was a chance to celebrate international student achievements through the entire year and honor graduates for completing their degrees in the midst of a global health crisis away from their home countries.
Peace Ambassador Award
Mara Monterrosa '21, who graduated with a bachelor's degree in business administration, was named the 2021 recipient of the Peace Ambassador Award, which recognizes an outstanding international student whose actions and involvement in campus and community life have contributed to greater cross-cultural awareness and to increased understanding of the world, its peoples and its traditions. 
Monterrosa, a native of Mexico, has extensively served as both a campus and community leader and volunteer in building connections between cultures and communities. During her studies, she founded the "Business Connect Project" with the Growth Alliance for Greater Evansville (now part of the Evansville Regional Economic Partnership) to help small business better engage with international students to foster growth and provide real-world experience. Monterrosa also provided bilingual and community support both on-campus and with community organizations such as Patchwork Central and Bridge for Hope.
In Monterrosa's nomination, a faculty mentor described her as "a delightful human being who treats everyone with dignity and respect.  I have no doubt whatsoever that she will approach her future career with the same energy and conviction she has shown throughout her life."
Outstanding International Graduate – Graduate Student
Mariam Gamdlishvili M'21, who received a master's degree in Communications, received the 2021 Outstanding International Graduate award for graduate students.
Gamdlishvili, a Fulbright Scholar and Edmund S. Muskie intern, was born in Kazakhstan and worked as a communication specialist for the State Minister of Georgia following her undergraduate studies. Upon arrival in Evansville, her focus on strategic communications and government led her to study 2020 election media coverage.
In nominating Gamdlishvili, a faculty member says that "this is not a student working on graduate education with an eye solely to the marketplace, but one with deep beliefs about the power and potential of education and its role in social change.  Since her arrival in the United States, Mariam has worked hard to establish and realize personal, professional, and social goals, and in doing so she has taken advantage of every opportunity to pursue study and other activity in order to reach those goals."
Outstanding International Graduate – Undergraduate Student
Chiaimaka Atuegbu '21, who graduated with a bachelor's degree in political science, is the 2021 Outstanding International Graduate award recipient for undergraduate students.
Atuegbu, who specialized in Government, Law, and Diplomacy, maintained a 4.0 GPA while serving as an active student leader for the African Cultures Club. In nominating her, a faculty member praised her "decisive leadership" and said that she is "an aspiring future leader in the society."
The Outstanding International Graduate award recognizes an international student with outstanding leadership skills and academic achievement upon graduation from USI.