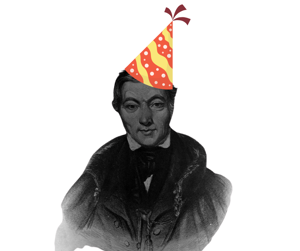 The University of Southern Indiana's Historic New Harmony will celebrate the 250th anniversary of the birth of Robert Owen with two upcoming, in-person events: Robert Owen's Birthday Party and the Finding Robert Owen Scavenger Hunt.
Owen and his descendants made a significant impact on the town of New Harmony since Owen purchased it from the Harmonists in 1825.
Birthday Party
The public is invited to a birthday celebration for Robert Owen from 10 a.m. to 2 p.m. Saturday, May 15 at Owen Square, directly across from Thrall's Opera House, in New Harmony. The celebration will offer family games, crafts, music and exciting opportunities to learn more about the man, his time in New Harmony and his influence around the world. You might even meet Robert Owen himself! Guests are invited to bring picnic food and picnic tables and tents will be set up. Make sure to grab a Robert Owen birthday cookie too! Masks and physical distancing are required in accordance with USI Covid-19 protocols.
Finding Robert Owen Scavenger Hunt
The public is also invited to hunt for Robert Owen throughout New Harmony! 10 Robert Owen will be hidden throughout town in the area bordered by South, North, Arthur and East Streets. Participants who find all 10  will be eligible for a chance to win one of two cash prizes. Entry forms will be available at the Atheneum Visitors Center at 401 Arthur Street in New Harmony starting Saturday, May 8 at 9:30 a.m. and completed forms are due by 5 p.m. Saturday, May 22. This event is sponsored by the Leather Leaf Inn. More information is available on the Historic New Harmony website. 

"Our last public event was in December 2019, so after a year and a half of virtual events we are excited to be able to offer public programming and celebrate this momentous occasion and continue to share the legacy of Robert Owen with the community in-person," said Claire Eagle, Community Engagement Manager with Historic New Harmony.
The events will follow all USI Covid-19 protocols. Masks will be required, capacity will be limited to prevent overcrowding and hand sanitizer will be available.
These programs have been made possible through a grant from Indiana Humanities in cooperation with the National Endowment for the Humanities and generous support from Dr. George and Mrs. Peggy Rapp.
For more information about Historic New Harmony, contact Erin McCracken Merris, Marketing Specialist for USI Outreach and Engagement, at emccracken@usi.edu.