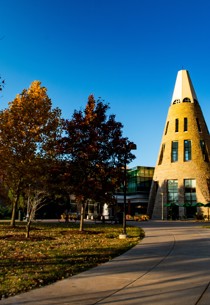 The Anne and Bettye Statham Community Engagement Award has been established within the University of Southern Indiana Foundation. The $1,000 award will be provided annually to a student within the College of Liberal Arts to recognize and support community engagement efforts and projects.
Anna Ardelean, a junior majoring in political science, is the initial recipient of the award for her work on improving access to voting for USI students and her efforts to bring a Vote Center to campus for future local and national elections. Ardelean, who has been working on the project since arriving at USI, will host a postcard campaign outside of University Center the week of April 19 and is inviting the campus community to participate. 
The Statham Community Engagement Award is awarded by the USI Department of Sociology and is open to all students in good academic standing within the College of Liberal Arts. It was established to honor the career and contributions of Dr. Anne Statham, Professor Emerita of Sociology and founder of the USI Service Learning Program, along with Statham's mother and long-time Evansville community activist and volunteer, Bettye Statham.
For more information about the Statham Community Engagement Award, contact Dr. Andrew Buck, Chair of the Department of Sociology, at adbuck@usi.edu.