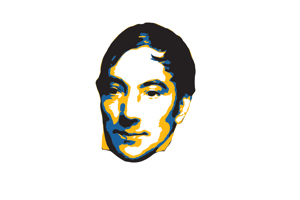 In celebration of the 250th Anniversary of Robert Owen's birth, Historic New Harmony invites writers to participate in a global creative writing contest beginning April 1 through July 1.
Writers are asked to creatively connect one of Robert Owen's philosophies, passions or aspects of his life with current world events in poems, essays or short stories.
The contest is sponsored by the Working Men's Institute in Partnership with Indiana Poet Laureate, Matthew Graham.
Matthew Graham, Professor of English Emeritus, the Indiana Arts Commission Indiana Poet Laureate, will judge the entries. As Poet Laureate, Graham visits schools and libraries, offers advice to the commission concerning ways to further the art of poetry in Indiana and represents Indiana and the art of poetry to the education community and the public.
"Robert Owen was a social reformer way ahead of his time. He believed in reforms for women and workers' rights, including an eight hour work day, youth education, early child care, free public libraries and museums and especially a liberal education for all," said Graham. "Although he disdained organized religion, he became a spiritualist in later life. Owen's concerns and ideas are still pertinent today and are worth examining in poems, stories and essays as a way of keeping them alive and relevant. I'm excited to read the outcomes of this contest."
Poems should be no longer than two pages; essays should be between 500-1500 words; and short stories may be up to 10 pages (using a 10 pt. font or larger). Works will be judged on originality and content, not on length, in three age groups: under 13, 13-17 and 18+.
Prizes will be awarded to each age group. First place will be awarded $100 and works will be featured in Anniversary communications, social media, events and exhibition. Second place will be awarded $25 and be featured in Anniversary communications and social media.
Detailed rules and submissions can be found at USI.edu/RO250WritingContest
The Robert Owen 250th Anniversary has been made possible through a grant from Indiana Humanities
in cooperation with the National Endowment for the Humanities.
For more information about Historic New Harmony, contact Erin McCracken Merris, Marketing Specialist for USI Outreach and Engagement, at emccracken@usi.edu.