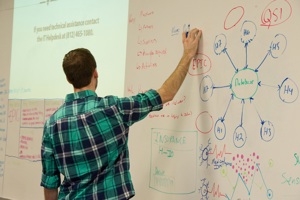 Are you an innovative individual looking for a way to jumpstart your bright ideas or join others like-minded in driving change? Join Startup Weekend Evansville virtually Friday, April 16 – Sunday, April 18 to collaborate with others and get your idea out there! Back for its ninth year, this 54-hour weekend event gives groups of developers, business managers, startup enthusiasts, marketing gurus and everyone in between a chance to pitch ideas for new startup companies, form teams around those ideas, and quickly work to develop a working prototype, demo, or presentation by Sunday evening. Yes, things get crazy!
Learn what it really takes to innovate, collaborate and start a company with like-minded people! Participation is only $9, and registration is available at startupevansville.com.
"Startup Weekend Evansville Virtual is about creating opportunities for collisions – unexpected collisions of ideas and people. We're talking about chance meetings that encourage people to connect in ways that wouldn't happen otherwise. These types of collisions often result in fascinating collaborations, interesting results and really cool ideas," says Bryan Bourdeau, Instructor in Business at the University of Southern Indiana Romain College of Business and event co-organizer.
Throughout the weekend, participants will meet with mentors, investors, coaches and sponsors that will teach you how to turn your idea into reality— and, maybe even start a business! Friday kicks off with individuals pitching their startup idea in roughly 60 seconds. Teams then form around the top ideas, and then it truly is a weekend frenzy of business model creation, designing, market validation and pitching. The weekend ends with final presentations in front of entrepreneurial leaders with a final opportunity for critical feedback and a celebration of the winning teams.
Startup Weekend is a great event for anyone interested in learning more about business and entrepreneurship, even if they don't have a business idea. This event is for everyone — the more diverse in character and skill participants are, the better! Our goal is to continue to create an environment where passionate people can come together to get things done; to learn, network, bridge the gap between trades, expose potential and see actual results firsthand. We are proud to give anyone and everyone a chance to be a part of this unique type of innovative collaboration!
Winners of Startup Weekend Evansville will receive packages of in-kind services to help start their businesses, featuring a Gutwein Law Entity Formation Package valued at $1500 and a 6-month membership at Cowork Evansville.
Whether you're looking for feedback on an idea, a co-founder, specific skill sets or a team to help you execute, Techstars Startup Weekend Virtual Evansville 9.0 is the perfect environment in which to test your idea and take the first steps towards launching your own startup. Learn more and view the weekend schedule at www.startupevansville.com.
ABOUT TECHSTARS STARTUP WEEKEND
Startup Weekend sponsored by Techstars is a global grassroots movement of active and empowered entrepreneurs who are learning the basics of founding startups and launching successful ventures. It is the largest community of driven and passionate entrepreneurs with over 35,000 past events in 150+ countries around the world. More than 428,000 people across the globe are SW alumni! Join the community!