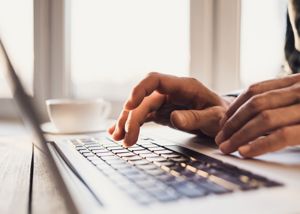 University of Southern Indiana Lifelong Learning, part of Outreach and Engagement, is launching noncredit online workplace skill-enhancing certificates.  
These certificates combine in-depth learning with online flexibility. Each certificate requires completion of three to four courses and is offered entirely online. There are no admission requirements. 
"Career advancement can stall without fine-tuning and developing new skills. These online certificates allow students the flexibility to strengthen and build skills needed to excel in today's workplace," said Dawn Stoneking, Interim Associate Provost for Outreach and Engagement and Director of Lifelong Learning. 
The following workplace skills certificates are available: 
Advanced Web Design Certificate 
Learn HTML code, delve into CSS3 and HTML5, and choose an elective to learn about engine optimization, programming, databases or dynamic websites. 
Basic Supervisory Skills Certificate 
Obtain practical supervisory knowledge to enhance effectiveness as a new or current team leader.  
Digital Marketing Certificate 
Explore how to develop an internet marketing plan, use popular social media platforms and achieve higher positions with major search engines. 
Effective Workplace Communication Certificate 
Discover how to communicate more effectively at work, enhance your written, verbal and nonverbal communication skills, and gain practical skills to be more confident and create better professional relationships. 
Essentials to Web Design Certificate 
Learn the basics of CSS and HTML to design, create and post to your site on the web while being introduced to JavaScript and learn powerful graphic design techniques. 
Graphic Design Tools Level I Certificate 
Produce professional-quality documents, create stunning vector graphics, edit and process photographs to develop your original images, and organize your images quickly and effectively. 
Introduction to Business Essentials Certificate 
Gain confidence in financial planning, leadership and accounting. Develop time management skills, understand how to handle essential human resources functions and acquire practical business experience. 
Introduction to Business Writing Certificate 
Brush up on your grammar, writing and editing skills. Learn how to develop written documents that draw readers in and keep them motivated to read to the end. 
Introduction to Database Certificate 
Learn all you need to know to plan, organize and manage your data and translate it into clear, easy-to-understand documents. 
USI Lifelong Learning offers online noncredit open enrollment courses and certificates to meet various educational needs and goals. Learners can work and learn on their schedule when it is convenient for them to do so.  Over 500 courses are available in the following areas: accounting and finance, business, college readiness, computer applications, design and composition, language and arts, law and legal, personal development, teaching and education, technology, writing and publishing. A full catalog of additional courses available for purchase can be found on the USI Lifelong Learning website. 
For more information about Lifelong Learning, contact Erin McCracken Merris, Marketing Specialist for USI Outreach and Engagement, at emccracken@usi.edu.