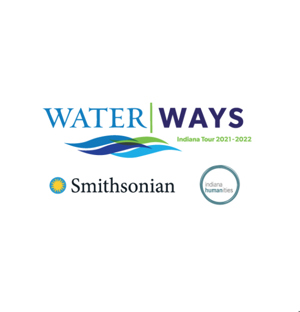 Historic New Harmony has been selected by Indiana Humanities to host a Smithsonian-curated traveling exhibit called Water/Ways as part of the Museum on Main Street program, which brings exhibitions and programs to rural communities. The exhibition, which dives into water—an essential component of life on our planet, environmentally, culturally and historically—will be on display in New Harmony at the Atheneum from October 2 -November 14.
The traveling exhibition will tour six Indiana communities from June 26, 2021 to April 10, 2022. In addition to the exhibition, each community has been given $2,000 in project funds to host community programs around the themes of the exhibition and create an exhibit that explores their community's relationship to water.
Our world is water and so are we. An essential component of life on our planet, water powers the environment's engine, impacting climate and helping to shape and sculpt the landscape. Humans and animals rely on water for health, hydration, food supplies and hygiene.
Water also plays a practical role in American society. The availability of water had a significant impact on settlement and migration patterns. Access to water and control of water resources are a central part of political and economic planning. Human creativity and resourcefulness provide new ways of renewing and refreshing water resources and renewing respect for the natural environment.
"Hoosiers are connected to water in ways that they may not always realize," said Keira Amstutz, President and CEO of Indiana Humanities. "And, since water is a shared resource, water connects everyone. We are excited to take the Water/Ways exhibit around the state to help reveal our connections to water and the central nature of it in our lives."
"The loss of hosting Crossroads: Change in Rural America due to COVID-19 was devastating not only for our staff, but for our community. The opportunity to fully host another Smithsonian on Main Street exhibit, one that fits so well with the story of Posey County through the Wabash and Ohio Rivers, means a lot to our community," said Claire Eagle, Community Engagement Manager of Historic New Harmony.
The Water/Ways exhibit will provide new opportunities to collaborate with the University of Southern Indiana's students, faculty and other community organizations such as the United States Geological Survey, Harmonie State Park and Purdue Extension-Posey County.
"The USGS Ohio-Kentucky-Indiana (OKI) Water Science Center is excited to collaborate with Historic New Harmony to shed light on how our waterways have shaped and continue to change life in rural America. The objectives of the exhibit coincide with USGS's mission by educating the public to save life and property and enhancing water resources," said Molly Lott, Hydrologic Technician, with the OKI Water Science Center in Louisville, Kentucky.
Additional information about public programming related to the exhibit will be forthcoming.
About Indiana Humanities
Indiana Humanities connects people, opens minds and enriches lives by creating and facilitating programs that encourage Hoosiers to think, read and talk. Learn more at www.indianahumanities.org.
About Water/Ways
Water/Ways has been made possible in Indiana by Indiana Humanities. Water/Ways is part of Museum on Main Street, a collaboration between the Smithsonian Institution and State Humanities Councils nationwide. Support for Museum on Main Street has been provided by the United States Congress. Water/Ways was adapted from an exhibition organized by the American Museum of Natural History, New York (www.amnh.org), and the Science Museum of Minnesota, St. Paul (www.smm.org), in collaboration with Great Lakes Science Center, Cleveland; The Field Museum, Chicago; Instituto Sangari, Sao Paulo, Brazil; National Museum of Australia, Canberra; Royal Ontario Museum, Toronto, Canada; San Diego Natural History Museum; and Science Centre Singapore with PUB Singapore.
About Museum on Main Street
Museum on Main Street is a unique collaboration between the Smithsonian Institution Traveling Exhibition Service (SITES), state humanities councils across the nation and local host institutions. To learn more about Water/Ways and other Museum on Main Street exhibitions, visit www.museumonmainstreet.org.
About SITES
SITES has been sharing the wealth of Smithsonian collections and research programs with millions of people outside Washington, D.C. for more than 65 years. SITES connects Americans to their shared cultural heritage through a wide range of exhibitions about art, science and history, which are shown wherever people live, work and play. For exhibition description and tour schedules, visit www.sites.si.edu.
For more information about Historic New Harmony, contact Erin McCracken Merris, Marketing Specialist for USI Outreach and Engagement, at emccracken@usi.edu.