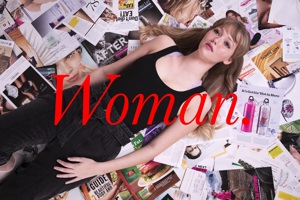 The Efroymson Bridge Year Fellowship Exhibition, Woman, will be on display at the McCutchan Art Center/ Pace Galleries (MAC/PACE) on the University of Southern Indiana campus. A virtual exhibition will open on the gallery's website, USI.edu/macpace, Tuesday, January 19, followed by an opening of the physical show in the galleries on Monday, February 8. The show will be on display through March 5. 
Megan Thorne, the 2020 recipient of the Fellowship, is the featured artist for Woman. Her exhibition showcases photographs created during the fellowship that highlight womanhood from a feminist point of view. Thorne's show analyzes topics that women deal with daily such as misogyny, objectification and the impact from the advertising, fashion, and makeup industries. 
Thorne made the exhibition an installation from start to finish, including a room covered floor to ceiling in magazine ads and images, in order to give the viewer an immersive experience.  
"I want the viewer to analyze themselves as they walk around my exhibition, it is meant to be overwhelming because what women deal with daily is damaging and overwhelming. If I can change one person's mind about feminism or make them think differently after viewing my show, then I would be thrilled," Thorne said. "I hope I am able to make people really think about what they could be doing to fix these issues, even if it's something they are doing subconsciously." 
Thorne will host a virtual artist's talk via Zoom at 6 p.m. Wednesday, February 3.
The Efroymson Bridge Year Fellowship is a competitive award program awarded to one graduating senior or recent alum from the Art and Design Department annually. The goal of the Efroymson Bridge Year Fellowship is to fund a post-undergraduate year, allowing the recipient to focus on their studio practice to expand their artistic vision and enhance their portfolio, to gain maturity as an art maker, and to successfully gain entrance to graduate school in his/her area of expertise. 
The MAC/PACE, located in the lower level of the Liberal Arts Center, is open Monday through Friday from 10 a.m. to 4 p.m. Guests are invited to view this exhibition in person at the MAC/PACE. Due to physical distancing limitations in place during the COVID-19 pandemic, groups of 10 or more people should contact the gallery in advance. 
For more information about the exhibit or Fellowship, visit the gallery website at USI.edu/macpace or contact the gallery at 812-228-5006.