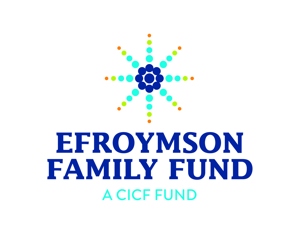 The University of Southern Indiana's Historic New Harmony and New Harmony Gallery of Contemporary Art and the USI Art and Design Department have all been named recipients of generous grants from the Efroymson Family Fund.  
Historic New Harmony received a $25,000 grant to help with operating costs, programming and projects. Annually, Historic New Harmony has a fundraising goal of $50,000 that is part of the operating budget, this grant will be applied to that total.  
"Jeremy Efroymson and the Efroymson Family Fund's generous and continued support is not only appreciated but is an honor.  Their sincere passion for New Harmony and the mission of Historic New Harmony allows us to present our rich history and collection to the region and the world," said Dan Mason, Assistant Director of Historic New Harmony. "It's also important to note that Jeremy's wonderful drive to help connect New Harmony to forward thinking artists, architects, educators and leaders is in many ways reminiscent of Mrs. Owen... absolutely inspirational, invaluable and appreciated."  
The New Harmony Gallery of Contemporary Art received a $25,000 grant to help with operating costs, exhibitions and programming. The grant will be applied to the gallery's annual $50,000 fundraising goal.  
"The New Harmony Gallery of Contemporary Art has a long history of fostering and presenting innovative work and artists," said Leslie Townsend, Director of Community Engagement and Historic New Harmony. "It remains a force in the region as a creative influencer, supporter, and partner and is a source of pride for the University of Southern Indiana. It's encouraging to know that charitable foundations like the Efroymson Family Fund are there for the arts... allowing us to continue our mission and continue to inspire uninterrupted," 
The USI Art and Design Department, housed within the College of Liberal Arts, received an $11,400 grant towards the continuation of the Efroymson Family Fund Bridge Year Fellowship. The Fellowship is a competitive award program that provides a highly motivated and talented studio art, photography or design graduate with the opportunity to develop a strong portfolio in preparation for graduate study, which is often the foundation for a successful career as an artist, photographer or designer.  
"The Efroymson Bridge Year Fellowship is a remarkable opportunity for our students to hone their skills, gain valuable experience in the classroom and gallery space, and successfully apply to graduate school," said Dr. Shannon Pritchard, Associate Professor of Art History 
The 2020 recipient of the fellowship is Megan Thorne '19, who is focusing on photography while being mentored by Robert Dickes, Assistant Professor of Photography and Digital Imaging.  
"I am forever grateful to the Efroymson family for giving me this incredible opportunity. When I started this fellowship, I still had so much to learn and experience. I was given the funds and opportunity to spend a year finding out who I wanted to be as an artist and what I wanted to create," said Thorne.
"Through this fellowship, I have had the opportunity to build an exhibition focused on feminism, a topic I'm extremely passionate about. I've been able to plan out installations, attend a conference where I discussed my ideas with other feminist artists and build off inspiration from them, and learn what it means to truly create art for a year."  
For more information about Historic New Harmony and the New Harmony Gallery of Contemporary Art, contact Erin McCracken Merris, Marketing Specialist for USI Outreach and Engagement, at emccracken@usi.edu. For more information about the USI Art and Design Department, visit USI.edu/art.