Five USI alumni who exhibit extraordinary leadership while making an impact on the Evansville community were among the honorees celebrated at the Rotary Club of Evansville's 20 Under 40 luncheon September 29. 
Learn more about the honorees through these bios provided by the Rotary Club of Evansville. 
Jeffrey Dierlam '05 M'09
Principal, Harrison High School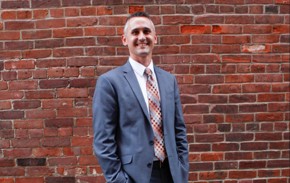 Jeff Dierlam has high expectations for all of his students at Harrison High School, where he is the principal. "When I came to Harrison, we started a philosophy of pushing high levels of learning for all students, and all means all," he said.

Dierlam focuses on creating positive experiences for students which they can take into the community after graduation. For him, it goes beyond academics. "We have a really diverse student body—economically and racially—and providing positive experiences with people of different backgrounds can help make a better society."

This philosophy has resulted in both a graduation rate increase and a growing number of AP scholars.

"He is a champion for his school, and his strong leadership is pushing Harrison to make great gains," Reitz teacher Nora Walsh said in his nomination.

Dierlam is an Evansville native and was raised and still lives on the West side, but is all-in at Harrison. He is often seen wearing Harrison spirit wear on the weekends. His focus is all about the students.

"Things change, administrators change and policies change, but what's important comes down to the kids and their success," Dierlam said.
Abby Elpers '08
Marketing Communications Manager, Growth Alliance for Greater Evansville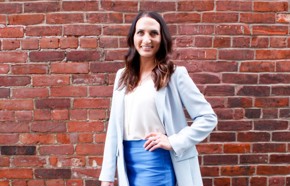 Abby Elpers has a passion for improving and leaving her mark on her community. As a leader at the Growth Alliance, she has done just that. Elpers is the marketing communications manager at the Growth Alliance and works with local businesses to improve the workforce and quality of life for residents.

She helped open Cowork Evansville and spearheaded the project to increase public art downtown with a mural located on Main Street, south of Fourth Street, and hopes to expand it the length of the alley. "Abby took the initiative to suggest a mural to bring more art to the downtown. Knowing young people's penchant for selfies, she pitched to the Growth Alliance leadership on creating selfie alley alongside Innovation Pointe," Ellen Horan, former president of the Growth Alliance said in the nomination.

Elpers also serves as an E is for Everyone Brand Director, a Reopen Evansville - Business Assistance Task Force member, EVSC OptIN Advisory Committee member and is a City of Evansville Climate Action Plan Stakeholder Committee member.

"Find a way to combine passion and purpose and you will always be successful," Elpers says.
Brandon McClish '11
General Manager, Purple Aces Sports Properties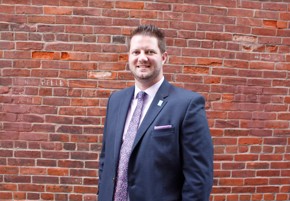 Brandon McClish has his dream job in his adopted home. He oversees the multimedia, marketing, rights and social media for Purple Aces Sports Properties. "I fell in love with the business of sports when I worked for the Evansville Otters," McClish said.

He is also involved with the West Side Nut Club Fall Festival. "I volunteered on a Tuesday morning at [the] Fall Festival years ago and saw the joy the Special Kids Day brought to so many," McClish said. "I knew then I needed to be a part of this organization." He has chaired king and queen contest, booklet sales, ticket sales, entertainment and refreshments since joining. He said he would always take that Tuesday of the Fall Festival off to help and share in the joy of Special Kids Day.

McClish is the current chair of the Young Professional Alliance through the Chamber. He credits the Chamber with helping him fall for Evansville. "This city is large to me, but everyone here communicates on a personal level," he said.

McClish's driving philosophy stems from his time with the Otters—give everyone an opening night experience every night.
Adam Trinkel '09
Marketing and Events Director, Downtown Evansville Indiana

Adam Trinkel is a cheerleader for downtown Evansville. With more than 30 restaurants and more than 40 shops, he works to shine a light on all that downtown has to offer. "We want to make downtown a place for everyone to meet and have a shared experience. Game Room Alley is one of those projects," he said.

Trinkel was drawn to non-profit work following his graduation from USI in 2009. His first job was at Evansville Arc as a grant writer. He spent nine years in fundraising and development positions and truly loved it.
He saw his current position posted in 2018 and thought it was time for a change. Lucky for downtown, he got the job. "I love being directly involved in helping downtown Evansville grow," said Trinkel. "We do events that haven't been done in Evansville, and that's a lot of fun."

One of the events that Trinkel is proud of is the Night on Main series, which was canceled due to the COVID pandemic.

"One thing that has kept me in Evansville is the opportunity to get involved and make a change which I don't think I'd be able to do in a bigger city."
Jordan Whitledge '14 M'16
Investment Officer, Old National Wealth Management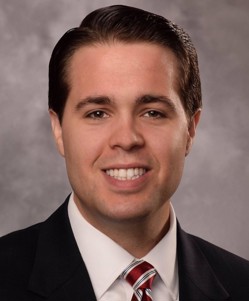 Jordan Whitledge's drive to give back to his community can be traced back to Youth Resources and its focus of volunteerism. "I want to make a difference by volunteering and making the community a better place to live," he said.
Whitledge has a nearly endless list of boards and volunteer positions. He serves on the Old Courthouse Foundation, Southwest Indiana Chamber, Rotary of Downtown Evansville Board of Directors, WNIN Tri-State Public Media Board, Downtown YMCA Board Member and the Youth Resources of Southwestern Indiana Board, just to name a handful. "We are a city on the up and up and we need to continue that momentum," said Whitledge.
"While Jordan goes above and beyond in his professional life and the community, he strives to maintain a balance between work, community and family," Janet Johnson, Director of Alumni Relations and Volunteer USI, says. "He is a devoted husband and father who is dedicated, along with his wife, Robin, to raising their young daughter to have the same strong work ethic and community minded values."

Whitledge expects much of himself and does all he can to make his hometown the best it can be.