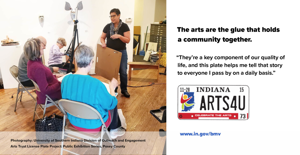 The Indiana Arts Commission (IAC ) announced on September 30 that the New Harmony Contemporary Gallery of Art is the 2021 Posey County Arts Trust License Plate Project and one of six Region 10 Indiana Arts Projects supported through the purchase of an Arts Trust License Plate.
Each year, one Arts Project Support grant from every county with a project will hold the unique honor of being an Arts Trust License Plate Project. To celebrate the spirit of plateholders, these projects were selected based on their exemplary commitment to bringing their communities together. Region 10 includes the Greater Evansville area, including Vanderburgh, Warrick, Posey, Knox, Gibson and Dubois counties.
Last year, the IAC issued a survey to plateholders asking what they value most about the arts. Overwhelmingly, plateholders told the IAC they value the way the arts connect their communities, with one respondent saying that arts are "the glue that holds a community together. They're a key component of our quality of life, and this plate helps me tell that story to everyone I pass by on a daily basis."
The New Harmony Gallery of Contemporary Art is an outreach partner of the University of Southern Indiana, which will administer the support grant. USI's public exhibition series features work that provides opportunities to artists and audiences, creates dialogue, and build connectivity in southern Indiana. All of these exhibitions are free to the public, creating greater access and impact on Posey County residents.
"By nature, the arts are resilient, which is what makes them so crucial to our society, especially during trialing times," said IAC Executive Director Lewis Ricci. "This investment by the community for the community is a citizen testament to the arts in Indiana."
The New Harmony Gallery of Contemporary Art is located at 506 Main Street in New Harmony, Indiana. Regular hours are 10 a.m. to 5 p.m. Tuesday through Saturday. For more information, call 812-682-3156 or go to usi.edu/nhgallery. 
About the Indiana Arts Commission
The Indiana Arts Commission works to positively impact the cultural, economic, and educational climate of Indiana by providing responsible leadership for and public stewardship of artistic resources for all of our state's citizens and communities.
Those interesting in purchasing an "Celebrate the Arts" license plate should visit their local BMV or the Indiana BMV website. 
Click here to explore FY21 Arts Trust License Plate Projects.
For more information about New Harmony Gallery of Contemporary Art, contact Erin McCracken Merris, Marketing Specialist for USI Outreach and Engagement, at emccracken@usi.edu.