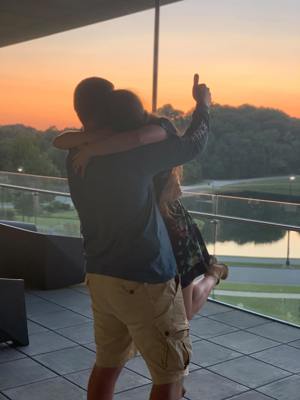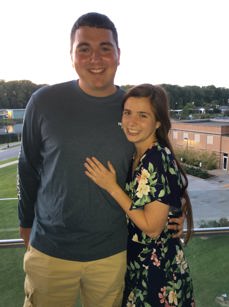 Growing up on a farm in Vincennes, Indiana, Emily Miller '22, dietetics, made dozens of trips to a grocery store in nearby Olney, Illinois, to deliver her family's watermelons. Living less than five minutes away, Reid Edwards '20, economics and finance, made frequent visits with his parents. Despite the common shopping ground, their paths didn't cross until last fall, when Emily arrived at USI.
"I remember meeting him when I first moved in," Emily said. "Immediately as I pulled in the parking spot and got out to go to my apartment, he was right there." 
Reid was doing his job as a resident assistant, greeting new students and welcoming them to campus. As the days passed, he encouraged the shy freshman in the apartment above him and her roommate to branch out and get involved on campus. "I was trying to break the ice with them, basically," Reid recalled.
"I thought he was super outgoing and charismatic. We would go places with him, and he knew everyone," said Emily.
The two developed a friendship and soon after, with Reid's RA supervisor's permission, started dating. "We just had a natural connection," said Reid, who serves as chair of the Romain College of Business Student Advisory Board. "We both like talking to people and getting to know other people, and we're both very involved on campus. And I think the passion for loving other people rubs off on each other too."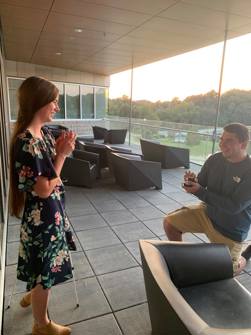 "He's really helped me come out of my shell," added Emily. "I'm an RA this semester, and I would have never done that had I not met him."
By the end of the 2019-20 academic year, Reid made a big decision. "It's kind of one of those, when you know, you know," he said. He bought a ring over the summer, and, on September 21, convinced Emily to join him and some friends for a photoshoot on the second-floor balcony of the Business and Engineering Center, a building with a special meaning to them. "[It's] where we told each other we liked each other, and that's when we started dating basically a year before," Reid explained. "I wanted to go full circle and tie the story back together at the BEC."
As they posed at sunset with Reflection Lake behind them, more friends appeared below holding signs saying, "Emily, will you marry me?"
She'd expected a proposal in the next few months—later in October near her birthday or in December when Reid graduated. But this was a surprise.
"I saw people running out, and I was like, 'What is going on?' …. I thought it was a fraternity." said Emily. "I looked over and Reid's down on one knee."
Her "yes"—to the friendly neighbor she'd met on move-in day—was instant.
Now, just as they did in the BEC on the night of their engagement, Reid and Emily look forward to celebrating with fellow Screaming Eagles on their wedding day, after Emily's graduation in Spring 2022.