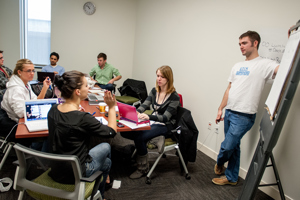 The University of Southern Indiana Romain College of Business has been named one of 19 recipients of a total of $164,000 in grants from Elevate Nexus to support the efforts of the College's Entrepreneurship Initiative.
"These funds will be used to support our ongoing enterprise to create and encourage opportunities for students, faculty, staff and the community to engage in entrepreneurial activities," said Bryan Bourdeau, Instructor in Business. "Our goal is to help foster an entrepreneurial community of innovative thought, openness to new ideas, interdisciplinary collaborations and continual entrepreneurial mindset development." 
The USI Entrepreneurship Initiative is part of the entrepreneurship minor housed in the Romain College of Business. Established in 2010, the entrepreneurship minor is open to all undergraduate majors and is nationally recognized as an Outstanding Emerging Entrepreneurship Program by the United States Association for Small Business and Entrepreneurship.
In addition to supporting the students enrolled in the entrepreneurship minor, the USI Entrepreneurship Initiative has hosted nine Techstars Startup Weekend events since 2011, with Startup Weekend Evansville remaining the largest event of its kind in Indiana, serving over 24 counties in Indiana and neighboring states. Open regionally to all students and community members, Startup Weekends are 54-hour events where developers, designers, marketers, product managers and startup enthusiasts come together to share ideas, form teams, build ideas and launch startups.
Elevate Nexus is funded by a grant from the U.S. Economic Development Administration and the 21st Century Research and Technology Fund (21 Fund). The 21 Fund, which promotes economic growth and innovation-driven public-private partnerships in Indiana, is overseen by the Indiana Economic Development Corp. and managed by Elevate Ventures.
For more information about the USI Entrepreneurship Initiative, contact Bourdeau at bbourdeau@usi.edu.