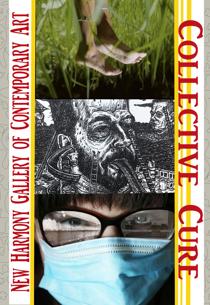 The New Harmony Gallery of Contemporary Art's latest exhibition Collective Cure will be on display Saturday, August 22 through Friday, October 2 and feature 27 works from 15 regional and international artists.
Collective Cure is a collection of works responding to the global COVID-19 pandemic. This exhibition focuses on how we as a collective whole will adapt to a post-quarantine world, with an emphasis on coping with this crisis and moving forward.
Contemporary art is often birthed from our response to current events. In this time of social distancing, many of us have experienced grief for the life we once had as we struggle to find our new normal. We are all undergoing unique experiences; however, the common denominator is that we are all looking for ways to keep marching on.
This exhibition was juried by a panel of artists from the staff of Historic New Harmony: Tabatha Chinn, Tonya Lance and Daniel Mason. Submissions were sent to the jurors with all artist names anonymized to prevent any name bias. Submissions were then scored on a scale of 1-10 for each of the following questions: "Did the submission meet the prompt?;" "Is the piece visually appealing?;" and "Is the submission technically done well with good craftsmanship?" This allowed for a total score out of 90. The top 27 scores were chosen to participate.
Artists to be featured include Brett Anderson, Nisrin Aziz, Jason Balducci, Beata Marcazk, Marie Pervenche Ruiz, Nick Metz, Jill Miller, Brenda Munguia, Laura Foster Nicholson, Megan Rademacher, Carolyn Roth, Megan Thorne, Lot Winther and Igor Zusev.
This exhibition is made possible in part by the Arts Council of Southwestern Indiana and the Indiana Arts Commission, which receives support from the State of Indiana and the National Endowment for the Arts.
The New Harmony Gallery of Contemporary Art is an outreach partner of the University of Southern Indiana. The gallery is located at 506 Main Street in New Harmony, Indiana. Regular hours are 10 a.m. to 5 p.m. Tuesday through Saturday. For more information, call 812-682-3156 or go to USI.edu/nhgallery.