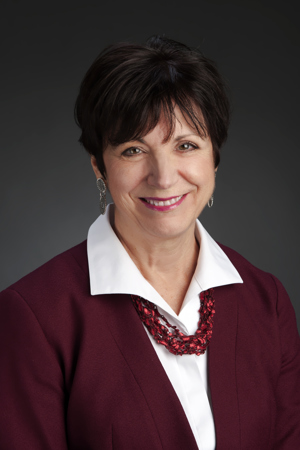 In 1979, following a year of graduate study abroad and disenchanted by her plan to become a high school German teacher, Heidi Gregori-Gahan found herself searching for other opportunities… in the Chicago phone book.
"I looked up 'international,' and I found the Institute for International Education. And I thought, 'That sounds interesting,'" she says. 
She dialed the number and asked what the institute did. The answer fascinated her.
"[They said], 'We administer the Fulbright Program and other exchanges.' And I thought, 'That's exactly what I want to do. I want to help facilitate those experiences for other people, having had such a rich and magical experience abroad [in Germany] myself.'"
A few months later she accepted a receptionist job, and, from her perch at the front desk, discovered two lifelong loves: international education and her husband, Danny, an exchange student from Ireland.
A blueprint
Born to a Swiss father and first-generation Italian American mother, Gregori-Gahan developed another love as a young girl—a love of language. "We didn't speak two languages at home," she says, "but it [Italian] was all around us."
So too was the warmth of her grandmother's hospitality. "Their house was always open. There was always something on the stove, and you [grew to] understand that's what you do for people, if you can," she explains.
Welcoming others, whether at an airport or around a table, would become the blueprint of Gregori-Gahan's international expansion plan when she arrived at USI in 1998 and settled into a basement cubicle.
Starting from scratch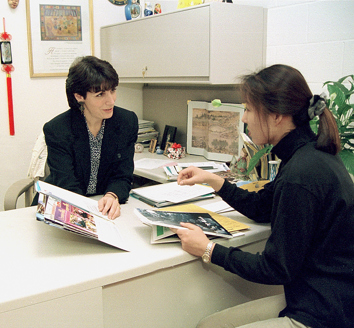 Before she could invite them to dinner, however, she first had to find out who USI's 33 international students were. With every connection, the University's newest office began to take shape. "Little by little, we grew the study abroad programs [which now encompass more than 60 countries] and international enrollments [more than 200 students on average each semester] and the Intensive English Program," says Gregori-Gahan.
Each success conquered challenges—from cultural differences and language barriers to political roadblocks and funding shortages. Few triumphs happened quickly. But no matter how complex or lengthy, all involved a fundamental concept.
"You've got to be genuine, because even if people don't speak your language, they're going to know," says Gregori-Gahan. "People know if you're not genuine."
Calming nerves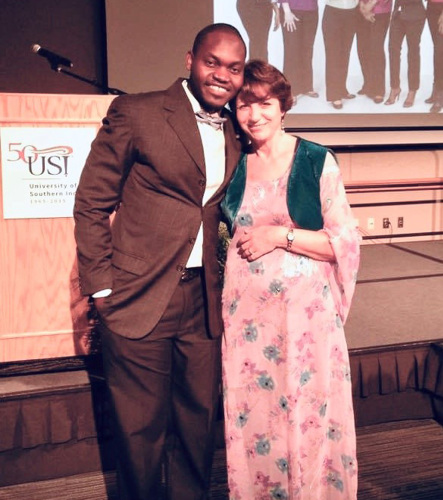 After receiving a full scholarship to attend USI, Daniela González Gatica '20, from Mexico City, Mexico, was hesitant to accept. She already had an offer—and funding—from a university at home. She'd never heard of Evansville. Still, she decided to make the nearly two-thousand-mile trip to visit.
Many of her worries melted away when she met Gregori-Gahan. "She had planned this really nice lunch in the Cone for my family and me, and she invited faculty from the Education Department and the choir," she says. "From the very first time we started talking, she was so invested. You notice when someone is listening to you."
Like González Gatica, Meschac Gervais '15 was uncertain about his future as a Screaming Eagle when he arrived from Haiti for a one-year cultural exchange program. "After meeting with Heidi, I knew everything was going to be OK," he says. "I realized at that moment that she cares, and I found comfort in that."
As the program's end neared, though, his uneasiness returned.
"I was worried and concerned [about what would come next], but I didn't have a lot of choices," Gervais, a bilingual talent acquisition specialist and founder of the nonprofit Haiti Enpak, recalls. "While I might have been shortsighted, she [Gregori-Gahan] was many steps ahead."
With her recommendation, Gervais received a scholarship to remain at USI for graduate school. "My experience at USI was amazing because I had the guidance and support of one of the most loving, caring, supportive, positive and strong women in my life," he says.
"She truly makes everyone feel like we're part of a big family, and we're going to stick together," adds González Gatica. "It's unity."
Lasting impact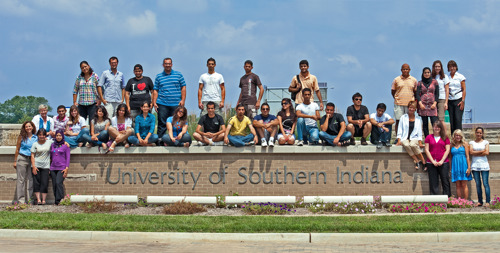 Unity seemed a near impossibility as Gregori-Gahan prepared for takeoff in Washington, D.C., early one morning in 2010. Worriedly watching 23 unenthused Iraqi students straggle on board, doubts about their month-long stay for a leadership program at USI mounted. When shouting broke out between Arab and Kurdish students during an opening session on campus, disaster seemed inevitable.
"This is the only time I can remember thinking, 'I have taken on more than I can handle,'" she says.
But over the course of the session, the students began to listen to the moderator, and eventually, to each other. "It was so moving. We all, at that moment, learned to listen to the other person, and it was just so beautiful to see that happen. And that, to me, is what I love about the field of international education. It's so transformational," she says. "From that moment on … everybody respected each other."
Ten years later, the Iraqi Young Leader Project remains one of the highlights of Gregori-Gahan's career—because of the acceptance it inspired and the legacy it created.
Global Ambassadors
During the project, she was particularly moved by a student from the Kurdistan region of Iraq named Shan Sherwan. "[Shan] wanted to go back to Iraq and develop programs to train women to be engineers and work in careers where they could be self-supported and empowered," Gregori-Gahan says.
A month didn't seem long enough to equip her with the skills necessary to reach her goals. With support from then-President Bennett and then-Provost Rochon, Sherwan and another student returned to USI on full scholarships to complete a second bachelor's degree through what would become the University's Global Ambassador Program.
Since then, 22 students determined to change the world by improving the human condition—including Daniela González Gatica and Meschac Gervais—have earned the title of Global Ambassador. 
And Sherwan?
She's doing exactly what she dreamed of: elevating women in her home country.
A front row seat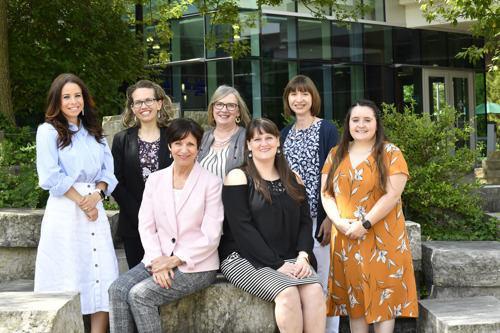 Early in her career, Gregori-Gahan relished students' view of her as a trusted older sister. It was the ultimate compliment—until she morphed into the role of loving mother, complete with a nickname known across campus and across continents: "Mama Heidi."
"She truly becomes [students'] family abroad as they navigate their experiences during their stay with us," says Dr. Emilija Zlatkovska, Director of USI's Intensive English Department, who will fill Gregori-Gahan's role on an interim basis. "Heidi is one of those people who approaches you with her heart and arms open, ready to welcome you, listen to you and uplift you in every possible way."
"In all the time I have been around her, I have never heard her complain or criticize anyone," adds Terry McIntosh, Senior Administrative Assistant for the Intensive English Department. "When you are with Heidi, you feel accepted for who you are, and you know she will give wise counsel when it is needed."
"She leads with compassion and an ethic of care, pushing us all to strive for the best, ensuring that we keep up with best practices and are always assessing what we do, thinking of students needs first," says Melissa Gonnerman, Assistant Director of the Center for International Programs.
Her unwavering dedication to international education prompted the NAFSA: Association of International Educators to name Gregori-Gahan a recipient of the NAFSA Life Membership Award this spring, in the midst of a global pandemic that has changed every aspect of the job she has loved for 22 years.
But her greatest honor continues to be the front-row seat students joyfully offer as they enrich their lives—and hers—both on campus and around the world.
"I learn so much from our students," she says. "I just love hearing their stories and what their dreams and goals are, knowing USI is going to play a huge role in making those dreams happen."
It's hard to imagine how many dreams may have never been realized if not for a passionate advocate named "Mama Heidi" … and the Chicago phone book.
Did you know?
Heidi Gregori-Gahan is not only an American citizen, she also has Swiss citizenship.
She and her husband, Danny, have two adult children, John and Maria, who grew up around international students and programs.
Gregori-Gahan visited 17 countries for work-related travel while at USI, beginning with a trip to India in 1999 to deliver a keynote speech at the EducationUSA Forum in Delhi.
In addition to "Mama Heidi," some students also refer to her as "Queen Mother," a nickname recognizing her status as the eldest person on a USI trip to Ghana, Africa. "I knew I would be the oldest one, so I told them to refer to me as 'Queen Mother' as a joke," she explains. The joke stuck. Even President Rochon, who attended the trip, often calls her "QM."
Throughout the COVID-19 pandemic, Gregori-Gahan and President Rochon have delivered and served food to the international students remaining on campus each week. "It gives me energy, it really does," she says. "That sense of community is so important."
After 40 years in international education, she says the last quarter of her career has been the best.
Following her retirement, Gregori-Gahan plans to stay connected to USI remotely from her new home outside Chicago, Illinois.