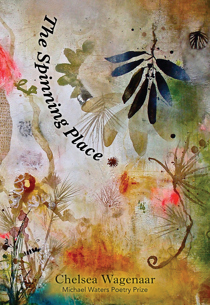 The Spinning Place, a book of poetry by Chelsea Wagenaar published by Southern Indiana Review (SIR) Press, has been named the winner of the 2020 Poetry Award by Midland Authors as the best poetry book published by a Midwest author in 2019.
In their judge's statement, poetry judge George Bigere said "I'd be hard-pressed to think of a book that explores the relationship of a mother and her child more intelligently, more capaciously or more beautifully. I love Wagenaar's wide-ranging curiosity and verbal inventiveness."
The Spinning Place, released on November 1, 2019, considers the body as the origin of ecstasy and agony, revealing how language—its possibilities and limits—bridges us to one another, but also shatters intimacy. The collection's three sections examine origin, exile, and the reconciliation of praise and sorrow with lyric precision and the heart of storytelling.
Wagenaar was the 2018 recipient of the Michael Waters Poetry Prize from SIR, awarded annually for a collection of poetry written in English. She is also the author of Mercy Spurs the Bone, selected by Philip Levine as the winner of the 2013 Philip Levine Prize, and some of her recent poems appear or are forthcoming in Poetry Northwest, The Normal School and The Southern Review and her recent nonfiction writings appear in Grist.
SIR is published by the University of Southern Indiana through the support of the USI College of Liberal Arts, the Indiana Arts Commission and National Endowment for the Arts. For more information, including purchasing links, visit the SIR website at USI.edu/sir.