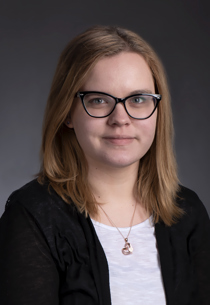 Rhonda Wheeler, a University of Southern Indiana sophomore currently undecided on major, will serve as the editor-in-chief for The Shield, USI's independent student newspaper, for the 2020-21 academic year. She will replace Riley Guerzini, who will finish his term at the end of the spring 2020 semester.
As editor-in-chief, Wheeler will be responsible for the overall operations for the media outlet. She will plan and conduct weekly editorial board and budget meetings, determine the content and general layout of the weekly newspaper and meet with the sales and marketing director to set editorial content and advertising distribution.
"The goal of any student publication is to inform the students and community about what is going on inside the campus and the surrounding area and act as a voice for students," said Wheeler. "We are a student-run, independent forum which gives us the ability to voice all concerns without the administration controlling the content."
Wheeler currently serves as the news editor for The Shield, where she reports and assigns stories and serves as the leader and manager of the news reporters for the newspaper. She has also served as the community engagement editor for The Shield and as news director for 95.7 The Spin, USI's student radio station.
Wheeler says that one of her goals is to increase communication between the newspaper staff and the campus community. "There have been many changes made to the paper and, while I agree with them, I feel better communication with our audience would help our readers know what to consistently expect from us." This includes determining the printed size and length of the newspaper, reaching out to incoming freshmen through the UNIV 101 program and expanding the amount of advertisements sold.
In a letter of support, Casey Pycior, assistant professor of English, said that Wheeler is "the kind of student I could always count on to speak up when the rest of the class might have been hesitant" and that she is "communicative, responsible and respectful of others' work, traits that I'm sure will be valuable in her role as editor-in-chief of The Shield." 
The USI Student Publications Committee annually selects the editor-in-chief for The Shield. Applications for positions are available online or in The Shield office. To get involved, call 812-465-1682, or visit the office in the lower level of University Center East, Room 227.