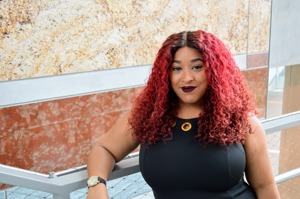 The University of Southern Indiana Sociology Department will host Jasmine Davis for a presentation entitled "Not so Black and White: Examining Self-Esteem at the Intersection of Race and Ethnicity." This presentation will be held at 4:30 p.m. Thursday, March 19 in Liberal Arts Center room 1015 and is free and open to the public. Davis will discuss her research on racial and ethnic identity, mental health and social psychology.
Davis is originally from Lancaster, California. She graduated from the University of California, Los Angeles (UCLA) in 2015 with a bachelor's degree in sociology and a minor in gender studies. While at UCLA, she was involved in research through the Ronald E. McNair Scholars Program where she studied African American women and their social and economic investment in their hair and how it affects their perceptions of self. "I am interested in how race and ethnicity shape social interactions and their impact on the production and dissemination of policies," she said.
Currently, Davis is attending Indiana University as a 5th-year doctoral student in the Sociology Department. Her work is being funded by the National Science Foundation through the Graduate Research Fellowship Program to continue her work on native-born black people, white people and black immigrants and their self-esteem trajectory across age. The goal of her current work is to complicate how scholars view the issue of self-esteem and shift it from looking through a strictly black and white lens to understanding the in-group differences of black people in the United States.
For more information, contact Dr. Andrew Buck, chair of the Sociology Department, at 812-461-5343 or adbuck@usi.edu.