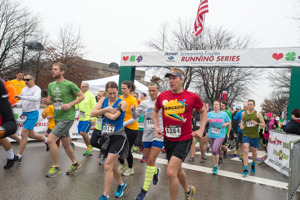 The University of Southern Indiana will host the fifth-annual Run into Madness 7K road race, the second event of the 2020 Romain Suburu Screaming Eagles Running Series, at 9 a.m. Saturday, March 7 outside the Recreation, Fitness and Wellness Center (RFW). Registration will be open the day of the event beginning at 7:30 a.m.
This year's 7K course will begin on the USI campus before looping onto Schutte Road and finishing on the USI-Burdette Park Trail bike path. A map of the course with mile markers and route highlighted can be found here on the USI website. 
The Run into Madness 7K is part of the three-race Screaming Eagles Running Series, a series of events designed to increase the health and well-being of the Evansville community while also providing hands-on experience for USI students. The final event is the 10K Spring into Fitness held on Saturday, April 4. All races will feature packet pick-up at the RFW.
Registration for the 7K is $30, and a discounted rate is available for registering for all three series races. Online registration is available at register.chronotrack.com/r/52796.
Sponsors for the Run into Madness 7K include Romain Suburu, United Fidelity Bank, the USI Pott College of Science, Engineering, and Education, Ultimate Fit and Midwest Communications.
For more information, contact Dr. Glenna Bower at gbower@usi.edu or visit USI.edu/running.