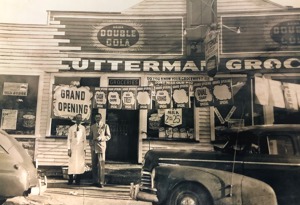 Historic New Harmony invites the public to attend a speaker series beginning on Thursday, March 19 as part of the public programming connected with the Smithsonian exhibit, Crossroads: Change in Rural America. The Crossroads: Change in Rural America Speaker Series will take a look at the themes of the Smithsonian exhibit while showcasing personal stories and research from University of Southern Indiana faculty, staff and students as well as speakers from the Indiana Humanities Inseparable Speakers Bureau.
The six-person speaker series will run through June. Each presentation will be held at the Atheneum Visitors Center at 401 N. Arthur Street in New Harmony, Indiana, and is sponsored by Hafer.
"We're very excited to be partnering with faculty, staff, and students to present on their research and passions," said Claire Eagle, community engagement manager for Historic New Harmony. "The only theme of this series is 'rural,' which means we have a chance to engage several disciplines across campus."
Speakers include:
Dr. Robin Sanabria, USI Counseling Center staff psychologist, will present "Reflections of a Farmer's Daughter: A Farm Family Legacy" at 6:30 p.m. Thursday, March 19. The farm crisis of the 1980 caused significant struggle in Posey County, Indiana as well as across rural America. For the Wilson family, it resulted in bankruptcy and the end of a seven-generation family farm. Sanabria will provide a personal account of farm life prior to the 1980s, how her family moved past the loss of their farm to redefine their family legacy.
Dr. Zach Ward, USI assistant professor of health administration, will present "The Healthcare Crisis of Rural America: A Reason for Hope" at 2:30 p.m. Saturday, March 28. Hospital closures in rural America have become all too common as 163 hospitals serving those communities have closed their doors since January 2005, 19 of those in 2019, marking the worst year yet. . Ward discusses what can be done to save America's rural healthcare infrastructure and why rural communities still have hope thanks to new technologies.
Cassidy Schaefer, USI senior studying history, will present "Virgil 'Gus' Grissom: Small-town Boy to American Hero" at 6:30 p.m. Thursday, April 9. Before Virgil "Gus" Grissom was one of America's first astronauts, he was a small-town boy from Mitchell, Indiana. Schafer will take a closer look at his time in small-town Indiana and how this helped him become the man he grew to be, how his life in a rural community was different than generations before and how he embodied rural identity in 19th-century America and Indiana.
Leisa Belleau, USI instructor of English and associate editor of Southern Indiana Review, will present "We Never Leave Home" at 6:30 p.m. Wednesday, April 22. Belleau will give a lecture focusing on creating identity and the rural identity in literature. Belleau grew up on a farm in southern Indiana. As an avid young reader, Belleau's formative imagination transformed exotic story locations into relatable revisions: oceans became the Ohio River, deserts became grazing pasture, weather was tornado-green, dry-leaf brown, overcast grey or blinding-sunshine yellow. Birds were noisy starlings, the bright flash of cardinals, the rapid swoop of hawks. Forty acres held the wide world's equivalence--in translation. Midwestern life informed everything Belleau read and observed, ultimately shaping her internal map of self. Southern Indiana has been her home her entire life and its impact remains unchanged. She is a product of here, now and always.
Dr. Matt Hanka, USI associate professor of political science, will present "The Urban-Rural Divide in our American Political System" at 6:30 p.m. Thursday, April 30. Hanka's talk will outline how the political polarization in American politics can be closely aligned with the division of urban and rural America. From the beginning of our nation's history with the Framers of the Constitution, to the industrialization of America in the 19th century, the urban political machines of the late 19th and early 20th centuries and the suburbanization of America after World War II, this divide has shaped American political culture in many profound and distinct ways. Hanka will examine the historical, political, demographic and economic reasons for this rural and urban divide, the overall implications and consequences for the future of our democratic republic and examine solutions that we can apply to bridge this longstanding and ever-growing divide.
Dr. Terri Jett, associate professor of political science and special assistant to the provost for diversity and inclusivity at Butler University, will present "Food Connects Us All" at 6:30 p.m. Thursday, June 4. Everyone needs to eat, and where and how food is grown complicates the idea that there is a sharp line between urban and rural. Many urban and suburban dwellers enjoy farm-to-table restaurants, shop at farmers markets or subscribe to community-supported agriculture programs that deliver fresh, healthy food, including fruits and vegetables picked at their peak. Such programs give a face to farmers and literally connect urban eaters to rural growers. However, in recent years, urban communities have planted gardens inside city lines, confounding the image we might have that farms are rural and cities are concrete jungles. All of this work is set against the backdrop of a food justice movement that works to eradicate food deserts and food insecurity and increase access to healthy food in rural, suburban and urban areas. Jett will examine how these changes in food production and distribution can redefine and expand people's ideas about "community" across urban-suburban-rural lines.
The Smithsonian exhibit Crossroads: Change in Rural America opens Saturday, May 9 and will run through Sunday, June 21 at Thrall Opera House in New Harmony. Crossroads: Change in Rural America has been made possible in New Harmony by Indiana Humanities and is part of Museum on Main Street, a collaboration between the Smithsonian Institution and State humanities councils nationwide. Support for Museum on Main Street has been provided by the United States Congress. For more information visit USI.edu/crossroads.
About Historic New Harmony
Historic New Harmony is a unified program of the University of Southern Indiana and the Indiana State Museum and Historic Sites. By preserving its utopian legacy, Historic New Harmony inspires innovation and progressive thought through its programs and collections. Learn more at USI.edu/hnh.
About Indiana Humanities
Indiana Humanities connects people, opens minds and enriches lives by creating and facilitating programs that encourage Hoosiers to think, read and talk. Learn more at www.indianahumanities.org.
About Museum on Main Street
Museum on Main Street is a unique collaboration between the Smithsonian Institution Traveling Exhibition Service (SITES), state humanities councils across the nation and local host institutions. To learn more about Crossroads and other Museum on Main Street exhibitions, visit https://museumonmainstreet.org.