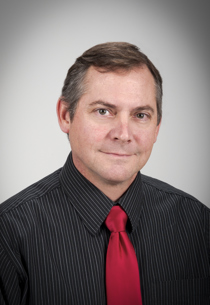 Dr. Paul Kuban, professor of engineering and chair of the Engineering Department at the University of Southern Indiana, was named the 2020 recipient of USI's M. Edward Jones Engagement Award at the sixth annual Celebration of Engagement Wednesday, February 26.
The M. Edward Jones Engagement Award is awarded annually by USI Outreach and Engagement and recognizes an individual, group or project for excellence in leadership, commitment of quality, tireless service and dedication to lifelong learning in fulfilling the outreach missions of USI.
For 24 years, Kuban has focused on providing USI students with the tools and hands-on experience to be successful in a global community. While providing students with the tools to be successful, Kuban has worked to grow partnerships and invest in regional businesses. He coordinated the effort to establish a Manufacturing Engineering Technology program at USI, which allows students to select individualized learning tracks targeted to the specific needs of regional manufacturing companies.
Kuban was a driving force in the development of USI's Crane Technician-to-Engineer program. "Dr. Paul Kuban has played, and continues to play, the most important role," said Dr. Zane Mitchell, dean of the Pott College of Science, Engineering, and Education. "Under Paul's leadership, the initial cohort of students was selected and all of the logistics, from class location and time to course delivery methods, were established. Paul single-handedly advised, and continues to advise, each of the students in this important outreach effort with one of our largest and most important partners."
Kuban worked with USI's Center for Applied Research (CAR) staff members and was awarded the first patent for a USI faculty member through CAR. "This important milestone helped to lay the foundation for future CAR efforts regarding faculty, student, and USI intellectual properties," said Mitchell.
Kuban received his doctoral degree in Computer Science and Engineering from the University of Louisville and a master's degree in Electrical Engineering from Purdue. He has inspired USI student involvement in several international projects that better the lives of people around the world, including partnering with Cornell University to build a 95-meter footbridge over a previously deadly crossing of southern Africa's Ngwempisi River. He was also the driving force for USI's collaboration with a firm that is designing a more sanitary toilet solution for the developing world.
In addition to serving on the advisory board for the Evansville Vanderburgh School Corporation's Project Lead the Way program, Kuban has provided his expertise to several area nonprofit organizations.
The Celebration of Engagement is an annual event held to celebrate the University's rich history of community partnerships. This year's event focused on community engagement and featured talks by Dr. Mohammed Khayum, USI provost, heads of Outreach and Engagement programs, and a community engagement panel with community organizations, USI students, faculty and administrators.
For more information about the Celebration of Engagement and the M. Edward Jones Engagement Award, visit USI.edu/Celebration