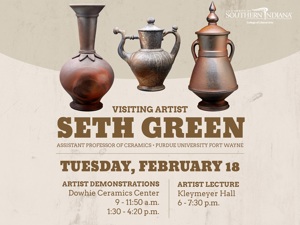 The University of Southern Indiana Art and Design department will welcome Seth Green, assistant professor of ceramics at Purdue University Fort Wayne, to campus on February 18. Green will host two demonstrations in the Dowhie Ceramic Center, the first at 9 a.m. and another at 1:30 p.m. That evening, Green will give an artist lecture in Kleymeyer Hall at 6 p.m. All events are free and open to the public.
Green lives in Fort Wayne, Indiana, and has been teaching ceramics at Purdue University Fort Wayne since fall 2016. He received his Master of Fine Arts degree from the University of Nebraska-Lincoln and his bachelor's degree in art from Southern Utah University.
Green specializes in ceramics, sculpture, and 3D foundations. He shares, "Capturing clean lines and continuous curves that produce striking silhouettes, strong negative spaces, and distinct profiles around architecture, primarily drives my creative decision making in the studio." A portfolio of his work can be found at www.sethgreenpottery.com.
Green has traveled across the United States as a visiting artist and he has garnered multiple awards for his work. His pieces have been featured in numerous galleries, showcased in publications such as Ceramics Monthly, Clay Times, Kentucky Living, and Kolob Canyon Review and he has presented in national and international conferences. Green's work can be seen in collections throughout the United States and internationally in countries such as Japan, China, and South Korea.
For more information contact Al Holen, associate professor of ceramics, at 812-464-1917 or aiholen@usi.edu.